The Online Railbird Report: Hansen Grinds Out a Win, Antonius Sheds a Quarter Million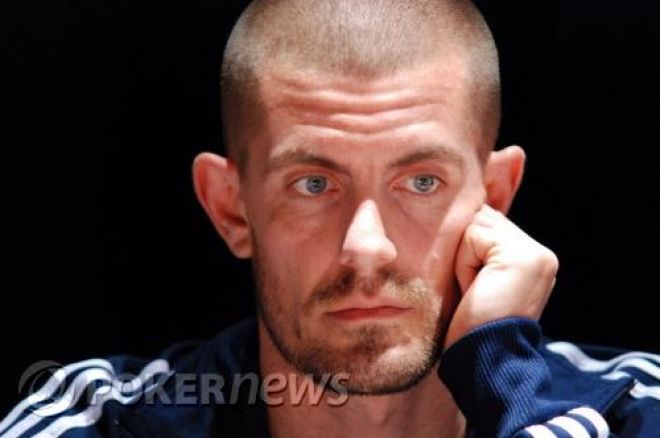 It was an exceptionally quiet weekend at the online tables, perhaps the lightest one we've seen this year. Some were glued to the Masters; others were taking their games live at the NAPT Mohegan Sun. Still, we saw Gus Hansen make some modest gains at the 7-Game tables, while Patrik Antonius' April comeback was halted with a $250,000 loss.
Hansen crawling back into the black
It has been a wild year online for the man they call "The Great Dane." Gus Hansen leapt out of the gates in 2010, earning $1.74 million in January and $81,000 in February, only to lose nearly all of that coin back in March as he posted $1.62 million in losses. April has been kinder to Hansen; he's up $60,000 this month despite posting about half a million in losses earlier this week at the $500/$1,000 pot-limit Omaha tables. Hansen switched it up this weekend, heading over to Full Tilt's 7-Game tables where he posted a $114,000 win. Interestingly enough, most of those profits came from the PLO rounds.
One of the largest 7-Game pots Hansen was involved in this week was this PLO hand against Phil Ivey. Playing three-handed, Tom "durrrr" Dwan opened for $1,800 from the button. Hansen called from the small blind and Ivey came along from the big. Hansen put out a pot-sized bet of $5,400 on the
flop and was met with a raise to $21,600 from Ivey. Dwan ducked out of the way and Hansen shoved for $46,149. Ivey called off the $40,342 he had behind, turning up
for bottom set and a flush draw. Hansen was in the lead with
for middle set, but still needed to fade some hearts (and the case six) on the turn and river. The
fell, followed by the
and Hansen picked up the $86,082 pot.
Antonius' comeback temporarily derailed
Like Hansen, Patrik Antonius has also been feeling the pain at the online tables in 2010. Although he is still down more than $2.4 million this year, he earned $690,000 in the first week of April. Antonius hit a bit of a snag this week, however, dropping close to $250,000 at the PLO and 7-Game tables.
This no-limit hold'em hand against Gus Hansen was particularly brutal for the Finn. Playing heads-up with $300/$600 blinds, Hansen opened for $1,800 holding
and Antonius three-bet to $5,400 holding pocket tens. Hansen decided to four-bet shove for his remaining $26,200 and Antonius didn't waste too much time making the call. The
flop was safe for Antonius, but Hansen hit a piece, pairing his seven. The turn was the
, but the
spiked on the river, giving the $48,799 pot to Hansen.
Griffin takes Kelopuro for $110K
Ashton "theASHMAN103" Griffin spent yesterday's daylight hours playing in the NAPT's $25,000 Bounty Shootout (he ended up busting to Greg Dyer), but still found time to play a $100/$200 heads-up HA match with Sami "LarsLuzak" Kelopuro. The two played four tables of the half pot-limit hold'em, half pot-limit Omaha mix, Griffin ending the session with a $110,000 win.
Their largest pot took place during the hold'em round and came in at $84,000. Kelopuro opened for $600, Griffin three-bet to $1,800 and Kelopuro popped it to $5,400. Griffin called and they saw a
flop. Griffin led out for $7,300 and Kelopuro called. The turn came the
and Griffin made it $25,400 to go. Kelopuro shoved for $29,312 and Griffin called the small balance. Kelopuro turned up
for second pair, but it was no match for Griffin's
. The
hit the river and Griffin raked in the $84,023 pot.
Who's up? Who's down?
This week's biggest winners (4/6-4/12): Tom "durrrr" Dwan (+$916,000), Andrew "luckychewy" Lichtenberger (+$281,000), "UarePileous" (+$205,000)
In the red: Phil Ivey (-$344,000), Ashton "theASHMAN103" Griffin (-$308,000), Justin "ZeeJustin" Bonomo (-$258,000)
The highest-stakes action on the internet all unfolds on Full Tilt Poker. Open up an account today and see for yourself.