The Nightly Turbo: Team Titan is Announced, PartyGaming Revenues Up, and More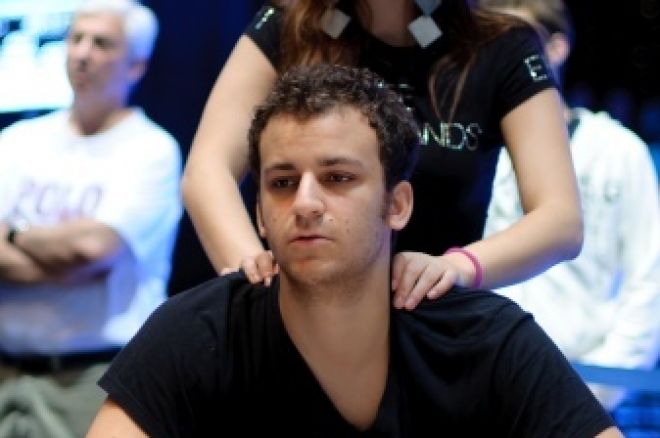 Titan Poker has announced their seven man team and in the captain's spot is someone who is having a stellar year so far. PartyGaming's Q1 revenues are up and it could be looking at a move to the US market. We've got those two stories and more in tonight's Nightly Turbo.
In Case You Missed It
Day four of the PokerStars Spring Championship of Online Poker saw plenty of notables make deep runs, but none could seal the deal. Here are the Day 4 SCOOP results.
With the sixth season of the PokerStars European Poker Tour in the books, we decided to hand out a few awards. Check out EPT Season Six: The Good, the Bad, and the European.
We caught up with Jon Aguiar at the EPT Grand Final in Monte Carlo to discuss poker strategy. He recounted two hands he played during the Main Event and discussed relative hand strength here.
Full Tilt Poker and Virgin Racing
With the European Formula 1 season beginning this weekend in Spain, Virgin Racing has announced a new partner — Full Tilt Poker.Net. The two companies have been in talks about a partnership since the Virgin Racing Team's inception last year. Full Tilt Poker.Net branding will be featured on the team's race cars, drivers, and team apparel.
"We are delighted to welcome Full Tilt Poker.Net to Virgin Racing. We are proud to add an industry-leading brand to our healthy partnership portfolio and I am particularly pleased that we have worked hard together to find an interesting sponsorship model that works well for both parties and which demonstrates the flexibility of approach that Virgin Racing can offer. We look forward to commencing the relationship with effect from this weekend's Spanish Grand Prix, where Full Tilt Poker.Net™ will have a significant presence, and to helping the brand to achieve its marketing and business objectives in the longer term," said Graeme Lowdon, Virgin Racing's chief executive officer.
F1Reports.com has more.
Team Titan
Titan Poker recently announced the seven Team Titan members of for 2010. Sorel Mizzi, who has had an incredible year so far, will captain the team, which has over $4.5 million in combined poker winnings. Also on the team are Jonas Klausen from Denmark, Marvin Rettenmaier from Germany, France's Yann Brosolo and Florian Desgouttes, Sam Trickett from England, and Joel Benzinou from Belgium. The seven-man team will represent Titan Poker in live tournaments all around the world.
Want to play against Team Titan? Sign up for a Titan Poker account today.
Win a WSOP Seat with 888!
PokerNews and 888 Poker want to get you to Las Vegas this year for the World Series of Poker Main Event. If you sign up for an 888 Poker account or have previously signed up for one, you're eligible for four freerolls throughout May, the last one being one for a $16,000 WSOP package. There are only 13 days left to qualify for these amazing freerolls!
May 20: $1,000 freeroll - must have earned 20 points
May 21: $3,000 freeroll - must have earned 50 points
May 22: $5,000 freeroll - must have earned 80 points
May 23: $16,000 WSOP Package ($15k Main Event package + $1k cash added) freeroll - must have earned 200 points
888 is also giving you 8 ways to win one of 88 packages to the WSOP, as well. There are 41 Main Event packages up for grabs and 47 packages available for Event #54.
Find out more here.
Be sure to follow us on Twitter for up-to-the-minute news and become a fan on Facebook.
Making Plans to Make the Move
PartyGaming has its sights set on the U.S. if legislation passes to regulate online gaming. The company has reported a 27 percent increase in its first-quarter revenue. "We are seeing increased momentum towards regulating online poker. It's possible that it could happen this year and we're prepared if it does," Chief Executive Jim Ryan said.
PartyGaming reported a $127.1 gross revenue for the first quarter. All of its divisions were up, except for its poker division. Poker revenue has declined because it had to pull out of the U.S. market, while other poker operators continued to accept U.S. players.
If U.S. online gaming regulation passes, PartyGaming is ready to make the move. It has an operation set up in Los Angeles and according to Ryan, it has, "...Any number of U.S. operators who we're talking to right now about providing them with online gaming services and software. That gives us good reason to think that regulation isn't that far way."
Reuters has more.
Poker for a Cause
As many of you know, Thuy Doan has been fighting cancer for a while now. She has kept a blog on PokerRoad to keep us all updated on her progress.
On May 16 at 17:00 EST, there will be a charity poker tournament on Full Tilt Poker that will see 100 percent of the rake go to Thuy's medical expenses. The buy-in is $200 + $100 and a number of poker pros have already lined up to play. You can find the tournament under the "Private" tab in the tournament lobby. The tournament ID is 158232539.
If you don't already have a Full Tilt Poker account and want to help, sign up for one here. If you already have one, we'll see you on the felt!