As the World Series Turns: Mizrachi Family Bonding, Payout Drama, and Swift Justice for Cheaters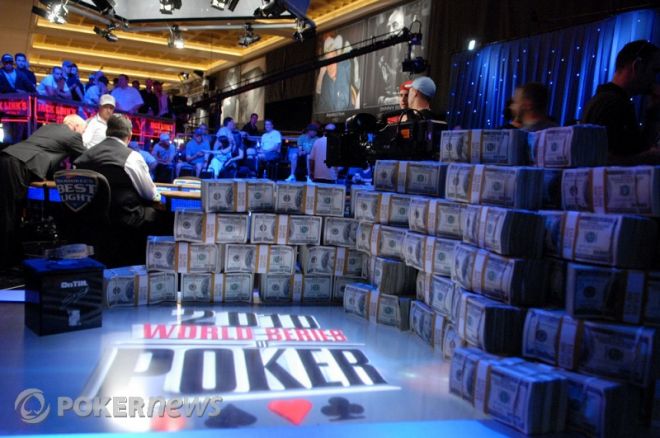 The 41st annual World Series of Poker kicked off on Friday, and it has been an entertaining few days. One twitterer described the WSOP as poker high school with cat fights in the halls, the cool kids' table in the Poker Kitchen, and pranks on the teachers in the tournament room. We like to think of it more as a TV show. Some days it's a soap opera, others a sitcom, and sometimes it feels like science fiction. Throughout the series, we'll be bringing you some of the most entertaining, inspiring, unbelievable, or otherwise memorable scenes from the Rio.
Epic final table: It's going to be tough to top the stories that came out of the $50,000 Players Championship final table. Michael "the Grinder" Mizrachi pulled out his biggest win yet on the largest stage possible at the point in his career when he needed it most. To take home the bracelet, the title of Players Champion, and the not-too-shabby $1.5 million, he had to battle back from the ropes against Russian rich guy Vladimir Schmelev after surviving a final table stacked with John Juanda, David Oppenheim, Daniel Alaei and David "Bakes" Baker. And if that's not enough of a blockbuster moment for you, the Grinder busted his brother Robert in fifth place on his way to the top. ESPN, you got lucky with this one.
Family bonding moment: The Hinkle brothers winning separate final tables two years ago was a good story, but two Mizrachi's at one final table packs more of an emotional punch. With five players left in the $50k, Robert Mizrachi moved all in with
. His own brother called him with
. There's almost something biblical about it. The audience was filled with their friends and family. They'd been screaming and cheering all afternoon, but this was a situation they weren't prepared for. They watched frozen and silent while the board ran out
, and the Grinder cut his brother out of the tournament and pulled Robert's chips into his own stack to use them to bring honor to the family.
That's drama you can't make up. Here is the blog post about the hand.
Needless Panic of the Week: There was so much pent-up Internet-kid angst wasted worrying about the payouts in Event #3 that it could have fueled an entire Darfur rally. The situation arose because the first $1,000 no-limit hold'em "flipament" lost such a high percentage of the players who started the day. Some players worried that depending on how many played on Day 1b and how quickly they busted, players eliminated late on Day 1a should have already been in the money. But after sweating the bust-out pace and blowing up the forums all day, alas, the players were left with nothing to complain about. The 481 Day 1a and Day 1b survivors combined at the beginning of Day 2 to eliminate 40 more players and burst the money bubble without incident.
Surprise appearance: Wait, is that Kirk Morrison? Yup. Morrison is back on the scene and making his presence felt at the 2010 World Series. He won a 7-Card Stud bracelet in 1998 and then disappeared until 2006. He finished second at the WPT World Championship in 2007, earning over $2 million, made a WSOPE final table that year, and then went back into hiding. But Morrison popped up unannounced among the elites who turned out for the $50k Players Championship. And just in case we didn't notice he was back, Morrison finished Day 2 as the chip leader. He didn't exactly get an ideal welcome-back gift, however. Morrison bubbled the $50k after playing for four days. The next day, he got back on the horse to play the $5k No-Limit Shootout, which he promptly bubbled, as well, losing his table heads up to Neil Channing. At this rate, he'll probably head for the hills again soon.
See the post about his elimination here and here.
Surprise absence: Thang Luu accomplished a rare feat at last year's WSOP. He won the $1,500 Omaha Hi/Lo event for the second year in a row after finishing as runner up the year before. With his streak already at three final tables, people thought that surely he'd be in the field this year to see if he could keep it going. But Luu wasn't able to play this year. After his bracelet win last year, Luu broke a dealer's hand in an altercation during a cash game at the Rio and was barred from the property for a year. So no fourth final table, and probably some anger-management classes, for Mr. Luu.
Penalty box: Luu only got a year in WSOP exile for his transgression, but a player this week took cheating to a new level and was banned for life. How to avoid such a sentence? Don't grab your neighbor's stack of chips and attempt to add it into the pot you're dragging. No ICM calculation in the world is going to make that re-steal a good idea.
Tuesday's Nightly Turbo has more on the incident.
Weekly proof live poker is rigged: You don't usually end up relying on kickers to decide who wins with two pair, at least not in games without community cards. We never have much sympathy when Phil Hellmuth complains about bad beats, and this hand was only made more entertaining by his participation. Hellmuth had two pair ― kings and nines ― by fifth street in a stud hand. His opponent, David Oppenheim, also made two pair on fifth ― kings and nines. Sixth street gave Oppenheim an ace kicker and Hellmuth a conniption.
Read the details of the hand in this blog post.
Best news of the week: According to a tweet from Carter "ckingusc" King, there is one change at the Rio that has the power to turn this summer into a success. They've given up on the not so tasty but cutely named All In energy drink and gone back to serving Red Bull. Thank goodness exhausted poker players can once again chug energy drinks without being reminded by the can that they're about to bust out of a tournament.
Best new bar at the Rio: There was a lot of talk about the opening of the Bad Beat Bar, and sure, it's a great place for players to detilt. Really, any place that serves alcohol will fill that need, but if you're looking for a spot to pick up women this summer, you might want to skip that bar. We give our thumbs up to the WSOP's other new bar, the Poker Kitchen salad bar. It's nutritious, better than the rest of the crap served elsewhere, and you're guaranteed to find a higher concentration of women in the salad bar line than anywhere else at the Series.
Stay tuned for the next episode of As the World Series Turns. With more no-limit donkaments and the 7-Card Stud and 7-Card Stud Hi-Lo Championships coming up this week, it's sure to be an interesting one. And as always, follow us on Twitter for up-to-the-minute news.