The Nightly Turbo: Player Banned from WSOP Forever, Pollack's New Gig, and More

Elaine Chaivarlis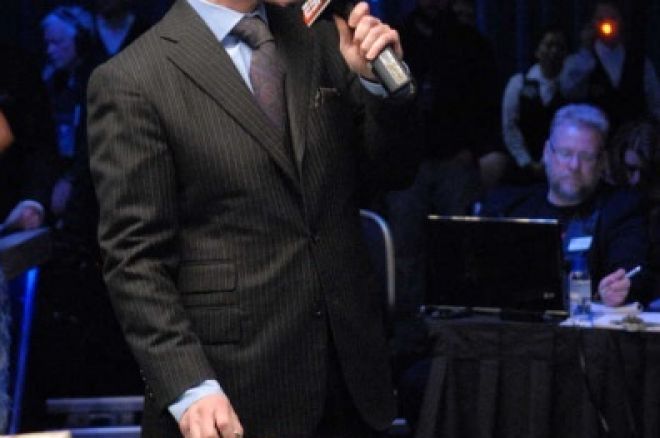 Yesterday was Memorial Day, so we decided to take a bit of a break. Hope you didn't miss us too much. We're back at it today, though, bringing you all the news you wanted to read and then some. First, we'll tell you how to get perma-banned from the World Series of Poker. Then we'll tell you about former WSOP commish Jeffrey Pollack's new gig. And then — well, if we told you the rest of it here, why would we need to write more. Read on.
In Case You Missed It
Kristy Arnett caught up with Vanessa Rousso during Event 3 of the World Series of Poker to talk a little tournament strategy. Find out what she had to say, here.
Have a day off from the WSOP? Wondering what to do?Lagasse's Stadium is never a bad choice.
Day 4 of the 2010 World Series of Poker is in the books, and history has been made for just the second time with the event that transpired Monday night. What was it? Read this to find out.
It's June 1, 2010, and you know what that means.The UIGEA has gone into full effect.
After four days of play at the Rio, Event #2 has a final table and will have a winner sometime tonight. We take a look at all the heavy hitters who will be seated at the felt for the Players Championship.
Leave and Don't Ever Come Back
Wondering how you can get noticed at this year's World Series of Poker? Well, you could wear a silly outfit or you could actually win something. Or, as in the case of one player, you could get banned from the WSOP for life. Oh yeah, it actually happened and we're not even a week into it yet. So, how do you do it you ask? You take things that don't belong to you, and we're not talking sandwiches, we're talking another player's chips.
Just as play went on break of the $1,000 event on Saturday, two players were involved in a pot. The other players left the table and the hand played out with Mr. Perma-ban winning the pot. "As the dealer pushed the pot his way and he started raking it in, he just pulled the chips in with one hand. He set his other hand down in the spot next to him as if he was using it for leverage to lean forward to pull in the chips. In fact, he placed that hand over a stack of chips of the player next to him (who had left the table like all the others for break). As he was pulling in the pot with one hand, he noticed the dealer's eyes move off him and at that moment pulled in the chips that were underneath his other hand. To the naked eye it just looked like he was pulling in the chips with both hands."
This was the story, according to Michael Craig, that tournament director Jack Effel told an adjacent table after they asked why the player was being led out by security. And then Effel said, "He'll be banned from the World Series forever." There you have it.
Read the entire story at the Full Tilt Poker Blog.
A Different Kind of Rodeo
Jeffrey Pollack left the World Series of Poker last year, much to the shock of most of the poker community. All kinds of questions were swirling about when the news broke in November. Who would be the face of the WSOP and where would our daily WSOP songs of the day come from, and oh yeah, where would Mr. Pollack be heading next? The cryptic "Leaving Las Vegas. For now....." was his last tweet in November, which left many to believe he would be back on the Vegas scene. Well, he will be back when the PBR (Professional Bull Riding, not the beer) World Finals are held in Las Vegas.
Pollack will be filling the void left after PBR's previous CEO Randy Bernard stepped down to join the Indy Racing League. Pollack was named executive chairman by the PBR board of directors. "We want to see if we can increase our digital offerings to fans, while growing our sponsorship base," he said. "Having said all that, there is a very strong foundation here built by Randy Bernard and others. But there's still growth potential. This feels like NASCAR and World Series of Poker before they started to take off."
Congratulations Mr. Pollack!
The SportsBusinessJournal.com has more.
There's an App for That
Vanessa Rousso has just launched her poker app for the iPhone. Poker 1 on 1 with Vanessa Rousso is now available in Apple's App Store. The app focuses on heads-up play and has an interactive learning environment that lets users "learn by doing" with various simulations, games, and challenges. If you just want to play, you can do that, too. The "just for fun" part of the app allows users to play against "virtual Vanessa" or you can play against your friend in player-vs-player matches using Bluetooth.
"My biggest passion outside of playing poker is in teaching poker strategy. I love watching that light bulb go off in my students' minds when they discover something new," Rousso said. "It is very exciting when their confidence level improves as a result of implementing what they have learned."
Want the app? Get it here.
Rubie Shines Through
On the other side of the world from the madness that is the Rio Convention Center hallways for the World Series of Poker, the Crown Casino in Melbourne, Australia, was holding its own poker tournament - the Melbourne Championship. The 590 players who put up the $1,100 AUD buy-in for the Main Event created a prize pool of $590,000, and after three days of play, it was 20-year-old Brendon Rubie who took first-place honors.
The final table was a stacked one with Jarred Graham, Amanda De Cesare, Minh Nguyen, and 2010 ANZPT Adelaide Main Event runner-up Andrew Scarf among those seated at the table. Rubie went into the final table but didn't hold on to it the entire time. It was Minh Nguyen who took Rubie on heads-up, and after some back and forth, Rubie called a raise from Nguyen and the flop came down
. Rubie checked-raised Nguyen's 275,000 bet to 775,000. Nguyen called and the
hit the turn. Rubie fired out 1,050,000 into the pot and Nguyen moved all-in. Rubie snap-called tabling
for the flush and miles ahead of Nguyen's
. The river was meaningless to Rubie, and he walked away with a $118,000 AUD payday.
Final Table Results
1. Brendon Rubie - $118,000 AUD
2. Minh Nguyen - $83,780 AUD
3. Mark Iskander - $56,050 AUD
4. Michael Spilkin - $41,300 AUD
5. Amanda De Cesare - $35,400 AUD
6. Sam Vakili - $29,500 AUD
7. Brian Boyle - $23,600 AUD
8. Rob Salter - $17,700 AUD
9. Andrew Scarf - $11,800 AUD
10. Jarred Graham $8,850 AUD
Check out PokerNetwork.com for more.
Maven Awards
We know what you're thinking, "The Maven is giving out awards?" We may or may not have thought that when we got the press release and saw the title. It's not The Maven, it's Woman Poker Player Magazine. The nominees for its 2010 Maven Awards have been announced for this inaugural event.
Each category of the Maven Awards has three nominees and the voting that begins today will run through September 30. Some of the categories include Best Role Model for Women in Poker, Most Female-Friendly Online Poker Room and Favorite Poker Blogger. We could go on but you know we're going to give you the link at the bottom.
"I am very excited about the potential of the awards to heighten the profile of women in poker, as well as having the industry start thinking about making additional efforts to cater to the women who enjoy poker. As we have seen already this year, more women are winning major tournaments then ever before. I hope many people submit their votes to show their support for the accomplishments of the nominees," Maryann Morrison, Editor of WPPM said.
Go vote here.
Madsen's First Cash of the Series
Gloria Balding caught up with Jeff Madsen at the 2010 World Series of Poker and they discussed the first "of many" cashes he'll have this year, his achievements, and bustingHoward Lederer. There's a sweet part at the end of the vid, and no, he doesn't rap.
Following us on Twitter is a really good idea. Another good idea? Facebook.