The Nightly Turbo: More High-Stakes Golf, FTOPS, and More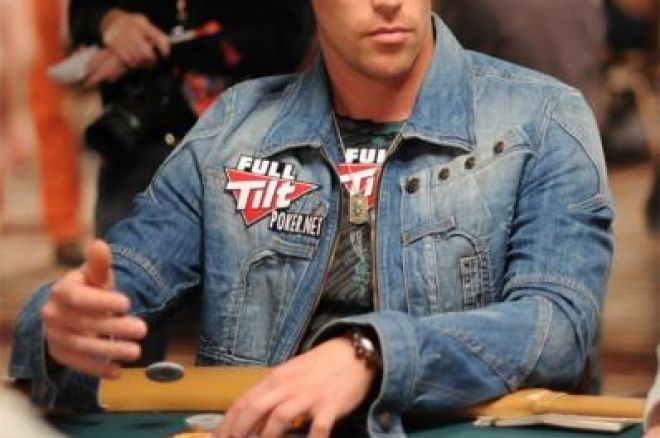 We're just going to get right into it today. It's Friday and this is going to be a big weekend for poker. Read this. Go work on your game and don't forget to follow the Live Reporting Team for the play-by-play as we find out who the next World Series of Poker champion is going to be.
In Case You Missed It
Bust out of the World Poker Tour Foxwoods Poker Finals? Looking for something to do after your tournament day ends? The PokerNews Jet Set: Foxwoods has the inside scoop on what to do while you're there.
For 12 weeks we've been reminding you to watch coverage of the World Series of Poker Main Event on ESPN. Maybe you missed a couple of days. Maybe you just didn't listen to us. Either way, we bet you're a little curious about some of the big hands that went down. Good thing you have us recapping the Top 5 Hands of the World Series of Poker...So Far.
Everyone has a prediction about who will win take "the big one" this weekend. After intense analysis and maybe even some math (or pulling names out of a hat) we here at PokerNews HQ have come up with our picks. Maybe you agree with us, maybe you don't, but you won't know until you read PokerNews World Series of Poker Final Table Predictions. Let us know yours, too, when you're done reading ours.
Day 1 of the World Poker Tour Foxwoods is over and quite a few big names remain afield — and a few are no longer. Find out who's left in our Foxwoods recap.
High Stakes Golf Round 2
If we didn't bring you the conclusion of the high-stakes golf match between Daniel Negreanu and Patrik Antonius, your weekend might have been ruined. So, thanks to RawVegas.tv, here it is. Negreanu and company won, but we're not telling you by how much. It's in the video. Doyle Brunson was betting $25,000 a hole on Negreanu's team. It's in his Twitter (@texdolly).
You should be following PokerNews on Twitter by now. If you aren't, you should be ashamed of yourself. Don't forget, the PokerNews Live Reporting Team is bringing you the play-by-play this weekend at the Rio in Las Vegas for the World Series of PokerMain Event Final Table.
Say What?
Vanessa Rousso sat down with Asylum.com to talk about some of the one liners that are directed at females at the poker table. Ladies, we're sure you've heard some of these and we're sure a few guys out there reading this right now have had some of these lines come straight from their lips.
Here are a couple of the one liners and Rousso's thoughts about them.
"I check to the lady." This one is so annoying! What a pointless thing to say, I don't say "check to the overweight bald guy!"
"Oh, she can bluff!" Yup, and you can't because when that vein pops in your neck, I know what you're going to do.
For the top 10 Things You Should Never Say to a Female Poker Player, visit Asylum.com.
FTOPS XIV
The Full Tilt Online Poker Series XIV is in full swing. Three gold jerseys have been handed out. Event #1 had an overlay of $61,200. Events #2 and #3 both met their guarantees, plus some.
Event #1 - NL Hold 'em 6 max
Players: 4,694
Buy-In: $200 + $16
Guarantee: $1,000,000
Prize Pool: $1,000,000
*1. Kory "s00tedj0kers89" Kilpatrick - $120,000.00
*2. kev19 - $115,000.00
*3. taaffey - $80,000.00
*4. nolez7 - $98,600.00
5. badbeatninja - $37,000.00
6. Andicover - $23,000.00
7. bearbuck - $15,000.00
8. JugadorJR - $15,000.00
9. bodoggood82 - $10,700.00
10. luiss1982 - $10,700.00
*reflects four-way deal
Event #2 - 7-Game - 6 max
Players: 838
Buy-In: $200 + $16
Guarantee: $150,000
Prize Pool: $167,600
1. RymesWOrange - $35,782.60
2. St3phenHendry - $23,464.00
3. Randy "Randers" Haddox - $16,760.00
4. 7PRS - $12,737.60
5. jhksauser - $9,050.40
6. real-nic - $5,782.20
7. PAYMYLOANS - $3,603.40
8. ezgam - $3,603.40
9. Go4 Jones - $2,597.80
10. rover454 - $2,597.80
Event #3 - NL Hold 'em, 3x Shootout
Players: 729
Buy-In: $500 + $35
Guarantee: $300,000
Prize Pool: $364,500
1. chrispeace - $76,545.00
2. JonEeeWhite - $51,030.00
3. Thayer "THAY3R" Rasmussen - $36,450.00
4. bastet2004 - $27,337.50
5. buck99 - $20,047.50
6. MuckCMuckC - $14,580.00
7. GnightMoon - $10,206.00
8. jt3013 - $6,925.50
9. Laurrra - $4,920.75
10. wmmcl - $3,098.25
Why don't you have a gold jersey yet? Sign up for a Full Tilt account and get one.
Life on Tilt
Looks like there's a poker movie in the works. The book, "Life on Tilt: Confessions of a Poker Dad" is coming to the big screen. The novel, written by John Blowers, is a fictional autobiography of a human resources executive, husband and father who risks it all to compete for a seat in the World Series of Poker.
Filming is set to begin next year. Actress and poker player Shannon Elizabeth is involved in the project. Blowers is also heavily involved, helping to draft the initial script, assisting in producing, and even acting a little. The project has raised over $12 million so far.
"Pros tell me 'Life on Tilt' gets all the elements of a tournament: the grind, the hours of boredom interrupted by sheer moments of terror," Blowers said.
Read more at OnlinePoker.net.