The Nightly Turbo: PokerStars.net Big Game Premieres, Lacey Jones' New Sponsor, and More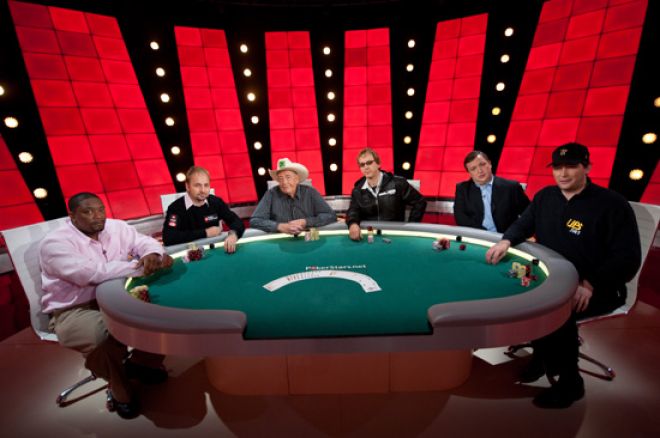 The PokerStars.net Big Game premieres tonight, formerly signed with Absolute Poker, Lacey Jones is now sporting a new patch, and Cereus might be closing its Kahnawake offices. You'll find those stories and more in tonight's Nightly Turbo.
In Case You Missed It
The online contingency of players has lessened for the Sunday Majors, as to be expected, with the World Series of Poker running, but players are still winning big. Check out the Sunday Briefing for the results.
Day 17 of the 2010 World Series of Poker is in the books and history was made as Vanessa Hellebuyck became the first French woman to ever win WSOP gold. Dutch Boyd won his second WSOP bracelet yesterday and plenty of fields were drastically reduced. Check out the WSOP recap here.
The Big Game
The PokerStars.net Big Game debuts Monday June 14 on FOX. You'll have to check your local listings for air time. Week one of the show seesDaniel Negreanu, Doyle Brunson, Phil Hellmuth, Phil Laak, and Tony G hit the felt with the Ernest Wiggins also taking his seat as the "Loose Cannon."
The minimum buy-in is $100,000 and the blinds are at $200/$400 with a $100 ante. In this episode, Hellmuth will take quite the beating both verbally from some of his tablemates and on the felt when he decides to "run it" four times.
If you can't catch it on TV, then you'll be able to find the episodes on PokerStars.tv and thebiggame.pokerstars.net.
Lady in Red
Last month, Lacey Jones announced that she would be parting ways with her then sponsor, Absolute Poker. Shortly after that announcement, Jones was named as the hostess for the Full Tilt Poker sponsored Doubles Poker Championship. You can see where we're going with this. Jones recently signed with Poker Royalty for representation and they negotiated the deal with Full Tilt on her behalf.
Jones was recently spotted sporting the Full Tilt patch at the Ladies Event of the 2010 World Series of Poker in which she finished 41st, good for $4,097.
PokerRoyalty.com has more on Jones.
Change of Address
According to a story on CalvinAyre.com, the Cereus Network is closing its office doors in the Kahnawake territory. No news on what this means for UB or Absolute Poker or it's just a move to a new location. You can be sure that we're following the story closely and will bring you any new information as soon as it becomes available.
UPDATE: From a Cereus Network spokesperson, "We did not close our office in Kahnawake, nor do we plan to do so. We remain in Kahnawake for the long haul." What was shut down however was the 10 person security team that was in the Cereus Kahnawake office. That team has been centralized to the head office of Cereus Network.
Everest Goes for Round Two
A few months ago, we brought you the story on Everest Poker's lawsuit againstHarrah's in a federal court claiming the sponsorship agreement between the two companies had been breached.
Everest Ltd. dropped another suit on Harrah's Friday, claiming that its subsidiary, Harrah's Interactive Entertainment Inc., is using the Everest Poker trademarks at the 2010 World Series of Poker, which has been in progress for a few weeks now.
"The felt on the poker tables being used for the 2010 World Series of Poker features at least one of Everest's Everest Poker logo trademarks," claimed the lawsuit. "The Everest Poker trademarks also are on display at the Rio as large banners or wall posters, on the 'inner rung' of certain tables used for the 2010 World Series of Poker and on television monitors in the casino displaying the schedule of events."
Harrah's has yet to address the current suit.
The Las Vegas Sun has more.
Member's Only
Daniel Negreanu and his training site PokerVT want to get you to the2010 World Series of Poker so you can show off what you've learned from Negreanu and the other pro coaches.
The Member's Only Freeroll will take place on June 23. Members of the training site will battle it out on the PokerStars felt for the chance of a lifetime ― a $12,500 WSOP package and a private lesson with Negreanu prior to the WSOP Main Event.
There are rules that apply and you have to be a PokerVT member by June 21. Check out PokerVT.com for more.
MMA Adventure
Some players like to take out their bad beat frustrations just by telling the story to get it off their chests. Gloria Balding and Elaine Chaivarlis had other plans. The two went over to the TapOut Training Center to try and detilt in another way.
Follow us on Twitter for up-to-the-minute news and be sure to add us on Facebook.