The Nightly Turbo: Nacho Barbero Wins PokerStars LAPT Lima, Poker After Dark $100,000 Cash Game, and More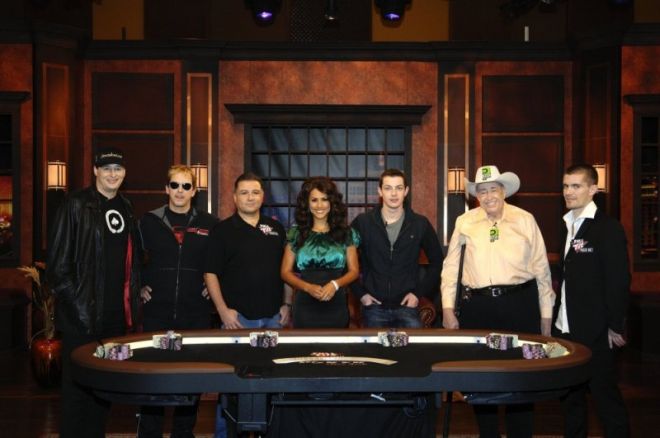 Nacho Barbero won the PokerStars LAPT Lima over the weekend and Poker After Dark is back with an exciting new cash-game series. Obviously, those two stories aren't the only things going on in the world of poker, but you'll have to read on to find out the rest.
In Case You Missed It
Just because the WSOP is going on in Las Vegas doesn't mean that the Sunday Majors cease to exist. The numbers are down, however, but the six-figure paydays are still there. Check out the Sunday Briefing to find out who was a winner yesterday.
GSN moved their poker block to Saturdays and held a debut of its Aussie Millions coverage over the weekend. Did you miss it because you didn't set your DVR? Don't worry. Here's the recap.
Day 10 of the2010 World Series of Poker was probably the most exciting thus far. Find out why in our Day 10 recap.
Back-to-Back Barbero
Team PokerStars Pro Jose "Nacho" Barbero came out on top of the 384 player field of the PokerStars Latin American Poker Tour Lima. He has accomplished something no one in the six seasons of the PokerStars European Poker Tour ― winning back-to-back titles. In February, Barbero defeated the field at LAPT Punta del Este. Not only that, but he won the first ever French Poker Series event in May, as well as a SCOOP title on PokerStars. Run good much? For his win at LAPT Lima, Barbero takes home $250,000.
---
In other PokerStars news, the list of Team PokerStars Pro has recently grown. Ville Wahlbeck has become the first Finnish member of the team. Wahlbeck's first appearance as a team pro will be at the PokerStars Baltic Festival in Estonia June 16 - 19, where last year, he won the high-roller event.
"PokerStars is the leading name in this field," Wahlbeck said. "Not only because it is the world's biggest poker site but also for other reasons: PokerStars has always taken good care of its players and has made an effort to ensure that all the players are treated equally and honestly. Due to these things, PokerStars has been the avant-garde of the whole game and it's both trusted and appreciated – a reputation which is well-deserved. I am really proud to be part of Team PokerStars Pro."
Play against the Pros. Sign up for a PokerStars account today.
$100k Cash Game
For the next two weeks, NBC's Poker After Dark will be bringing you all sorts of cash-game action. The minimum buy-in for the game was $100,000 with a maximum of $250,000. The blinds start at $200/$400 with a $100 ante, and because that's not enough action, the players decided to play the seven-deuce game. OK, we know you're wondering who among the players with the roll for this decided to play. Well, Phil Hellmuth, Phil Laak, Tom Dwan, Eli Elezra, Doyle Brunson and Gus Hansen will all be taking seats at the table and David "Viffer" Peat will be making an appearance, as well.
You can catch all the action beginning tonight on NBC at 2:05 a.m.
Laak It Up
Most people have trouble getting through their day without taking a nap (OK, maybe that's just us), but Phil Laak went Wednesday to Monday without a regular night's sleep. Yes, you read that right. Now, we told you about Laak's attempt to break the world record for playing poker for the most consecutive hours last week, but we never dreamed that when we woke up this morning, Laak would be hitting the sheets for the first time since Wednesday. Sure enough, that was the case. Laak pulled the plug after 115 hours, nearly two days longer than the official world record of 72 hours and 2 minutes held by Larry Olmsted. Last September, Paul Zimbler did it for 78 hours and 45 minutes, but it was not sanctioned by Guinness World Records.
"Wow, 115 hours, I should have my head examined," Laak said. "I am definitely sick." Laak will submit paperwork and video evidence to Guinness World Records to make it official later this month. There was a live stream of his feat that was watched by more than 130,000 people each day. Laak will donate half of his $6,766 winnings to Camp Sunshine, a Maine camp for children with life-threatening illnesses and their families.
Read more here.
WSOP Live Stream
Just missing probably the most talked about final table of the 2010 World Series of Poker thus far, ESPN3 has released five final-table events that will be streamed live on the Internet.
The final tables are as follows:
June 26 - $2,500 no-limit hold'em
June 27 - $1,500 no-limit hold'em
June 30 - $1,500 no-limit hold'em
July 1 - $3,000 triple chance no-limit hold'em
July 3 - $25K six-handed no-limit hold'em
You'll be able to watch them here.
Win Without Being There
If you can't make it to the 2010 World Series of Poker or if you're there and want some sweats when you're not playing an event, you could always buy a stake in someone at ChipMeUp. Brandon Adams is one of the players offering shares of his action for the WSOP. He was giving up 10 percent of his action in Event #10: $10,000 Seven-Card Stud World Championship. Not all of his shares were purchased, but he did come in second place in that event, taking home $243,958 and those who bought shares, got a piece of it.
Check out ChipMeUp.com for more.
Bust and Lay by the Pool
Gloria Balding caught up with Arnaud Mattern on break of Day 1b of Event #13.
"Flopping the nuts, value betting, doubling against the idiots" was Mattern's plan of action.
Follow us on Twitter for up-to-the-minute news.