The Aussie Millions on GSN: Dwan, Shak, and Ivey Swing for the Fences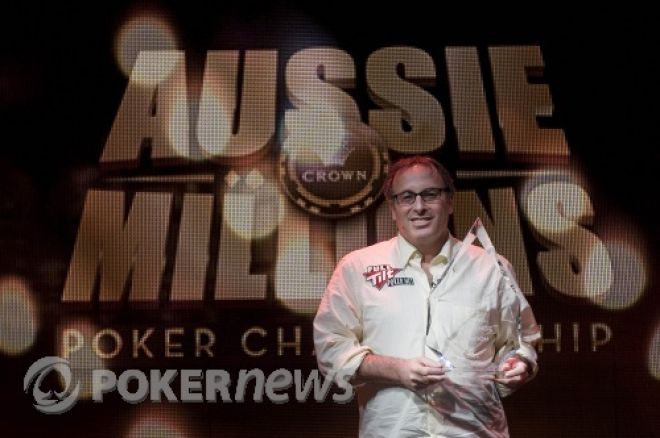 Last weekend, GSN held a debut of its new Saturday night poker block featuring coverage of the 2010 Aussie Millions paired with a mini-marathon of High Stakes Poker. This week's coverage focused on the opening levels of the $100,000 buy-in high-roller event, which drew 24 businessmen, billionaires, and top pros to the felt.
The featured table: The opening lineup consisted of Phil Ivey, Andrew Feldman, Tom Dwan, Masa Kagawa, Dan Shak, and Australia's Bill Jordanou. Near the end of the hour, Roberto Romanello and Michael Sampoerna joined the table.
Structural quirks: Blinds started off at 500/500 with each player granted 100,000 in starting chips. The betting was restricted to pot-limit before the flop and returned to no-limit post flop. Players had only 30 seconds to act on their hand on each street, but could use a one-time 30-second extension button if they needed a bit longer to think over a tough decision.
Is that…yes it is! Former PokerNews video host Paul Khoury got a sweet gig calling the action for the Aussie Millions TV broadcast. Well done, mate!
You got Shak'd: Dan Shak opened with pocket sevens and Tom Dwan called with
. Shak hit bottom set and led out on the
flop, Dwan coming along with a call. The turn fell the
and Shak kept his foot on the gas, betting 18,000. Again, Dwan called. When the
hit the river, Shak bet 20,000 and a puzzled Dwan used his time button, giving him an extra 30 seconds to think over the hand. He made the call and Shak took down the 90,000 pot.
Unfortunate fashion moment: In my humble opinion, all the Ed Hardy shirts on this earth should be tossed into a sacrificial bonfire. However, it appears that Bill Jordanou does not agree, as he made his televised poker debut in a hipster hat and a Hardy tee complete with silver foil lettering. OK, if you're 23 and want to look like a cast member of The Jersey Shore, fine. But if you're over 40, you're really setting yourself up as a punchline.
"durrrr" soul-reads Feldman: Dwan opens 1,500
, Andrew Feldman rr to 4,500, with
Dwan calls.
. Dwan checks to Feldman, who bets 5,500. Dwan calls. Turn
ck ck. River
. Dwan checks, Feldman bets 13,000. Dwan folds.
Ivey finds a way to win: Ivey looked down at pocket kings and opened for a raise, Feldman called with
, and Shak called with
. All three players checked the
flop. The turn was the
and Ivey sprung into action, making it 5,000 to go. Shak raised to 14,000 with his double gutshot straight draw, causing Feldman to fold the best hand. Ivey, however, made a deft read and reraised, earning a call from Shak. The
on the river was a blank for Shak, who folded to Ivey's river bet.
Shak's revenge: Ivey opened
for 3,000 from the button, Shak called with
from the small blind and Dwan called with
from the big blind. Shak hit a set on the
flop and led out for 8,000. Dwan called with top pair, but Ivey decided to put Shak to the test, raising to 24,000. Shak wasted no time moving all-in, which got folds from both his opponents.
Shak's revenge, part 2: After doubling up Dwan when he moved all-in on a ten-high board with pocket jacks and Dwan snap-called with aces, Shak managed to reclaim those lost chips. With the action folded around to him in the small blind, Shak raised to 6,000 with
, and Dwan called with
. Shak hit top pair and led out for 28,000 on the
flop, Dwan was not a believer, and moved all-in. Shak called immediately. Shake made two pair with the
came on the turn, and the
on the river sealed his double-up.
GSN's Saturday night poker block returns next week at 5 p.m. EDT. Check your local listings.
Are you following us on Twitter yet? Well, why not?