The Nightly Turbo: Putting a Bad Beat on Cancer, ESPN's The Nuts, and More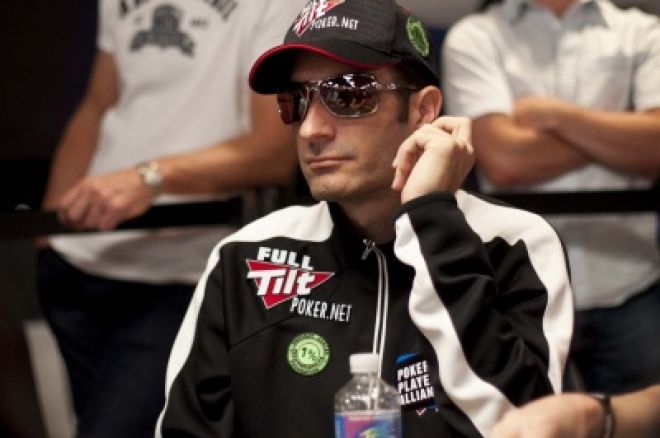 We're busy bringing you the scoop on the goings on in the poker world. In tonight's Nightly Turbo, you'll find out how a handful of poker pros plan to put a bad beat on cancer on Day 1 of the World Series of Poker Main Event, June's top 10 poker players from ESPN's The Nuts, and more.
In Case You Missed It
After a long hiatus, PokerNews Strategy is back. Check out more on the training site and who we've got coaching here.
We're through Day 13 of the 2010 World Series of Poker. Carter Phillips won his first bracelet last night, as did Steven Gee. Check out the Day 13 recap for more.
The last spot of the Tournament of Champions will be filled by a nine-person sit-n-go.Matthew Parvis dissects the field here.
Dressing in Drag
Inevitably when a group of poker players get together, a prop bet ensues. Not straying from this while on set of Poker2Nite,Rafe Furst and Joe Sebok got into a friendly match of Roshambo (rock-paper-scissors). It was a best-out-of-five game resulting in the loser having to dress in drag on Day 1 of the World Series of Poker Main Event.
The result? Sebok beat Furst in the first three rounds. It just so happens that Furst was wearing his green 1% Bad Beat on Cancer patch that day and an idea popped into his head, and because dressing in drag alone is no fun, Furst enlisted the help of some of his friends to dress up with him to promote the Prevent Cancer Foundation and raise money for cancer prevention research.
So, Furst, Sebok, Phil Gordon, Danny Horowitz, and Ace Bailey will all be playing Day 1 of the WSOP Main Event wearing ladies track suits embellished with the Bad Beat on Cancer 1% logo on the jacket and across their behinds.
"We are set to raise even more money – and dazzle not only the WSOP, but the world of fashion," wrote Horowitz.
Read more about it at the Prevent Cancer Blog.
The Nuts
It's a new month and you know what that means, ESPN's latest rankings of the top 10 poker players of the month is out. It's no surprise who is in the #1 spot. Jason Mercier retains the #2 spot, as doesTom Dwan in third. Sorel Mizzi jumped from ninth to fifth and Michael Mizrachi lands in the ten spot with his latest win at the WSOP's $50,000 Player's Championship.
As for Mr. Phil Ivey in the one spot,Gary Wise says, "I doubt very seriously I'll put anyone else here as long as I'm included in the balloting."
"Worlds ahead of much of the competition these days in my eyes. He's playing a ton of events involving all different games at the WSOP so another bracelet could be right around the corner for Mercier, said PokerNews Live Reporting Manager Donnie Peters about the man in the #2 spot, Jason Mercier.
Check out the entire list here.
The G Says
Tony G took to his blog recently to update us all on how his World Series of Poker is going. "If I can't put anything together in the Deuce, I will probably be leaving for Europe to spend time with my family."
Tony says if he does go home, he might not return to play the Main Event because he is unhappy with the way one of the seats will be filled, and by that he is referring to the "sudden death" sit-n-go that is being played out today. He's not the only one unhappy with the way the seat is going to be filled. He points out that Annie Duke also feels like it should have been done differently. She tweeted, "Obviously, I love Don Cheadle, but I think it is ridiculous he is playing in the 9 handed tourney for a spot in the TOC." She also offers a solution: "There would be an argument that spots should be for bracelet winners who don't get voted in only. But certainly must have a major title," and "Take the nine players who just miss in the voting and have them play for the seat."
Tony goes on to say, "The WSOP is being unfair with this decision and because of it I may just pass on the WSOP and the Main Event. I don't believe I am the only one that is unhappy with the way this great event is being made into a mockery of a true Tournament of Champions."
Read his whole blog here.
Calling the Clock: Jason Mercier
It was Jason Mercier's turn to get the clock called on him. It seems that Lynn Gilmartin had a bit of inside information on Mercier. Check it out below.
Follow us on Twitter for up-to-the-minute news and be sure to add us on Facebook. The easiest way to get The Nightly Turbo is in your inbox. Sign up for the newsletter below.