The Nightly Turbo: Shannon Elizabeth Home Game Rake, World Team Poker Adds Players, and More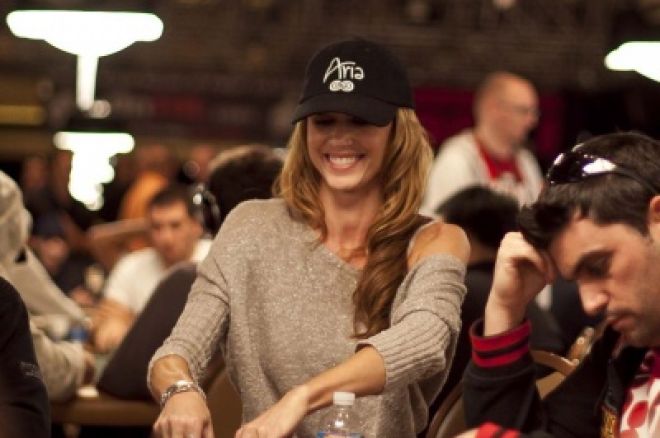 There are rumors that the home game of actress turned poker player Shannon Elizabeth is conducting some shady business and more players have signed on to World Team Poker spots. Find out the scoop on those two stories and much more in tonight's Nightly Turbo.
In Case You Missed It
We caught up with Joe Sebok to discuss the World Series of Poker, playing at the same table with his pop, and Chicago sports. Check it out here.
It has been poker poker poker for weeks now. What else is going on in the gaming world? Find out in Inside Gaming.
Two bracelets were handed out on the 21st day of the 2010 World Series of Poker. Who won them? Find out in this recap.
Racking Up the Rake
According to a post on PerezHilton.com (OK, you got us. We're suckers for celebrity gossip.) Shannon Elizabeth is hosting a poker game at her house. Big deal, we know. But apparently, according to the PH reader that played in Elizabeth's game, she's not even playing in the game; she just comes in and takes an illegal rake for the house.
"One pot I was in had only $70 dollars in it, but the dealer took $25 out for the house…..? Anyone who plays poker knows this is nuts," wrote the PH reader.
We can neither confirm nor deny this story. So take it for what it's worth.
Read more at PerezHilton.com.
Pick Me Pick Me
After the World Team Poker event at the Golden Nugget in Las Vegas last month, more players have jumped at the chance to be part of their country teams.
Annette Obrestad has joined Team Norway, which is captained byThor Hansen. Also drafted are Cyndy Violette and Kathy Liebert for Team Germany. They have Dan Heimiller on their team, as well. Antonio Esfandiari will be representing his Iranian roots on the World Team Poker stage.
Check out WorldTeamPoker.com for more.
Sit-n-Go Sunday
Not playing any events Sunday? We have the perfect idea. Come down to the Hard Rock, sit by the pool for a little while to put some color back on your skin (because we're all becoming a little pasty from the Rio) and then take part in PokerNews' Sit-n-Go Sundays in the Hard Rock Poker Room.
Players with the most impressive sit-n-go results over the course of the WSOP will be rewarded with an iPad. And don't forget our $4/$8 game on Wednesdays!
See you there!
Catching Up with Johannes
Kristy Arnett caught up with Team PokerStars Pro Johannes Strassmann during a break of the $5,000 no-limit hold'em six-handed event. He has found himself at a tough table but has gotten over the jet-lag and is loving Las Vegas.
Your Facebook page can use another friend, so add us, and follow us on Twitter for up-to-the-minute news.