2010 World Series of Poker: A Chip and a Chair Brings Gualter Salles from 1,000 to 425,000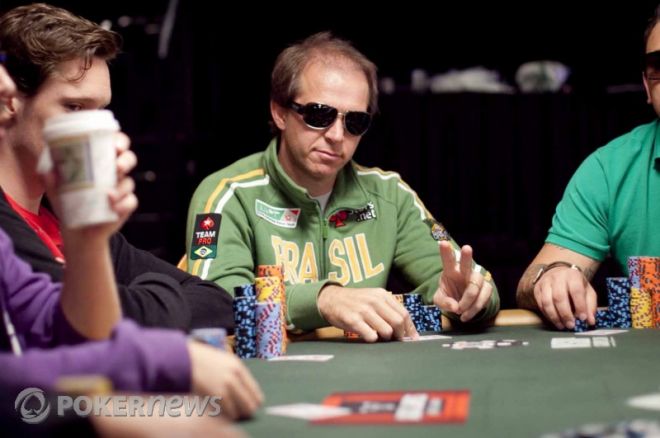 Former IRL and CART driver, Team PokerStars Pro Gualter Salles was down to just one single, solitary, lonely yellow 1,000 chip Wednesday afternoon at the World Series of Poker Main Event. Salles has since turned his 1,000 into 425,000.
The hand that crippled Salles saw Robert Miller bet 106,000 on the turn of a
board, and Salles called off all but his last chip. Neither the dealer nor Miller realized Salles had the chip after the call, and Miller tabled his
with action pending, technically. Salles'
had been run down, and the
river did nothing to help his cause. The chip mistake was finally realized, and, in much the same manner as Jack "Treetop" Straus in 1982, Salles was left with a chip and a chair.
Salles went on to win the first pot after the hand to move back into five figures, and the second to double him back to 32,000. On the third of his short-stacked hands, Salles found
and got called by two players, Jesse Steinberg and Robert Miller. The two checked it down the whole way with
and
respectively and the board worked in in Salles' favor as it came out
. Suddenly, he had tripled back up to 105,000.
On the very next hand, Steinberg raised under the gun, and Salles shipped it in again turning over almost the same exact hand,
, and Steinberg called with
. The board ran
, and Salles found another double up.
An hour later Salles found
, and Gregory Gokey shoved on him with
. Salles called the 170,000 to put his man at risk, and the board of
kept his aces safe. From a single chip, Salles was able to make his way back up to 405,000 in an absolutely incredible feat.
Can Salles hold on, and continue his deep run in the main event? Stay tuned to the PokerNews WSOP live reporting blog to find out.