The Nightly Turbo: PokerStars Announces WCOOP Schedule, World Series of Poker Sets Record, and More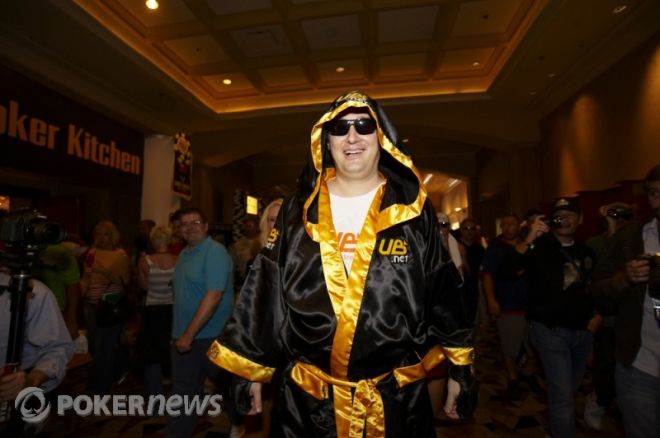 PokerStars has just released the schedule for the 2010 World Championship of Online Poker, if you played in the 2010 World Series of Poker, you are part of a record breaking field, and if you played yesterday, you missed quite the entrance from the Poker Brat himself, Phil Hellmuth.
In Case You Missed It
Peter Eastgate recently announced his "retirement" from poker. Other players before him have done the same, but have always come back to the game. Take a look at Happy 24th Birthday, Now Go Retire for more on the story.
We all know there are plenty of stories that come out of the Rio during the World Series of Poker. Some of you may not be able to be in the thick of things to catch wind of them, so that's what we're here for. Check out As the World Series Turns for more.
Day 1c of the 2010 World Series of Poker is in the books. The field's attendance is on record breaking pace. Find out who made it through the whole day and who didn't in this recap.
Peter Eastgate may have retired, but another player made their return to the felt after two years.Jennifer "Jennicide" Leigh played Day 1c of the 2010 World Series of Poker and we talked to her about her absence.
2010 WCOOP Schedule
PokerStars has recently released the schedule for the upcoming 2010 World Championship of Online Poker. It all kicks off September 5 and runs through September 26. Most days will see three events take place, while a few will have two. There are high-roller events, shootouts, turbos, and two-day events on the schedule.
Last year almost $52 million in prize money was handed out and the Main Event title and $1,700,000 prize went to Yevgeniy "Jovial Gent" Timoshenko.
We would post the entire schedule here, but the PokerStars Blog already has it all lined up for you.
Breaking Records
The 2010 World Series of Poker is through 56 events. Only one remains, the big one, and already all previous attendance records have been broken. According to the Las Vegas Review Journal, There has been a 22 percent rise in attendance with 65,647 hopefuls taking the felt so far, compared to last year's 53,808. Through those 56 events and with the numbers we've seen in the three day ones of the Main Event that have been bagged and tagged, the Main Event is looking at the over on last year's 6,494 number of entrants.
"We're thrilled that poker enthusiasts from every corner of the globe have reinforced the WSOP's standing as one of the most popular competitive events anywhere,"Ty Stewart, WSOP vice president said. "This year's turnout continues to show the players' passion for poker's biggest stage."
Read more at LasVegasWeekly.com.
Playing Live
Thursday marked the day that Pennsylvania casinos officially began offering table games. The license, which was approved earlier this year by state legislators, was made official at 6 a.m. This comes four years after the state legalized slot machines to help the budget deficit.
The Rivers Casino saw eighty people line up to be first in the new section. Another 200 followed suit afterward. "Six tables in the poker room were full and people were screaming at the craps table — you couldn't have written a better script," the casino's general manager, Todd Moyer said.
Projections estimate that by 2012, $865 million a year will be generated overall from table games and $103 million a year in tax revenue for the state. The state will keep 14 percent of the revenue from table games and host counties will and municipalities will get one percent each.
The Pittsburgh Post-Gazette has more.
In This Corner...
For the past three years, Phil Hellmuth has made quite the entrance when taking his seat at the World Series of Poker Main Event. This year was no different. In prior years, he has come into the Amazon Room always dressed up, be it as a NASCAR driver, General Patton, or Julius Caesar, and always surrounded by a bevy of women. It's a huge spectacle and it seems that some people are bothered by it, including the "Godfather of Poker," Doyle Brunson.
This year, Hellmuth played Day 1c of the WSOP Main Event and made his entrance Wednesday dressed as an MMA fighter, complete with ring girls and Bruce Buffer making his arrival announcement. Since Twitter is everyone's favorite way to get out a message, whether it's a happy one or an irritated one, Brunson took to his to tell us all what he thinks, "I'm glad I'm not playing today so I won't see Hellmuth make a fool out of himself with his entrance. I can't help thinking it's terrible."
Hellmuth called out Brunson, however, "I love Doyle Brunson...We go out drinking sometimes.…I called him up this morning. I said, 'C'mon Doyle, you and I, we're not the kind of people that make fun of other people.'… It was just a little strong. He said, 'Alright, you're right.' " Hellmuth went on to say that he believes about 70 percent of the poker world love his entrances and he think's it's good for poker.
Brunson apologized to Hellmuth via Twitter later on, saying "got scolded by PH for my last tweet. Sorry Phil, but I got 103 responses. 99 agreed with me, 4 didn't. I love you anyway, gl in the WSOP."
We were there for the whole thing. Watch the video below and make your own decisions.
Read more about the story at USAToday.com.
Blow Your Bankroll
You've already seen plenty of ways to blow your bankroll while in Las Vegas, and if those weren't enough, Lynn Gilmartin brings you one more — partying. Is there a better way to do it than sitting poolside in the Vegas sun, sipping your favorite beverage? We can't think of one.
Be sure to follow us on Twitter for up-to-the-minute news and become a fan on Facebook.