The Online Railbird Report: Familiar Faces Return to Action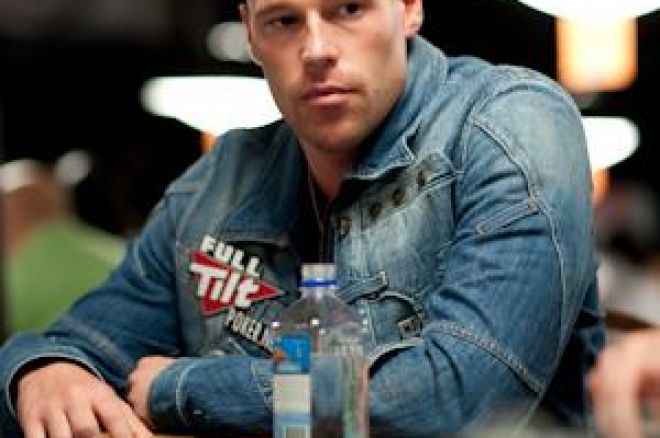 The World Series of Poker is behind us, the nosebleed-stakes crowd has shaken off their hangovers, and action is beginning to pick up online again. After some long absences, Tom "durrrr" Dwan, Patrik Antonius, and Ilari "Ziigmund" Sahamies returned to the grind, Dwan posting some losses while Antonius and Sahamies were two of the week's big winners. Let's get down to it, shall we?
Dwan logs 9,400 hands in 24 hours
Tom "durrrr" Dwan has a little over two months to focus on the high-stakes cash games before flying across the pond to continue chasing his bracelet bets at the World Series of Poker Europe, and he wasted little time getting back into the swing of things. Dwan was at the virtual tables nearly all day Thursday playing nearly 9,400 hands of pot-limit Omaha. He logged 7,000 of them against URnotINdanger2 in a multi-table heads-up $50/$100 PLO match where he dropped about $100,000. Dwan returned to action later that night and recouped his losses in some short-handed PLO games, finishing up a $12,000 winner.
A $63,000 pot is hardly a monster for Dwan, but at the $50/$100 level, it's a whopping 630 big blinds! In his most expensive confrontation against URnotINdanger2, Dwan opened for $300 from the button and URnotINdanger2 three-bet to $900 from the big blind. Dwan repopped it to $2,700 and URnotINdanger2 made the call. The action was checked to Dwan on the
flop and he bet $4,200. URnotINdanger2 raised to $18,000, Dwan shoved for $28,744 and URnotINdanger2 called, turning over
for the nut flush draw. Dwan showed
for top and bottom pair. URnotINdanger2 missed his draw, the
and the
falling on the turn and river and the $62,887 pot was shipped Dwan's way.
Sahamies' short sessions yield big wins
Ilari "Ziigmund" Sahamies sat out the World Series of Poker, opting instead to travel to Johannesburg, South Africa, for the World Cup final, followed by a little R&R. He was back online this week, however, squeezing in a couple of $500/$1,000 PLO matches. Sahamies played a quick session against Dwan, winning $88,000 in only 64 hands, then moved over to the cap game where he took on Jared "harrington25" Bleznick for 224 hands. Sahamies banked more than $200,000 in that match, including this $80,000 pot.
Playing $500/$1,000 blinds with a cap, Bleznick opened for $2,600 and Sahamies called. The flop came down
and Sahamies checked to Bleznick, who made a $3,800 continuation bet. Sahamies raised to $16,600, Bleznick three-bet-capped to $37,400 and Sahamies called.
Sahamies
(trip threes)
Bleznick
(overpair, king-high flush draw)
They decided to run it twice. The first turn and river fell the
and the
, Sahamies taking it down with his trips, and the second run brought the
and the
, Sahamies turning threes full of tens to give him both halves of the pot.
Antonius ends the week atop the leaderboard
It was a bit of a rollercoaster week for everyone's favorite Finnish ex-model. After grinding the live cash games in Las Vegas for the duration of the WSOP, Antonius took his action back online over the past few days. His first stop was the 7-Game where he shed $225,000 in 700 hands but made it all back and then some, ending the week a $420,000 winner.
One of the larger pots Antonius played this week came against David Oppenheim. Playing no-limit hold'em with $300/$600 blinds, Oppenheim opened for $1,600 and Antonius called. Antonius checked the
flop over to Oppenheim who bet $2,400. Antonius called and they went to the turn, which fell the
. This time, Antonius took the lead, betting $5,400. Oppenheim called. When the
hit the river, Antonius fired out $13,800 and Oppenheim raised to $27,600. Antonius called. Oppenheim showed
for a rivered flush, but Antonius made a higher flush with
and took down the $74,000 pot.
Jungleman12 to take the "durrrr" Challenge?
As we reported yesterday in the Nightly Turbo, jungleman12 might be Tom Dwan's next opponent in the "durrrr" Challenge. Although his 18-month-old match with Patrik Antonius is still 11,000 hands away from completion, and Brian Townsend has already committed to playing, Dwan expressed his desire to finish up at least two 50,000-hand challenges before the WSOP Europe in October. Check out the chat Dwan had with jungleman12 after finishing up a $100/$200 NLHE session.
durrrr: ok gg

jungleman12: gg

durrrr: y dont u take challenge

durrrr: since u never lose to me

jungleman12: i will prob

jungleman12: maybe

jungleman12: isnt bt next or something?

durrrr: i can do 2 at once

durrrr: ship ivey 500k n we will work out details

durrrr: get my aim from someone

jungleman12: ok

durrrr: i wanna crank out at least 2 of em before london if poss

jungleman12: ill talk to you over aim before doing it

durrrr: we could obv play in like 2 weeks

jungleman12: k

durrrr: kk gg

durrrr: gl
Who's up? Who's down?
This week's biggest winners (7/15-7/21): Patrik Antonius (+$420,000), riyyc225 (+$273,000), Ilari "Ziigmund" Sahamies (+$266,000)
In the red: Ashton "theASHMAN103" Griffin (-$320,000), Tom "durrrr" Dwan (-$300,000), UarePileous (-$206,000)
The highest-stakes games on the Internet all unfold on Full Tilt Poker. Open up an account today and see for yourself.