Around the World with Lynn Gilmartin: Vilamoura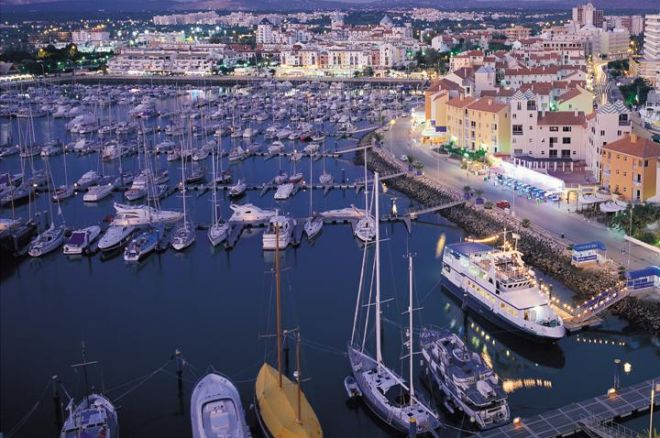 Portugal. Definitely a place high up on my "To-Do List." After a quick Google image search of Vilamoura, the biggest private tourism resort in Europe, I have to admit I'm riddled with jealousy that I'm not personally attending the next stop on the PokerStars European Poker Tour's seventh season. If you are lucky enough to be joining some of the PokerNews Live Reporting Team and the other few hundred expected players to grace the Algarve coastline, then please, take a seat.
The Important Stuff
Getting There & Around
The airport in Faro is about 29km from Vilamoura. From here you can either catch a bus for less than €4 or a taxi which will cost between €30 and €40, dependant on the time of day and week. Once in Vilamoura, the tourist train ("comboio turístico") is the best way to travel around town, stopping at all the main points for only €3 per person for a daily ticket. It runs between Roma Golf, Praia da Falésia, Cerro da Villa and Aldeia do Mar.
By the Water
Fantasize about owning your own yacht much? Well stepping outside the casino and out onto the Marina de Vilamoura will provide enough vessel eye-candy to make your mouth water. The Marina is the main center of activity and hosts some of the world's most glamorous yachts. Complimented with cafes, lively bars and luxury hotels, the waterfront is a great place to spend your day or night when away from the felt. Remember to bring plenty of cash, as everything is priced at a premium with a scenery like this.
Perhaps you're bringing a lady friend? Having her stare at the hundreds of gigantic yachts on the Marina (that you don't own) might drive you crazy. You can always bluff and hire one from somewhere like Marina Sports by the hour, day or week. There's no problem with faking it, we do it all the time.
If the beach is more your style, then Vilamoura has two beautiful beaches, Praia da Marina, to the east of the marina where you can relax on lounges with DJ's supplying some beach-side tunes, and Praia da Falésia to the west for all your favorite water sports and the very best "Sunset Party" in town at Solo Água Beach.
Food and Fire Water, Anyone?
With Vilamoura sitting within the 200km Algarve coastline, seafood is a must. If you want to try a staple part of the Portuguese diet, then order "Bacalhau" (pronounced "bakel-yow"). It's a dried salt-cod, apparently with over 300 different ways of cooking it; and if you love pastries for desert like I do, then Portugal is the place to be. No explanation needed, you will see for yourself.
Surprisingly, and importantly, the drinks are pretty cheap in Vilamoura! You can find glasses of wine, spirits and beer for as little as €1. Portugal's best known drink is port, but Algarve is also famous for its spirits. A must-try is "Amarguinha", an almond liquor, and when served with a few drops of lemon it's supposed to be delicious. One spirit I've been warned to tread carefully with, is "Medronho". It may fool you by its sweet-sounding berry ingredients, but this concoction has been labeled "fire water" for very good reason. Try not to tear up as you sip it. I dare you. Did I mention my jealousy?
While on the topic, here are some vital Portuguese terms you will need to know:
Beer – "Cerveja"
Red Wine – "Vinho Tinto"
White Wine – "Vinho Branco"
Do you have a wine list? - "Vocês têm um menú de vinhos?" 
Bring Your Clubs!
With six courses around town, including some championship courses if you're really serious and own a handicap certificate, Vilamoura is a must for any golfer. The famed Old Course is considered to be on par with the best golf courses in Europe. In fact, golf is so big in Vilamoura, that PokerStars is even hosting its own exclusive tournament during the EPT at the beautiful Pinhal Course. Anyone can buy-in or qualify online for this €1,100 Fairways and Felts event.
So You Still Want More?
If I haven't already tempted you enough to jump online for some last-minute PokerStars satellites, then go ahead and watch Gloria Balding's quick tour around Vilamoura last year, during EPT Season Six.
There is still time to qualify for EPT Vilamoura exclusively at PokerStars. Not only that, when you sign up through PokerNews you will also be eligible for our $10,000 WCOOP Freeroll in September.
Follow us on Twitter for up-to-the-minute news.