PokerNews Op-Ed: Pinups, Porn Stars, and Playmates- the New Faces of Poker Marketing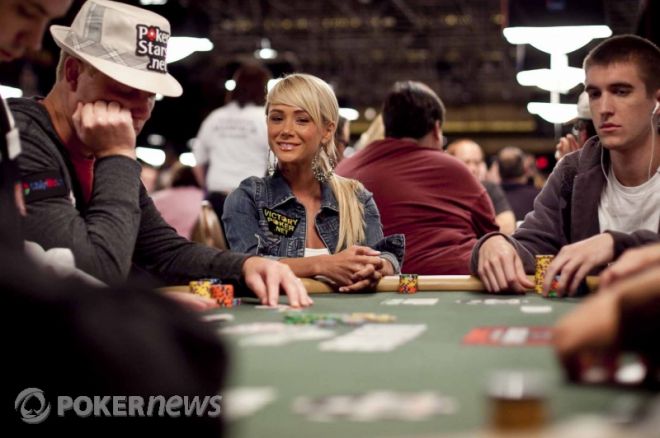 When it came to securing sponsorship dollars at this year's World Series of Poker, for the most part, women had to show aptitude in at least one of the following areas: (1) removing all or most of one's clothing in print, (2) removing all or most of one's clothing onscreen or (3) being somewhat memorable on a reality TV show. Although there were a couple of notable exceptions, PokerStars' long-overdue signing of Vanessa Selbst being one, the overwhelming majority of event sponsorships for women this summer by online sites didn't land with poker players at all.
Shanna Moakler is best known for her association with the Miss USA Pageant and as a Playboy Playmate. For that, Ultimate Bet gave her a $10,000 Main Event buy-in. Sara Jean Underwood has also graced the pages of Playboy, and this accomplishment, along with at least some interest in poker, got her a gig as Victory Poker's only sponsored woman. Trishelle Cannatella, who followed up her stint on MTV's The Real World with film roles like "Party Girl" in The Hillz, and "Courtney" in Ninja Cheerleaders, was granted sponsorship from Absolute Poker this year. Carbon Poker, only days after the media latched onto a story about her allegedly running a raked home game out of her Hollywood Hills home, signed Shannon Elizabeth. It's at least the fourth association Elizabeth has had with an online site; the actress previously inked deals with Full Tilt Poker, Mansion Poker and PokerStars. And last, but certainly not least, there's adult film star Samantha Ryan. Along with Moakler, she played the WSOP under the UB banner.
Although they were all widely photographed, none of these women cashed in a bracelet event at this year's WSOP. And with the exception of Elizabeth, none of them have ever cashed in a bracelet event. But I have seen four out of five of them naked. Chances are, so have you.
Ever since the WSOP wrapped, I've been ruminating about what kind of message this sends, not only to women thinking about approaching the game for the first time, but also to women already taking poker seriously. If I go by UB and Victory Poker's choice of endorsers, it's that it doesn't matter how well you play the game, it matters how good you look naked. Moreover, why are these companies choosing to sell their product in a manner that alienates a sizable portion of the population? The easy answer is to say that sex sells, it has always sold, and it will always continue to sell, that the online poker market is overwhelmingly dominated by young males, and that these companies are simply trying to appeal to their target demographic.
But that's the easy answer. I understand it, but it doesn't mean I respect it. I want more women to play poker. I want women to feel more comfortable at the table. And online sites choosing to dole out buy-ins to pinups and porn stars doesn't exactly further either of those notions. I could easily write another 3,000 words about the "marketability factor" when it comes to sponsorship for women, but at least when asking the "Why Liv Boeree and why not Kathy Liebert?" question, both of the women involved are serious players who hold major titles.
This summer, I had more conversations about gender issues in poker than I have at the previous five WSOPs combined. One day I'd be debating about whether or not men should be allowed to crash ladies-only tournaments, the next I'd be discussing the disappointing number of female entrants in this year's Main Event, and the day after that the subject would turn to Victory Poker's current ad campaign, where pin-thin models are draped across the shoulders and laps of the site's sponsored male players rather than seated behind a stack of their own chips. Like Carrie Bradshaw gazing out her window into a dark Manhattan sky, I wondered-- when it comes to poker marketing am I the only one who thinks some of the tactics being used as of late are verging on desperate?
Full Tilt and PokerStars are the 800-pound gorillas when it comes to the U.S. market, and for the most part, neither site has found the need to resort to using scantily clad women to promote their product. UB and Absolute are still recovering from cheating scandals that many in the industry believe should have put them out of business, while Victory and Carbon are upstarts with little to brag about yet in terms of market share. I understand that these sites are up against it, but it's a shame so many of them are choosing to go with lowest common denominator marketing tactics.
There is always the outside chance that one of the aforementioned models and actresses could evolve into a serious poker professional. Christina Lindley may have started off as a Maxim girl, but after a couple of years of intense study, coaching, and daily online grinding, she turned herself into a successful semi-pro with a number of five-figure online scores and cash finishes on the North American Poker Tour and at the WSOP (she's still a free agent, by the way). When PokerStars signed Vanessa Rousso in 2006 following her seventh-place finish at the WPT Championships, she had a relatively thin poker resume and was seen more as a pretty face that could successfully market the site. Rousso, however, fought the stereotype and pushed herself to improve, accumulating over $2.6 million in tournament earnings along the way. She's now fourth on the All-Time Women's Money List (passing Jennifer Harman earlier this year), and if invitation-only freerolls were discounted, she'd be number three.
I don't think the number of women in the game will ever come close to equaling the number of men, at least not in my lifetime. It will always require a special brand of toughness for any woman to sit down at a poker table. The reasons have to do with a number of sociological and psychological factors. It's still a boys' club, and to make things even more difficult, some members of that club are continuing to crash ladies' tournaments around the country, disrespecting the women who play them in the process. With the direction poker marketing has turned in 2010, I have to wonder if my desire for real gender equality in poker is a wish for something that simply will never be there.
But losing the porn stars and lingerie models is a start.
Are you following us on Twitter yet? Well why not?
Qualify for future WPT Events at PartyPoker. While you are at it, get our $50 Free No Deposit sign up bonus and also play in our fabulous $7,500 Cash Runner Freeroll Series - Exclusive to Club PokerNews.