In the Green Room with Sara Underwood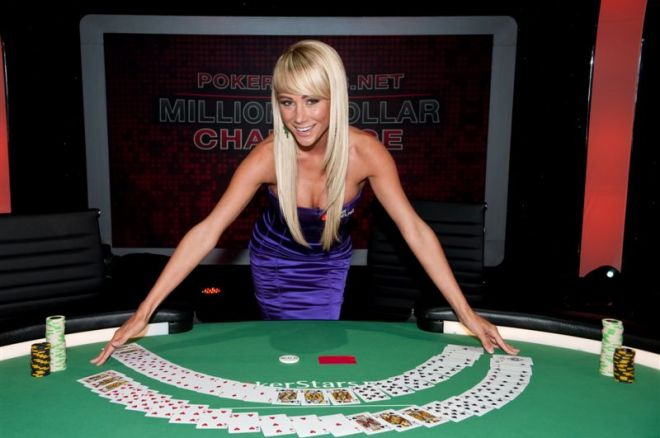 A few weeks ago, the PokerStars.net Million Dollar Challenge was in Las Vegas filming new episodes for its upcoming season. We went down to the South Point Hotel and Casino to see the set and chat with a few of the competitors. While we were there, we talked with Playboy model and Victory Poker pro Sara Underwood about her experiences on the show, poker, and more.
What have you done to prep for your appearance on the show?
I have been going through poker lessons since about February. I started from nothing. I've had three trainers from Victory Poker. Andrew Robl, Keith Gipson, and The Maven have been training me tournament style. I have never played heads up before. I've gotten pretty good at poker, but the night before I came here, Andrew came over to my hotel room and we went through a session. He gave me some advice and we played online together. To me, it's similar to my tournament play; I'm just playing a lot more hands. But after the flop, everything is sort of the same.
What would you say is your biggest strength at the table?
I think my biggest strength is just being a woman, especially here. I wouldn't say that so much at the tournament, but here I don't really think that the players know what to do with me. I think when I make big bets, they tend to believe me.
What about your greatest weakness?
The last guy I played, he was so sweet and charming, and you really want to see him win. It'll change his life. He was talking about how if he won the money he was going to get a new Martha Stewart chicken coop and he was just adorable. You have to keep your head in it. You start to kind of root for them yourself, but you have to remember, you're here to play and you're playing for your own charity.
What charity are you playing for?
The Columbia Humane Society, which is the humane society in Scappoose, Oregon where I grew up. It's really small and where we got all of our pets, so I just wanted to give back to the community.
If you could bluff one player at the tables, who would it be?
I would bluff Phil Hellmuth, only because I love seeing him freak out every time something goes wrong, so I would love to be the person that made him do it.
How did you get your start in poker?
It kind of came out of nowhere. Victory Poker hired me for a photo shoot to launch their new company. While I was there, I got to talking with Dan Fleyshman and expressed my interests and he was like, "Let's teach you." And when they started teaching me, I really liked it and became addicted to it. I would sit on the computer night after night after night, just clicking away and playing.
How often do you play?
I was playing a ton all the way up to the World Series of Poker, really practicing and getting ready for it, and now I've sort of laid back a little bit on it and I'm taking a break. Getting back here and playing on the Million Dollar Challenge is kind of getting my juices flowing and I'm ready to start playing again.
What is your favorite magic trick that Antonio Esfandiari does?
He does it all the time and I still don't know how he does it, but when he makes the poker chip go from his bottom hand to his top hand. I've seen it a million times and I still cant figure it out.
Has he ever made your shirt disappear?
He has not. I think he has made lots of other girls shirts disappear, but not mine.
Would you rather have a World Series of Poker bracelet or the Bunny pendant?
Oh my gosh. Playboy has my heart, but the WSOP bracelet would be right underneath it.
Who do you think the hottest poker pro is?
I think Jason Mercier is really cute.
In the "Battle of the Bunnies," who do you think would win, you or Jayde Nicole?
I would beat Jayde for sure. I think that I've just become more involved with poker than she has. I sort of stuck with it longer. She didn't play in the WSOP and to me I don't think that's her number one priority. I've put a lot more dedication in to it. I could whoop her.
How has your experience on the PokerStars.net Million Dollar Challenge been?
The very first time I went out there, I was really nervous. I didn't know that there was going to be a live studio audience, so that was really intimidating. After that, I just realized, I'm really happy if I win, I win for charity and then if the contestants win, they get a vacation and they get to advance and make a lot of money, that could possibly change their life. So now I don't get too nervous. I just want everyone to have a good time. It's not like I'm playing in the WSOP and I have $10,000 that I just put out on the line. It's just different.
In the coming weeks, we'll have a behind-the-scenes look at the PokerStars.net Million Dollar Challenge, so stay tuned to PokerNews for that, and remember to follow us on Twitter for up-to-the-minute news.