PokerStars.net APPT Auckland Day 4: Say What You Wanna Say, Leaoasavaii Wins APPT Auckland!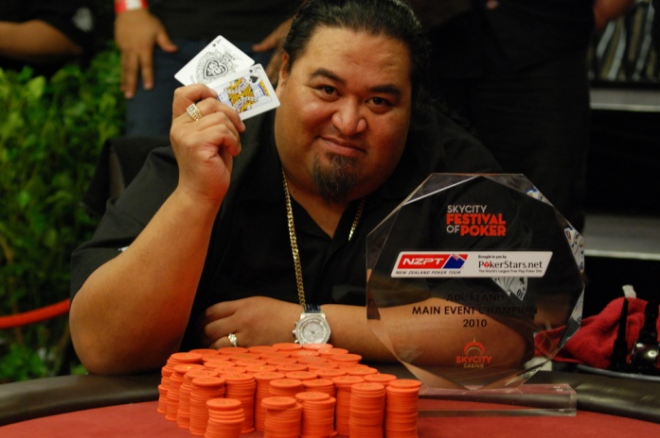 Greeted with cold rain, a hurling wind and temperatures that even make an Australian shiver; the final day of the 2010 PokerStars.net Asia Pacific Poker Tour returned to the SKYCITY Auckland Casino as the third stop of season four looked to crown an Auckland Champion!
Unfortunately for the seasoned veteran that is Melbournian Leo Boxell, his tournament would end within the first few hands when his A♦A♥ was cracked by Danny Silk's A♠K♠ after the board rolled out K♦6♠5♠K♣3♣ once all the money went in preflop.
As players began to get settled and comfortable, pots slowly became larger before Brooklyn-based American and Day 1a chip leader Noah Vogelman saw a great play in a battle of the blinds against Tom Grigg. He was unable to find a chop or an improvement to two-pair to exit out the door in eighth.
Hailing out of Spain, one of the more solid players on the table – PokerStars Online Qualifier Santi Soriano Ramos – would call Danny Silk's all-in shove from out of the big blind holding K♦K♥ to be in great shape against A♠9♠. Unfortunately for the Spaniard, the board of A♦J♦Q♠6♠9♥ would see him left with just a single ante before his powering 8♠4♦ wouldn't spike against two players kings and fives to unluckily bow out the door in seventh.
With the overnight chipleaders all adding to their stacks, it would be Danny "Brotha D" Leaoasavaii who would become the first player to join the seven-figure club after his top pair, top kicker held up against a massive combo draw of a pair, straight and flush draw. Although grinding the short-stack for not only the final table, but the majority of yesterday, Ropati Toleafoa's day would come to an end in sixth place after his check-raise all in with a flush draw didn't spike any river luck.
Easily one of the most active players of the final nine, Tamas Lendvai found a double holding pocket nines before he shipped from the small blind with K♥3♣ and was met with a call from Grigg's A♣8♥. No help from the board would end the Hungarian's tournament in sixth place – substantially better than his thirty-first placing in this same event in 2009.
Leaoasavaii continued his dominance as he surpassed the two million-chip mark to hold over half the chips in play five-handed before Grigg kick-started his fight back as Silk exited in fourth place. The Australian would commit his fifteen-big blind stack from the button with K♦6♣, but it would be Leaoasavaii's A♣7♣ that would put him at risk – and following an ace on the flop – Silk was forced to see his second APPT cash end shy of a win.
Grigg doubled back into the game before then eliminating fellow PokerStars Online Qualifier Srdjan Mitrovic in third place. Mitrovic shipped it from the small blind holding 9♠8♣, but running up against Grigg's A♥8♠ wouldn't put him in great shape as the board blanked out queen-high to leave just two.
Tom Grigg – 1,968,000
Danny 'Brotha D' Leaoasavaii – 1,918,000
With Grigg battling back into the lead, it would start one of the most intense heads up battles ever in APPT history as Grigg edged forward to a near two-to-one lead before Leaoasavaii squared it all up. Grigg managed to chip ahead once again, but just like previously, Leaoasavaii fought back when his K♥J♣ connected heavily on a K♠J♦7♣ flop to take back the lead.
Round and round we went as Grigg snatched it back before Leaoasavaii once again raked in a few pots to again sit atop the leaderboard. On this occasion, Leaoasavaii took his edge out to a near-to-one one only to have Grigg turn a flush with 7♣3♣ and win a monster pot with an overpair to take back the lead.
As both players continued to exchange min-raise after min-raise, Grigg put his foot down on the accelerator as he began to push all in preflop to put Leaoasavaii to the test as he slid down to a near six-to-one disadvantage. That test would see Leaoasavaii defend his big blind with J♣5♣, and when he flopped top two pair, he found a double against Grigg's top-top to be at slightly less than a two-to-one disadvantage.
Leaoasavaii again started sliding back downhill before his 7♦6♥ spiked a flush against Grigg before moving ahead of Grigg. Leaoasavaii then began applying the pressure as he made trips only to see Grigg eliminated a few hands later when he three-bet all in from the big blind holding J♥10♠ against Leaoasavaii's A♠K♠. The board blanked out queen-high to see Grigg better his previous APPT final table result, but inevitably fall short of the prize in second place.
For New Zealand's Godfather of hip-hop who won his seat into the Main Event by winning the SKYCITY Auckland Celebrity Invitational – for the second year running – he displayed bouts of patience, aggression and a table presence that at times both intimidated and befriended those around him. For Leaoasavaii, he was without down the crowd favorite as the South Auckland native seemed overcome with joy as he captured the $123,058 (NZ$170,000) first prize and title of season four APPT Auckland Champion!
Final Table Payouts
1. Danny 'Brotha D' Leaoasavaii ($123,058)
2. Tom Grigg ($78,106)
3. Srdjan Mitrovic ($43,794)
4. Danny Silk ($35,506)
5. Tamas Lendvai ($29,606)
6. Ropati Toleafoa ($24,829)
7. Santi Soriano Ramos ($20,124)
8. Noah Vogelman ($15,382)
9. Leo Boxell ($11,835)
As for the PokerNews Live Reporting Team, many thanks go to the staff at the SKYCITY Auckland Casino as well as the PokerStars crew who provided wonderful hospitality throughout our stay. If you weren't lucky enough to join us, then PokerNews hostess Lynn Gilmartin shows off exactly what you missed in this video:
However, if you are still keen to get your tournament fix, then make sure to follow along with our WSOP Europe coverage that extends through to the end of the month – and whilst doing that, jump on PokerStars to try and qualify for the upcoming Asia Pacific Poker Tour stop in Cebu, Philippines from November 12th – 16th, 2010!