The Nightly Turbo: World Poker Tour London, Barney Frank on Jay Leno, and More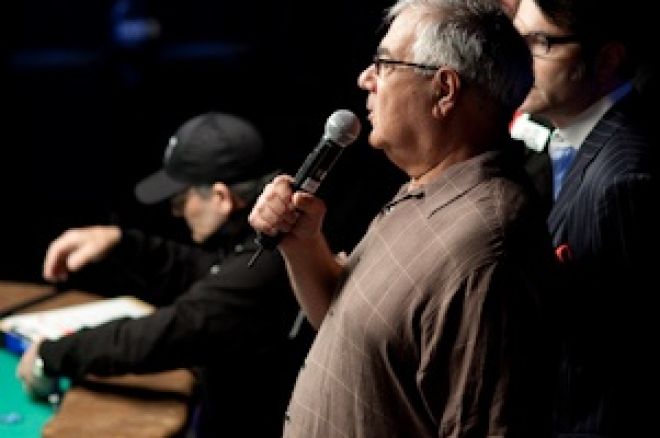 The inaugural World Poker Tour London is into its third day at Mayfair's Palm Beach Casino and the field is getting closer and closer to a final table. Also in tonight's Nightly Turbo, a clip from the Tonight Show with Jay Leno, and more.
In Case You Missed It
Are you headed to Auckland for the next stop on the PokerStars Asia Pacific Poker Tour? If you are, check out the latest Around the World with Lynn Gilmartin to find out everything you need to know.
The PokerStars WCOOP is just around the corner. If you're wondering how the tournament has changed over the years, you're in luck, because we're taking a look at past WCOOPs.
We're sure you'll agree with most if not all of the points on our latest list. The PokerNews Team got together to bring you the Top 10 Most Overused Poker Terms to give you a little laugh on this Thursday.
He travels the globe in search of bizarre foods, but in his down time, Andrew Zimmern likes to play poker, just like the rest of us. Check out the PokerNews Interview to find out about his home games and his global exploits.
There's a new Big Game in town with a fresh batch of players. Players are flocking to Ivey's Room to play in the daily $200/$400 game and take advantage of all the perks that come with playing there.
That's all she wrote for the PokerStars European Poker Tour Vilamoura. A winner was crowned Thursday and you can find out all about it in the EPT recap.
World Poker Tour London
Day 3 of the inaugural World Poker Tour London is under way with 38 players taking their seats at the tables in hopes of lasting yet another day in hopes of getting closer to the WPT title. On player who will not be playing for that title is Luke Schwartz, who at the beginning of the day was eliminated in typical Luke Schwartz style - cursing and causing a ruckus.
Tatjana Pasalic caught up with Tony G at Mayfair's Palm Beach Casino to talk with him about helping to mediate the Daniel Negreanu and Annie Duke situation and more.
For more updates from the World Poker Tour London, head on over to the PartyPoker Blog.
Poker in the Park
Since we were just talking about London, we'll keep with that theme and give you the scoop on what's going on in The Big Smoke this weekend. Poker in the Park is kicking off in the heart of Leicester Square on September 3 and 4. There will be strategy lectures, free tournaments, swag, and more. Some of your favorite poker players will be on hand too, including Liv Boeree, Roland De Wolfe, Dave "Devilfish" Ulliott, and even boxing champ Evander Holyfield.
PokerNews is hosting a freeroll in the Red Hot PokerPlex Tent on September 3 at 18:30 GMT, where players will be able to win a chance to drive the Ferrari that will be on display, for a day.
For information, check out PokerInThePark.com.
Frank Talk
Representative Barney Frank was on the Tonight Show with Jay Leno this week and among other things, they talked about online poker legislation of course. Leno tries to play devils advocate and presents the other side of the online gambling argument. We'll let you form your own opinions on the segment.
Thanks to the Poker Players Alliance for the clip.
Bluffed
This will serve as your "player beware" story of the day. In 2009, a player won about $9,000 while playing poker at the Horseshoe Casino in Indiana, something that didn't go unnoticed in the eyes of some of the patrons of the casino - namely, 27-year-old Lakasha Johnson.
Johnson proceeded to chat up the unnamed player, and we can only assume one thing lead to another because the two ended up in the player's room for the night. The next morning when the player woke up, his lady friend, along with his money were gone. Oops.
There is a silver lining however, the police were able to track down Johnson and just recently she was convicted of theft and is being ordered to pay back all of the money. If there was ever a time to use his "one time," this would be it.
PokerRoomReview.com has more.
Vilamoura Final Table
If you haven't been following the PokerNews Live Reporting coverage from the PokerStars European Poker Tour Vilamoura, then you should be ashamed of yourself. This also means, you probably don't know who is at the final table. You should thank Gloria Balding for bringing you the final table preview to keep you up to date.
Make sure you're following us on Twitter. It's the best way to get up-to-the-minute news. Also become a fan on Facebook.