The Nightly Turbo: Tony G Offers to Stake Isildur1, Grudzien Resigns, and a World Poker Tour Hollywood Update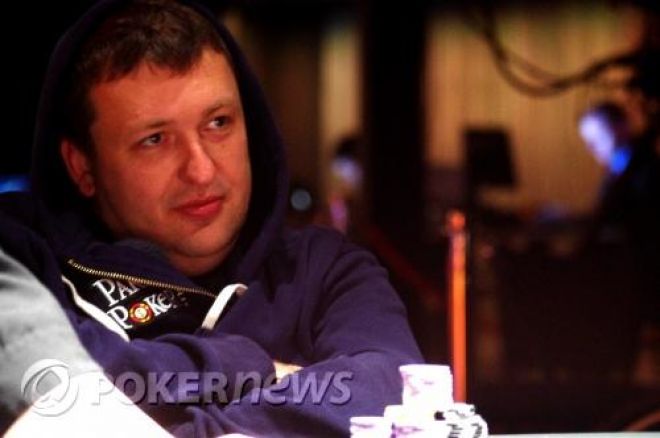 Tony G has offered to stake Isildur1 in a live televised cash game, amidst cheating allegations, Nick Grudzien has resigned from Stoxpoker, and the Matador is making moves in Hollywood. Read about it all in tonight's Nightly Turbo.
In Case You Missed It
The European Poker Tour Snowfest field is dwindling down and apparently so is the snow in Saalbach-Hinterglemm. Find out who made it through Day 2 and who ate snow in this recap.
The high-stakes action on Full Tilt is firing up again.Ilari Sahamies picked off a Cole South bluff and Sami "LarsLuzak" Kelopuro is working his way back up. Read about it in the Online Railbird Report.
Ever been short-stacked in a tournament and not known what to do?Amit Makhija sat down with Kristy Arnett to discuss strategy when you're sitting down with a short-stack and the clock is running.
Last week we found out that the UIGEA would likely not be delayed again. The Poker Players Alliance is now planning for what to do when the UIGEA goes into effect. Read about it here.
Grudzien Resigns
Amid allegations of cheating from members on the Two Plus Two forums, Nick "StoxTrader" Grudzien has resigned from StoxPoker, the online poker training site he founded in 2006.
Grudzien took to the Two Plus Two and StoxPoker forums to clear things up. He admitted to having three accounts each on Full Tilt Poker and PokerStars. Taylor Caby, who runs CardRunners, said he knew of the multi-accounting. CardRunners and StoxPoker merged in 2008.
The Two Plus Two thread is bursting at the seams with posts and is full of anonymous and big names around chiming in on the matter.
The Examiner has more.
A Hollywood Dream
Cards will have been in the air for a couple of hours in Indiana at theWorld Poker Tour Hollywood Poker Open by the time you read this, so we can't tell you what happened after "shuffle up and deal," but we can tell you how last night ended and who the final six are.
Carlos Mortensen began the day in the top spot with 1,127,000 in chips. Hot on his heels is Frank Calo with 1,075,000. If Mortensen takes this one down, he'll overtake Daniel Negreanu on the WPT all-time money list and he'll tie Gus Hansen for the top spot for number of wins, which is three.
The final six:
Seat 1. Mike Mustafa - 990,000
Seat 2. Jerry Payne - 268,000
Seat 3. Carlos Mortensen - 1,127,000
Seat 4. Ravi Raghavan - 488,000
Seat 5. Chris Bell - 372,000
Seat 6. Frank Calo - 1,075,000
Can The Matador do it? WorldPokerTour.com has your updates.
Snodogeball?
Where there's snow, there's bound to be a snowball fight. At the European Poker Tour Snowfest, they do things a little differently. Arnaud Mattern headed up one team and Mark Vos took the lead in another and an epic snowball-dodgeball (snodogeball) game ensued. Check it out below.
Follow us on Twitter for up-to-the-minute news and be sure to add us on Facebook.
Will Isildur1 Accept The G's Offer?
The PartyPoker Big Game IV will take place from April 11 through 13 at the Les Ambassadeurs club in Mayfair. PokerNews' own Tony G has offered to stake everyone's favorite madman, Isildur1, for the game. If he accepts, he'll be playing against Luke "FullFlush" Schwartz, Phil Laak,Issac Haxton, Neil Channing, Jennifer Tilly, and more.
The G offered the staking in his most recent blog on PartyPoker. He has offered to pay for Isildur's flights, hotel, and stake in the 48-hour cash game. Not only that, but managing director of Matchroom Sport, Eddie Hearn, has even agreed to allow Isildur to wear a mask during the game to keep his identity unknown. Tony has offered up his Kermit the Frog mask or even to get one specially made for the event.
Even though he wants to stake Isildur, he wants to make one thing clear, "If I stake you I still want to crush you and make you bleed from the mask…and I will!"
Will Isildur accept? We're not for sure right now. Check out Tony's blog on PartyPoker for more.
AGA Changing Its Tune?
The American Gaming Association, which has, for quite some time, been opposed to online gambling, seems to be singing a different tune as of late. President of the AGA Frank Fahrenkopf has said that the AGA is "open to the concept" as long as it is done the "right" way. The AGA is more in favor of a state-based regulation model, however, and it is remaining neutral on Barney Frank's bill.
Read more about it on Pokerati.com.