The Nightly Turbo: Boxer Audley Harrison Signs with Full Tilt Poker, Scott Montgomery Robbed, and More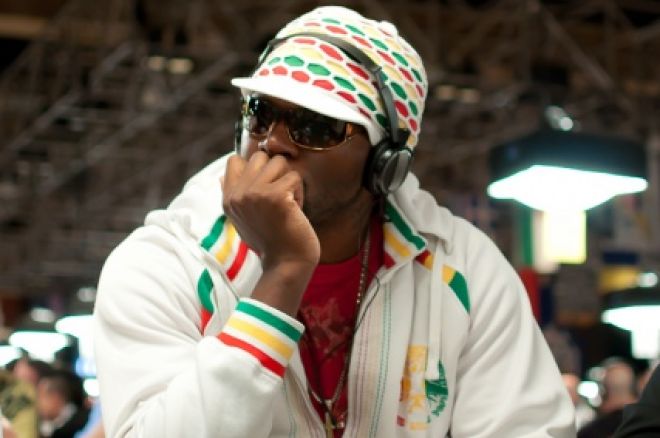 If you're looking for the top news stories of the day, you've come to the right place. Today, we've got news on the new patch Audley Harrison will be sporting, what happened to Scott Montgomery at the Bellagio, and more.
In Case You Missed It
The poker tournament scene is firing back up in Las Vegas after a quiet few months following the World Series of Poker. Check out The Vegas Grinder to find out what's going on and where it's happening.
The Main Event of the second stop of the 2010-2011 World Series of Poker Circuit is under way at the Horseshoe Southern Indiana and the PokerNews Team is there, doing their thing. Here's the Day 1 recap.
With every Monday comes Sunday Majors results. Today is no different. The Sunday Briefing has what you're looking for.
There's a long list of fantasy sports that people pour time and money into every day - fantasy football, fantasy baseball, fantasy basketball, etc. There's also fantasy poker. What is that you ask? Find out in What is Fantasy Poker.
In the Red Corner
Back in August we told you about a chance meeting between boxer Audley Harrison and Matchroom Sport director Eddie Hearn at the 2009 World Series of Poker. That led to discussions about setting up a Heavyweight title fight against British World Champion David Haye. That fight will take place on November 13 in Manchester.
It was just announced that Harrison has signed a sponsorship deal with Full Tilt Poker and will now be seeing his name in red on the online poker site, as well as being FTP-branded during his big fight.
"Obviously Full Tilt are one of the biggest names out there and I do play on Full Tilt. For them to come knocking and offer me a deal obviously I'm gonna jump at it. It's a great deal for me now and when I win the title it's gonna be an even better deal," Harrison told UK.PokerNews.com's Barry Carter.
To read the entire interview, head on over to UK.PokerNews.com.
Robbed at Bellagio
Perusing the NVG forum on TwoPlusTwo this morning, we ran across a thread titled "Scott Montgomery gets robbed at Bellagio." So naturally we clicked on it. Sure enough, the first post in the thread linked to Scott Montgomery's Twitter account and in three tweets, Montgomery briefly (because there's a 140 character limit) explained what happened.
According to the tweets, Montgomery was robbed in one of the bathrooms at the Bellagio. "Got mugged today at Bellagio. Black guy pulled a knife on me in the restroom. I gave him the $2k in my wallet and he left." He went on to say that Bellagio security didn't do much to help catch the guy.
Let's just say, it could have been worse, and for those of you walking around with a bunch of cash in your wallets, be aware of your surroundings.
The TwoPlusTwo thread is now closed (because it got out of hand like most threads do on TwoPlusTwo) but you can still read it.
Get Ready to Set Your DVRs
If you're a fan of the show Weeds, then you should know that creator Jenji Kohan and executive producer Matthew Salsberg are working on a new comedy project for Showtime - a poker show.
The half-hour show, Whales, is about a group of young people who move to Las Vegas to live together while pursuing their dream of winning the World Series of Poker.
The Deadline has more.
The Big Game
The PokerStars.net Big Game is back this week, with a new set of episodes, beginning October 11 on Fox. Don't remember how it works? Well, the Loose Cannon gets staked for $100,000 from PokerStars and has to play 150 hands at $200/$400 blinds against some of today's top poker pros. The LC is playing to make a profit, but not only that, make a profit that is greater than any of the other Loose Cannons that have played on the show.
All LCs have taken the profits and gone on their merry way - until now. In his first episode, Russell Harlow finished with $116,000. He's now back to try and catch Nadya Magnus, who is sitting pretty in the top spot on the Loose Cannon leader board with $163,600. At the end of the season, the player with the most winnings, will win a $50,000 North American Poker Tour Passport.
Here's a preview of the show.
You'll need to check your local listings to find out when the show airs, and check out TheBigGame.PokerStars.net for more.
The Sunday Grind
We're bringing you a sneak peek at where some of your favorite online pros do their online poker grinding. Kristy Arnett caught up Carter King recently to check it out. King also gives us tips on how to manage your first big online win.
Follow us on Twitter for up-to-the-minute news and be sure to add us on Facebook.