What is Fantasy Poker?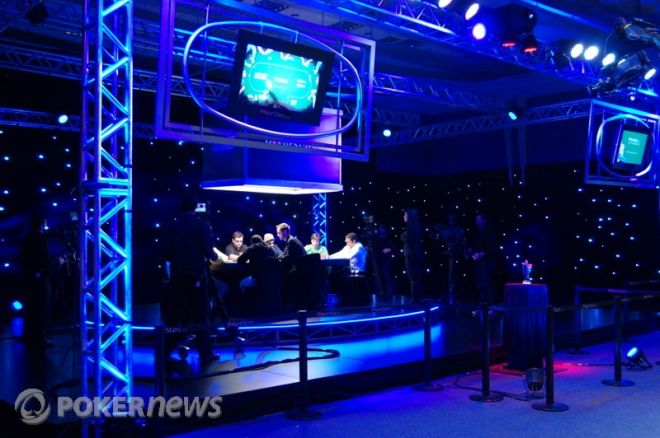 Since 2005, poker fans have participated in the phenomenon known as Fantasy Poker. For years, fantasy sports have kept enthusiasts excited about their favorite sports while giving them a rooting interest in the outcome of individual games. According to Wikipedia, "a fantasy sport (also known as rotisserie, roto, or owner simulation) is a game where participants act as owners to build a team that competes against other fantasy owners based on the statistics generated by the real individual players." Although it may not be considered a sport, the same concept can be applied to poker.
In Fantasy Poker, players draft a team of professional poker players who compete in a series of tournaments and earn points based upon their finish or money earned. Whatever team earns the most points at the end, wins. The specifics can vary from league to league, but the principle remains the same. For those who may not be familiar with this rising phenomenon, here are some answers to the most commonly asked Fantasy Poker questions.
How many people can play Fantasy Poker?
The number of players who can participate in Fantasy Poker varies depending on the league. In the larger online leagues open to the public, it's not uncommon to see thousands of players. The larger leagues usually allow players to draft a team that will be used throughout the entire tournament series without the option to change players in and out of the lineup, which is known as "Permanent League." In smaller leagues, anywhere from four to 12 players get together (it could be more) and hold a draft. With a limited number of players, the different league formats can vary. Permanent Leagues are still an option but so are "Interchangeable Leagues" where players can adjust their roster for each individual tournament by changing players in and out. For example, you might start one player in Hold'em events but change them for another when the tournament changes to Omaha or H.O.R.S.E. Full Tilt Poker was the first to implement an "Interchangeable League" on a grand scale when it offered that format for the 2010 World Series of Poker.
How does the scoring work?
Fantasy Poker leagues implement a variety of scoring systems. The most popular Fantasy Poker leagues use a system that awards points based on a player's finish. For instance, the following scoring system has proved quite popular and is highly recommended if you wish to start your own Fantasy Poker league):
1 point - for making the money
2 points - for making the top 50
5 points - for making the top 20
10 points - for making the final table; then:
1 additional point - for 9th
2 additional points - for 8th
4 additional points - for 7th
6 additional points - for 6th
10 additional points - for 5th
15 additional points - for 4th
20 additional points - for 3rd
30 additional points - for 2nd
40 additional points - for 1st (Double points awarded for all events with buy-ins of $10,000 or more)
This is actually the format used in the popular, invite-only ESPN Fantasy Poker League during the World Series of Poker, which has been the most publicized Fantasy Poker league of all time. In that league, a number of prominent poker pros and personalities (including Daniel Negreanu, Howard Lederer, Dennis Phillips and Andrew Feldman) get together each year and hold a draft. For more on that draft, head on over to ESPN.com.
The other scoring system that is commonly used is the "Money Earned" variation, which awards one fantasy point for every dollar earned in a tournament. Full Tilt Poker has used the "Money Earned" format for its popular WSOP Fantasy League. In that league, participants are able to select 15 poker pros from a list of around 300 for each event in the WSOP. Five players are selected for one of three teams: A, B and C. If that player manages to cash, he will earn points depending upon what team he was assigned. If he was on the C team, he earns a point for every dollar won; B team two points for every dollar earned; and A team three points for every dollar earned. Also, in that league, players are allowed to change their rosters for each event right up to the start of the tournament, bringing it on par with other Fantasy Sports.
How does the draft work?
The draft depends on the format of the league. Many of the larger online leagues don't even hold a draft; instead, they allow players to choose their own rosters even if their selections overlap other teams. In leagues that do conduct a draft, they try to keep things as fair as possible. This means randomly determining a draft order, perhaps by picking names out of a hat, choosing cards or using a random-number generator. In addition, these leagues will most likely use the snake-draft format. This means that if you have ten players in your league, the person with the last pick in the first round will pick first in the following round, snaking the picks back and forth throughout the draft. Other fantasy draft options, such as an auction draft or keeper league, can be applied to Fantasy Poker, as well.
How do I start my own league?
If you decide to host your own league among friends and don't want to conduct it online, the first thing you'll need to do is appoint a Commissioner who will be responsible for documenting the draft and calculating the scores. Then, decide what league format, scoring system and draft options you'll be using. Finally, you will need to determine which tournaments your league will score. Fantasy Poker is at its height during the WSOP when a full slate of tournaments keeps things competitive, so it's no surprise that most leagues operate during this timeframe. However, Fantasy Poker has slowly become a game that can be enjoyed year round, with leagues now forming around the different circuits such as the World Poker Tour, European Poker Tour, Asian Poker Tour, North American Poker Tour and the WSOP Circuit.
What criteria should I use when drafting a team?
Believe it or not, drafting a Fantasy Poker team is as simple or in-depth as you want it to be. Many participants just draft their favorite poker professionals, which isn't a bad strategy. Others delve a little deeper and pour over dozens of poker statistics determining which players have the most success in the poker variations. For example, you might find that Phil Hellmuth is an excellent choice for hold'em events but that he hasn't fared as well in seven-card stud events. Instead, you might go with a player who is well versed in all the forms of poker, like Jeffrey Lisandro or Phil Ivey. This is especially important considering that most of the events at the WSOP are in variations other than no-limit Texas hold'em.
In addition to stats and past performances, sponsorship plays a major role in Fantasy Poker. This is because those professionals fortunate enough to have sponsorship deals will have their entry fees covered in more tournaments than those who don't. In other words, those with sponsorship deals will play more tournaments, giving them a better chance of winning one, which gives Fantasy Poker owners the best chance at accumulating major points.
You'll also want to be aware of those players who devote a large amount of their time to cash games. It's no surprise the cash games that spring up around the WSOP are among the best. As such, players like Doyle Brunson and David Benyamine forego many of the tournaments to take advantage of the ring game action. These types of players, although popular, can be detrimental to a Fantasy Poker team. Because they don't play as many tournaments, they don't have high fantasy value and should be avoided.
As you can see, Fantasy Poker is an elaborate, yet fun game. Many poker fans aren't able to travel to Las Vegas or afford the buy-ins for the WSOP or other events, but by playing Fantasy Poker, they have a vested interest in the outcomes. What's more, players can follow their team's success in these various tournaments by checking live updates right here on PokerNews, which adds a whole new dimension to the game.
We know it sounds hard to believe, but you really can get a free poker bankroll without having to deposit or give your bank details. Check out our exclusive $50 Free No Deposit Sign Up Bonus from PartyPoker.