The Online Railbird Report: Seven-Figure Days for Dwan and Torbergsen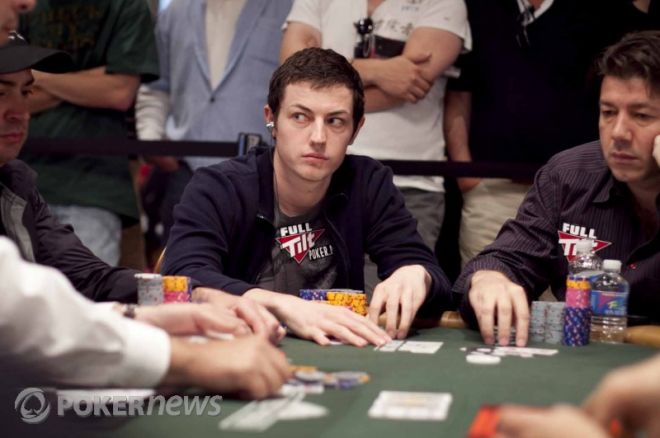 Million-dollar swings? $400,000 pots? Isildur1? Have we hopped in a Hot Tub Time Machine back to 2009 when these sorts of things were daily occurrences? Call it a mini-Renaissance, call it a post-WSOP-E flurry of action, but this week the high-stakes tables on Full Tilt Poker were action-packed to a degree we haven't seen in quite a while. The big winners were Andreas "skjervoy" Torbergsen and Tom "durrrr" Dwan who enjoyed seven-figure single-day gains while Ilari "Ziigmund" Sahamies experienced the exact opposite.
Torbergsen tears up the tables
One of the newest additions to Full Tilt's Red Pro army, Andreas "skjervoy" Torbergsen, enjoyed one of the biggest upswings in his online poker career this week, banking more than $1.8 million. Torbergsen won nearly $1.2 million of that in 24 hours during which he played several volatile heads-up PLO matches against "cadillac1944." From their 535-hand $500/$1,000 match on Wednesday night, Torbergsen raked in $600,000 and was on the winning end of two pots that crossed the $400k mark. When they met again the following day, Torbergsen's heater continued and he pulled in another $414,000. Toss in another few hundred grand from Sahamies, and you have one very happy Norwegian.
In one of the aforementioned $400k pots, Torbergsen caught a very lucky turn card against cadillac1944 who hit the flop in a major way. Torbergsen opened for $2,500 on the button and cadillac1944 called. Cadillac1944 checked the
flop over to Torbergsen who bet $3,000. Cadillac1944 raised to $14,000 and Torbergsen called. The turn came the
and cadillac1944 made it $33,000 to go. Torbergsen raised to $75,500, cadillac1944 shoved for $187,073 and Torbergsen snap-called, turning over
for fives full of kings. Cadillac1944 had flopped a smaller boat, fives full of sixes, with
. The river was the
, improving Torbergsen to kings full and he raked in the $407,146 pot.
Dwan's $1.5 million Sunday
Torbergsen may have ended the week with the most profit, but on Sunday Dwan bested the Norwegian's $1.2 milion single-day take by more than $300,000. In 2,362 hands, Dwan won over $1.51 million, $1.22 million of it coming from a $500/$1,000 PLO bloodbath against Sahamies. Four pots topped the $275,000 mark, Dwan winning all of them, including this $416,000 monster.
At the start of the hand, Sahamies was $207,000 deep while Dwan was sitting on a $345,000 stack. Sahamies opened for $3,000, Dwan reraised to $9,000, Sahamies four-bet to $18,000 and Dwan called. Dwan checked the
flop over to Sahamies who made a pot-sized bet of $36,000. Dwan raised to $144,000, Sahamies moved all-in for $189,998 and Dwan called.
Sahamies

Dwan
Sahamies hit top two pair and after flopping a straight draw and the nut-flush draw, Dwan's money wasn't going anywhere but in the middle. They only ran it once, the
on the turn making Dwan an eight-high straight. The river was the
and Dwan collected the $415,996 pot.
Isildur1 meets jungleman12, loses $100,000
It was about this time last year when everyone's favorite mystery Swede started making moves in the nosebleed-stakes games. Although he isn't trading $500,000 pots with Dwan or Patrik Antonius these days, Isildur1 did meet up with Dwan's new "durrrr" Challenge foe, Dan "jungleman12" Cates this weekend. The two played a 2,100-hand session of $100/$200 no-limit hold'em, Cates finishing up nearly $100,000 to the good. Isildur1 dominated the first third of their match, jumping out to a $50,000 lead, but Cates caught on to his tendencies and was able to turn it around.
In a pot that topped out at 465 big blinds, Isildur1 opened for $600 on the button, Cates raised to $2,400 and Isildur1 called. The flop came down
and Cates check-called Isildur1's $2,800 bet. Cates check-called another $7,600 when the
hit the turn. The river was the
and Cates checked a third time. Isildur1 moved all-in for $33,898 and Cates called, turning over pocket eights for a turned set. Isildur1 could only show ace-high and a busted flush draw with
, and Cates collected the $93,397 pot.
Who's up? Who's down?
This week's biggest winners (9/27-10/3): Andreas "skjervoy" Torvaldsen (+$1.83 million), Tom "durrrr" Dwan (+$767,000), IHateJuice (+$460,000)
In the red: Patrik Antonius (-$951,000), Di "Urindanger" Dang (-$706,000), Phil Ivey (-$469,000)
Super September: Andreas "skjervoy" Torvaldsen (+$1.53 million), Ilari "Ziigmund" Sahamies (+$620,000), DrugsOrMe (+$575,000)
September slump: Cole South (-$1.4 million), Brian "sbrugby" Townsend (-$1.06 million) Tom "durrrr" Dwan (-$794,000)
[If you want to rail some of the biggest cash games in the world, look no further than Full Tilt Poker. Not only can you sweat the biggest names on the planet you can also participate in their $100,000 First Deposit Freeroll and bag a $600 sign up bonus.