World Series of Poker Circuit Hammond Day 2: Jewell Tops Final 16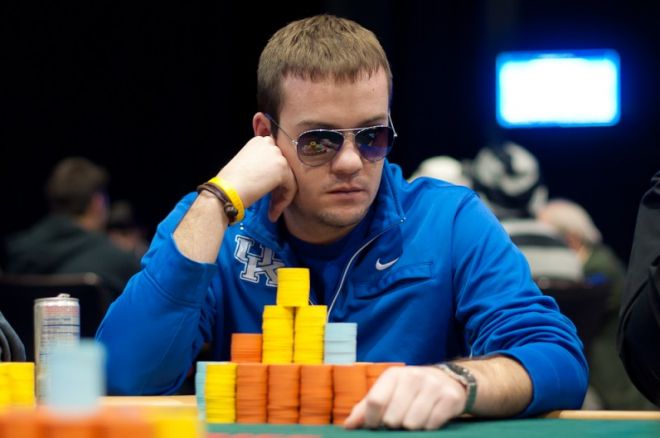 The World Series of Poker Circuit completed Day 2 of its Main Event on Saturday in Hammond, Indiana after a long day of play. At the beginning of the day, 162 players returned to action. The money bubble was set at 90 players and about three hours into play, that bubble broke.
The unfortunate bubble boy was Ryan Julius. He got his money in with two nines against the
for Richard Rockwood. A king on the turn hit Rockwood and he won the hand, sending Julius out the door as the last player not to get paid in 91st place. From there, a steady waterfall of eliminations flowed over the next several hours as players hit the rail left and right.
Out of those who made the money, but won't be returning for Day 3 were Brett Richey, Shiva Dudani, Kathy Liebert and Matt Brady. Brady actually did the deed of sending Richey to the rail before he eventually fell at the hands of John Farmakoulas. Dudani earned himself another cash with his finish and five more points to add to his 147.5 that he has already earned towards the National Championship.
The man right behind Dudani on that leader board was Kevin Calenzo. Name ring a bell? Well, if you followed our coverage of the WSOP Circuit Main Event in Southern Indiana, Calenzo was the runner up to Charles "Woody" Moore. Calenzo also final tabled the first Circuit event this season in Council Bluffs. His was unable to find a third final table in a row, but did well enough to finish in 21st place. That finish was good enough to earn him ten points. He was only two and a half points behind Dudani coming into the Main Event here in Hammond, meaning those ten points put him in the lead as Dudani only earned half of that. Calenzo is now the front-runner on the National Championship leader board and making quite the amount of noise in these events.
Heading the pack into Day 3 is Kurt Jewell. He finished out the second day of action with a field-leading 3,102,000 in chips. Jewell did well all day long to constantly grow his stack without ever really slipping up. Solid play and aggression are the reason why he'll be returning on Sunday with the chip lead, but he's not the only one with a wielding a hefty stack of chips. Edwin Choi (2,470,000), William Reynolds (1,596,000) and Bryan Devonshire (1,192,000) are all still alive and have plenty of barking chips. Devonshire is the only player remaining with a WSOP Circuit Main Event title, which he won in Rincon last season.
Although the field was whittled down steadily and rather quickly from 162 to about 27, from there on out the eliminations came at a slow rate. When the bell rang at the end of the night, 16 players remained and memories of this summer's WSOP are looming with another long final day of play around the corner, as the plan is to play all the way down to a winner.
Here's a list of the chip counts for all the players who finished up Day 2 and will be moving to Day 3.
| Player | Chips |
| --- | --- |
| Kurt Jewell | 3,102,000 |
| Edwin Choi | 2,470,000 |
| William Reynolds | 1,596,000 |
| Jared Kenworthy | 1,296,000 |
| Nick Jivkov | 1,264,000 |
| Bryan Devonshire | 1,192,000 |
| Casey Hayes | 1,072,000 |
| Josh Kay | 1,042,000 |
| Will Souther | 831,000 |
| John Farmakoulas | 779,000 |
| Nadezhda Magnus | 619,000 |
| Ross Keiser | 541,000 |
| Daniel Cohen | 447,000 |
| Matthew Shepsky | 445,000 |
| Kevin Ammerman | 433,000 |
| Charles Wiper | 350,000 |
Play resumes on Sunday at 2:00 p.m. local time in Hammond, Indiana. Everyone remaining is guaranteed at least $12,469, but they've all got their eyes set on much more than that. A first-place prize of $242,909 is up for grabs as well as the seat in the National Championship, the gold championship ring and a seat in the $10,000 Regional Championship on Monday. Be sure to tune back to PokerNews for all the live updates from the event as only our worldwide-leading Live Reporting Team can bring you.
If you missed any of the action today, have a glance back through the blog. And if you'd follow us on Twitter and like us on Facebook, we'd sure enjoy that too!