2010 PokerStars.net APPT Cebu Day 4: Young-shin Im Crowned First Female APPT Champion in Cebu!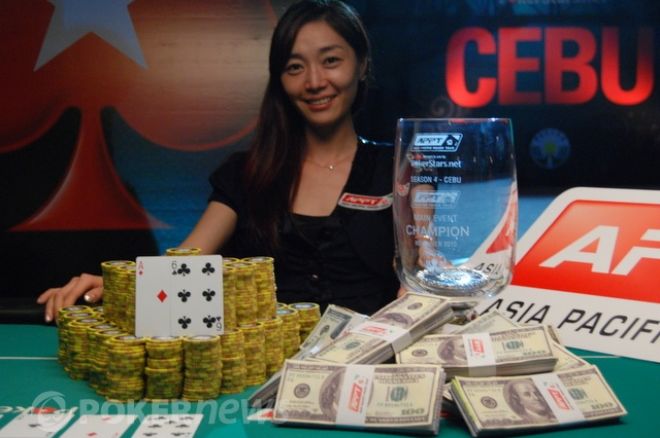 The final day of the PokerStars.net Asia Pacific Poker Tour Cebu Main Event was on the cards with nine very nervous players taking their seat in the Shangri-La Mactan Resort & Spa poker room with one goal on their minds: be the last one standing!
Only eight eliminations stood between the first and last hands of the day if that lucky player were to become the next PokerStars Champion. Overnight chip leader Kim Gap Young had plenty of pressure thrust onto his shoulders as he began the day with over a quarter of the chips in play. To combat this, Young kicked off the final table with plenty of aggression by capturing the majority of the pots in the first level.
Although trying to hang out and wait patiently for the right hand, Raymond Lapitan pushed his remaining nine-big blind stack in from late position with
but was unable to outdraw Mikael Rosen's
to be the first victim of the final table. Then it was Richard En who couldn't spike his card when he found himself in a race against Young and was shown the exit.
Kicking into the second level, online qualifier Jukka Juvonen played one of the biggest pots of the tournament, but saw his day unravel after running into Young-shin Im's flopped set with his top pair. Young would be at it again eliminating his third opponent of the day when his dominating
held true against Basilios Diakokomninos'
cutoff shove.
Five players remained at the first break. It was the Korean partnership of Young and Im controlling the table with a near three-to-one advantage over the three smaller stacks. It was fitting that both these players were sitting together and in the lead because they are romantic partners off the felt.
Although arriving at the final table second chips, even Daren Yoon will admit that it just wasn't his day. He waited patiently for a big hand but eventually had to three-bet all-in for his last 12 big blinds, holding
. Unfortunately for the Malaysian, his opponent held kings, and after the board blanked out, Yoon was forced to exit in fifth. Swede Mikael Rosen managed to find a double to put him back in the four-handed game, but just a few hands later he ran a similar fate to fellow Euro Juvonen when he flopped top pair against Im's flopped set. A small sweat on the turn wasn't fulfilled on the river as Rosen collected his equal best result-to-date and first outside of Macau.
An intense three-handed battle was then set with the Koreans holding the majority of the chips but still not afraid to battle each other. Im held the lead and continued to see that grow as her partner, Young, slipped in the opposite direction. Young doubled Fabiano Michael up before finding a double himself only to shove the very next hand and see his
unable to best Michael's
.
Young-shin Im – 2,930,000
Fabiano Michael – 1,600,000
With Michael only trailing as slightly less than a two-to-one underdog, the PHP 2,150,000 or near $50,000 difference in winning and becoming runner-up became the basis for an expected intense heads-up affair.
Having friends in your corner supporting you is always a great motivating factor but when one of them is Full Tilt Red Pro Van Marcus it makes it even more of a help – especially because Marcus won the APPT Manila title back in 2008. Consequently, Michael's approach to his heads-up battle mirrored Marcus' aggressive style as the Australian closed the gap before snatching the lead. That lead, however, only lasted one hand as Im quickly took it back before finishing off Michael in the next hand.
In one of the more interesting heads-up hands witnessed, Im mis-clicked preflop in an attempt to call, but instead was bound to a min-raise. Michael shoved and Im made the call holding
to be in a race against Michael's
. The
on the flop was all she wrote as a visibly distraught Michael was left to ponder "what if" on the sidelines as Im attracted all the media attention.
| Place | Player | Country | Payout (PHP) | Payout (USD) |
| --- | --- | --- | --- | --- |
| 1st | Young-shin Im | Korea | PHP 5,810,000 | $132,346 |
| 2nd | Fabiano Michael | Australia | PHP 3,660,000 | $83,371 |
| 3rd | Kim Gap Young | Korea | PHP 2,045,000 | $46,583 |
| 4th | Mikael Rosen | Sweden | PHP 1,560,000 | $35,535 |
| 5th | Daren Yoon | Malaysia | PHP 1,290,000 | $29,385 |
| 6th | Basilios Diakokomninos | USA | PHP 1,025,000 | $23,348 |
| 7th | Jukka Juvonen | Finland | PHP 805,000 | $18,337 |
| 8th | Richard En | Canda | PHP 645,000 | $14,692 |
| 9th | Raymond Lapitan | Australia | PHP 485,480 | $11,059 |
For Young-shin Im, this not only marked her second APPT cash, but also her maiden tournament victory as she took home the PHP 5,810,000 ($132,346 US) first-place prize and coveted trophy back to Korea, which is known for its APPT crowns with Dong-bin Han also hailing from there, and was the reigning APPT Cebu Champion before passing his crown to Im.
Qualifying on PokerStars.net, Im managed to mix aggression, patience, composure and willingness to win to be crowned the first female APPT Champion and extremely worthy recipient of all the attention she will receive and she travels the tournament trail.
For the PokerNews Live Reporting Team, many thanks to PokerStars and the Shangri-La Mactan Resort & Spa staff for our great stay in paradise. Next, we're on our way to Sydney, Australia, to tackle the final stop on season four with the APPT Sydney Grand Final from December 7 – 12 . See you there!
And remember, follow us on Twitter for up-to-the-minute news.