The Nightly Turbo: Kara Scott Discusses Anonymous Tables, USA COOP Starts This Weekend, and More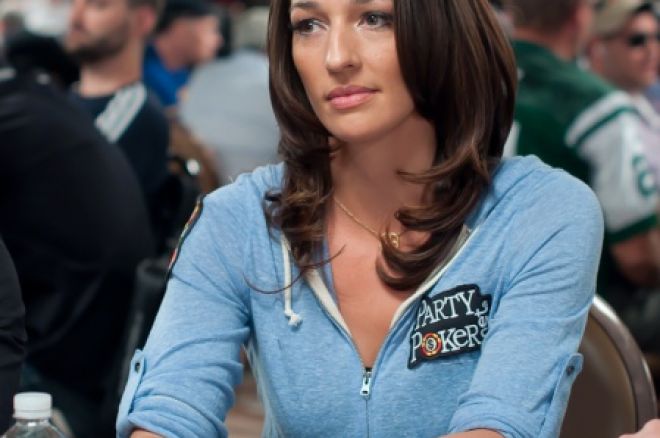 We know you were looking for the top poker news stories of the day, which is why you stumbled across the Nightly Turbo. So that's what we're going to give you. PartyPoker is implementing anonymous tables, and Kara Scott, along with other Team PartyPoker pros have voiced their opinions on them. Also, for those of you with nothing to do this weekend, the USA COOP is getting under way on PokerStars. Read all about that and more in tonight's Nightly Turbo.
In Case You Missed It
The PokerStars.net North American Poker Tour Los Angeles crowned a winner Wednesday night. Who walked away with the title and the $725,000 first-place prize?You'll have to read the NAPT LA recap to find out.
Ever wonder what jobs some of your favorite poker players had before they began shuffling their chips on the felt? Take a look at Poker "Pro"fessions to find out.
Ever wonder how some of your favorite poker players got their nicknames? Some of them are easy to figure out, but some of them aren't that easy.In the latest edition of History in Spades, we take a look at how Dave "Devilfish" Ulliott got his nickname.
With Full Tilt Poker's FTOPS XVIII going on, the online tournament scene has seen some huge wins. Check out the Midweek Briefing for all the results.
Headed to Barcelona for the latest stop on the PokerStars European Poker Tour? You might want to check out Around the World with Lynn Gilmartin first for everything you need to know to get around the city.
Who's There?
Just recently, PartyPoker introduced anonymous heads-up tables to its players. Some of the members of Team PartyPoker have voiced their opinions of the new feature.
"Playing anonymously will definitely make it more important to be very aware of your opponents' actions and then be flexible enough to adjust quickly rather than working off of your previous notes on a player's style," Kara Scott said. "This makes it even more important to make sure that you're playing at the right stakes for your bankroll and always with money that you can afford to lose."
2010 Aussie Millions winnerTyron Krost said, "For beginners or new online players it makes it much harder for the sharks to find them and also stops them from being targeted by those players that use the online database sites. I think it will give all players the opportunity to go and try some new styles out and a few different approaches that they otherwise might not have."
PartyPoker has also made some changes to its software, including highlighting the Team Pros when they are seated at a table, adding the MTT/STT lobby to a table's chat area, and implementing a rabbit-hunt button because sometimes we just have to know what that next card would have been.
Wondering what it's like to play against unnamed opponents? Sign up for a PartyPoker account today.
USA Championship of Online Poker
About a month ago, PokerStars introduced the Regional Championship of Online Poker. PokerStars divided the world into 13 regions, and in these series, players will only be competing against players within their regions.
The USA Championship of Online Poker begins this weekend, Sunday, November 21 to be exact. There are 11 events scheduled with over $3 million in guaranteed prize pools.
Also beginning November 21 is the Canadian COOP, Germanics COOP, and the Asia Pacific COOP. The Mediterranean COOP began today, so there is still plenty of time to get in on the action.
You'll need to sign up for a PokerStars account to become the champion of your region. If you're looking for a schedule of events, check out PokerStars.com.
New Jersey to Offer Intra-state Online Gaming?
Will New Jersey become the first state to pass online gambling legislation? The state is definitely on its way. A bill, proposed by State Senator Raymond Lesniak (D-Union) that would allow "intranet" gaming strictly for New Jersey residents was approved by the state senate committee and will now be moved in front of the whole senate.
According to reports, under the bill, New Jersey would receive 20 percent of a company's online gambling revenues, which are estimated to be worth around $50 million annually. Players from the rest of the U.S. would be excluded from playing on these sites, but players from overseas would be allowed to participate.
"The revenues generated and jobs created are now going offshore to international gaming operators," Lesniak said in an interview. "S 490 [the bill's title] will redirect those revenues to our casinos in Atlantic City and, under S11, to build a bridge to self-sufficiency for our horse racing industry and help save its 13,000 jobs and $1 billion of revenues generated in New Jersey."
Read more at AtlanticCityWeekly.com.
Player Restrictions
A new security feature has been implemented by PokerStars against online poker players in China. The feature does not allow players from China to be seated at the same ring-game table as one another. A similar rule was instituted a few months ago for sit-n-go tournaments following the discovery of a collusion ring involving Chinese players.
GamblingOnlineMagazine.com has more.
Wrapping it Up
Not at the PokerStars.net North American Poker Tour Los Angeles? Don't worry, Kristy Arnett recaps the final table, brings you highlights from the week, and even includes some bloopers. Enjoy!
Like us on Facebook, and follow us on Twitter for up-to-the-minute news.
Right now not only can you get a free $50 bankroll from PartyPoker and PokerNews. You will also get a free month at PokerNews Strategy. Hurry, this is a limited offer but the great thing is you don't even have to make a deposit at any stage, just go to our PartyPoker Free $50 Page and follow the walk-through.