Top Ten Stories of 2010: #4, Peter Eastgate Quits Poker, Auctions Main Event Bracelet on eBay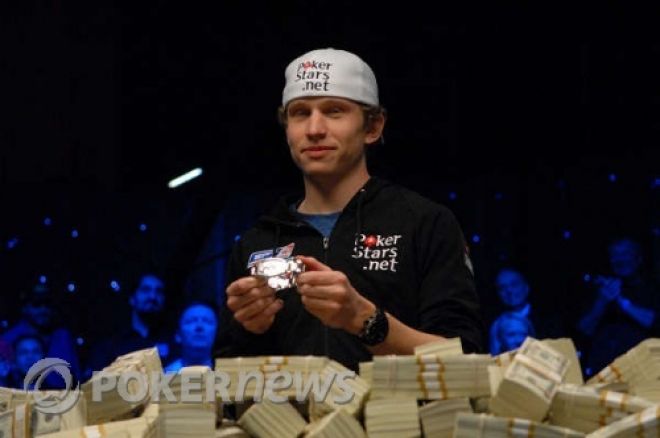 During the first month of the 2010 World Series of Poker, one was person noticeably missing: 2008 Main Event champion Peter Eastgate. Instead of grinding at the Rio, Eastgate was at the World Cup in South Africa supporting his home country, Denmark. Like fellow PokerStars Team Pro J.C. Alvarado, who was also at the World Cup, Eastgate planned to fly to Las Vegas for the Main Event. However, on July 6th, he shocked the world by announcing that he was taking a break from poker.
"When I started playing poker for a living, it was never my goal to spend the rest of my life as a professional poker player…I have decided to take a break from live tournament poker, and try to focus on Peter Eastgate, the person. I want to thank PokerStars, my friends and family for their support over the last 20 months and for their support in my decision to take a break from poker."
The news came as a shock for the entire poker world. How could Peter Eastgate, the second youngest Main Event champion ever, simply walk away from the game?
While we may never fully understand his personal judgment, any speculation that he walked away for financial reasons is absurd. Since 2008, Eastgate has amassed over $1.2 in tournament winnings finishing 1st in a $4,800 NLHE event at the 2009 PokerStars Caribbean Adventure ($343,000), 78th in the 2009 WSOP Main Event ($68,979) and second in the 2009 EPT London Main Event($843,734).
The buzz from Eastgate's retirement lingered during the final days of the WSOP, but it was soon replaced by the excitement surrounding the Main Event and formation of the 2010 November Nine. The summer turned to fall and everything was seemingly back to normal, until Eastgate decided to drop another bombshell.
In November, the retired Eastgate announced he was going to auction his 2008 Main Event bracelet on eBay with all proceeds going to the United Nations Children's Fund (UNICEF). His reasoning was simple; the bracelet was doing nothing but collect dust so he wanted to do something worthwhile with it.
His decision to auction the bracelet was met with mixed reactions. Some fans thought he was disgracing the game of poker by getting rid of the game's most prized trophy, while others thought it was both selfless and generous. The debate became even more hectic when Antanas "Tony G" Guoga said he was going to buy the bracelet and have it fashioned into a collar for his dog, Zasko. Our own Chad Holloway dissected the entire issue in his December 4 Op-Ed where he describes Tony G's intentions as "a bit of fun for a great cause."
The starting asking price of $16,000, but after 116 bids over a span of 10 days, it sold for an impressive $147,500. The winner was eBay user "7***l," whose identity is protected by eBay, and who had not bid on any item prior to the Eastgate bracelet. Despite bidding up into six-figures, Tony G says in his PartyPoker blog that he is not the phantom bidder and he is disappointed yet happy the bracelet, "made a massive amount for charity."
Yes, we've seen players like Kirk Morrison who come and go, but this is different. Eastgate is a Main Event champion whose unpredictable actions this year created a whirlwind of controversy. Never before has such a solid young player willingly disappeared from the poker world, and from the reaction of the poker world it probably won't happen again any time soon. While we can no longer consider Eastgate to be an ambassador for the game, there is still a chance he could return to the felt and continue his legacy as one of its most successful players ever.
Until then all we can do is speculate as to when and if he will ever reappear.
For all that is PokerNews, be sure to follow us on Twitter and like us on Facebook!