Video Vault: 2010 Video Yearbook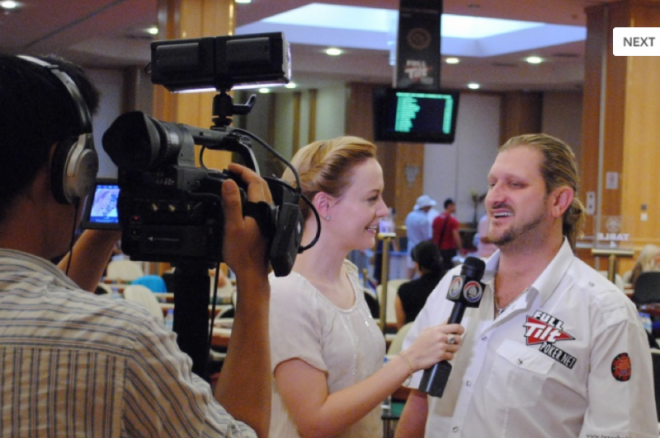 2010 has been a red-letter year for the Team PokerNews Video crew. The team has gone from strength to strength, and I for one am really proud to say that I am part of the team. As the year closes out, we've picked a few of our favorite videos to take a look back on. Consider it a video yearbook if you will.
We hope you've enjoyed watching them as much as we've enjoyed making them for you. Team PokerNews has a lot up our sleeves for 2011, so anyone who loves the videos should stay tuned — the best is yet to come.
Welcome to the Team Kristy Arnett
Definitely one of the major events of 2010 for the PokerNews Video Team was Kristy Arnett joining the family. She has brought her own unique style and verve to PokerNews, not too mention a keen sense of the game itself. Need proof? In December she took down the MiniFTOPS Event #12. Everyone who railed the tournament commented how well she played. Her prowess on the felt makes her videos that much more fantastic to watch.
Dwan at Aussie Millions
Along with the PokerStars Caribbean Adventure, the Aussie Millions is the major kickoff event for the year. The poker community makes a complete exodus to the land Down Under, and who better to anchor the festivities than our own true-blue Aussie Lynn Gilmartin. The biggest names always appear, and from experience it's more than a little nerve wracking to talk to the big guys. But make no mistake about it, Lynn will go to any length to get that big interview, even going as far as snagging Tom Dwan in the food court of legendary Crown Casino. Let this be a warning to poker players everywhere: PokerNews hostesses always gets their interviews.
2010 WSOP
A lot of ink can be spilled talking about the 2010 World Series of Poker. Tom Dwan almost bankrupted the poker world with bracelet bets. Ivey won something — again. Mizrachi sealed his name as arguably one of the best tournament players ever, and we were covering every event and party with the level professionalism the poker world has come to expect from PokerNews. OK, OK, we did occasionally make a few mistakes.
Hellmuth Entrance at WSOPE 2010
The awesome thing about working for PokerNews is that there is a lot of freedom to comment on things when the absurd takes place. Case in point, the Phil Hellmuth's entrance at the 2010 World Series of Poker Europe. Now, granted, the man is known for his over-the-top entrances, but this one bordered on theater of the absurd. And you bet we were rolling when it happened.
Around the World
The sheer number of tours and destinations that PokerNews covered in 2010 is mind-boggling. Between EPTs, LAPTs, APPTs, NAPTs and the occasionally WPT, let's just say our frequent-flier miles are pretty hefty. Hands down, some of my favorite stops to watch are the Latin American Poker Tour videos. Although Lynn Gilmartin is Australian, I'm pretty sure in her soul she is 100% Latina. How else can you explain videos like this one from LAPT Florianopolis.
PokerNews Spoofs
This year, we also started to do something a tad bit different in making fun of some of our favorite commercials. One of my favorite videos of 2010 is the Full Tilt Poker spoofs. Although only 30 seconds, they were easily some of the most difficult we have done because we knew we had to come as close as possible to Full Tilt's production quality with a zero budget. It would not have happened without the full effort of all of team PokerNews to pull it off. You may see around, as it is now a full fledged I commercial.
For all that is PokerNews, be sure to follow us on Twitter and like us on Facebook!