2011 Aussie Millions Event #1 Day 1a: Overbeek Builds Stack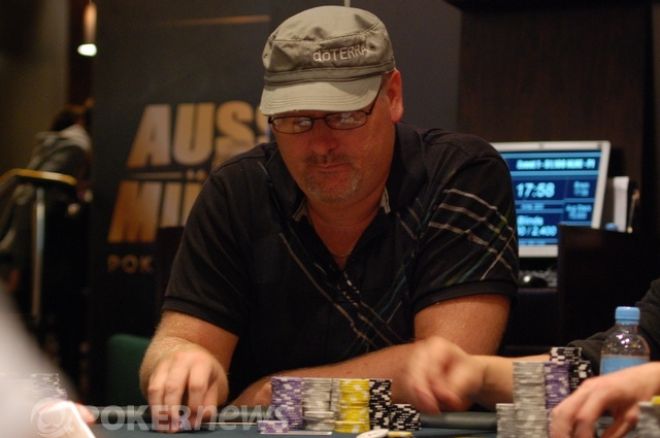 The 2011 Aussie Millions opened with a $1,100 buy-in no-limit hold'em repechage event. The event last year saw 1,143 players take their seats over the three Day 1 starting flights, with Matthew Ephraums taking home the top prize of AUD$200,025.
Thursday night in Melbourne, Australia, the start time for this event was at 7:00 p.m., 294 players took their seats in the poker room at the Crown Casino in hopes of building a stack and moving on to Day 2. 2010 Aussie Millions winner Tyron Krost uttered the infamous "shuffle up and deal" and the 2011 Aussie Millions was officially under way. Of those 294 who registered for Day 1a were local players Krost, Jonas Kronwitter, Ben Delaney, Mel Judah, Emad Tahtouh, and Jay Kinkade. Full Tilt Poker's James Akenhead and Billy "the Croc" Argyros were also in attendance as well as Maria Ho and Tony Dunst.
After 12 levels of play, the man with the top stack in the room was John Overbeek. He bagged up close to 200,000 in chips. In a hand just before the end of play Overbeek simultaneously eliminated two opponents, giving his stack the needed chips to sit at the top of the list. Overbeek was holding kings, and he was against two players, one holding aces and one holding queens. Fortunately for Overbeek, he spiked a king and added the extra chips to his stack. It's not the end of the road for his opponents however, they can buy back in on Friday and Saturday (if they run into the same troubles).
Just 38 players were left at the end of play and at least for those who were eliminated, the weather in Melbourne isn't favorable for outdoor activities, so buying back in on Friday won't be too terrible.
A fresh batch of players will be taking their seats at noon local time with hopes of making it through the day and PokerNews will be there bringing you all the action.