Inside Gaming: Aria Jackpot Hit, Poker App for iPhone, and Mississippi Numbers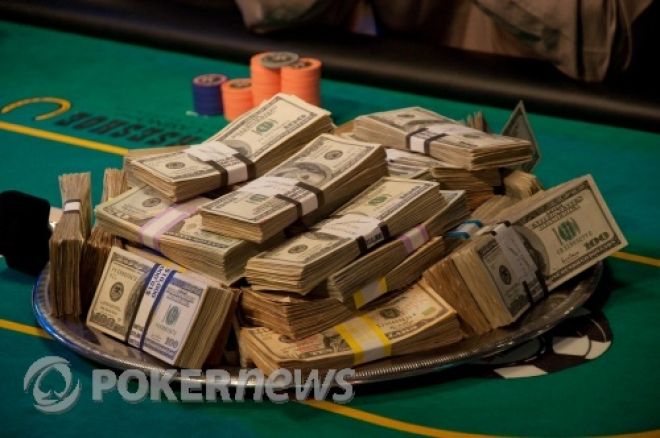 This week Inside Gaming takes a look at the $12.8 million jackpot hit on an Aria slot machine Friday. We'll also explore Bwin's new poker app for the iPhone and recent gambling revenue statistics for the state of Mississippi.
$12.8 Million Megabucks Jackpot Hit at Aria
On Friday, one lucky gambler at the Aria had the thrill of a lifetime when she put $6 in a Megabucks slot machine and ended up hitting the jackpot, worth $12.8 million. The winner, who remains anonymous, was visiting Las Vegas to celebrate her niece's birthday.
"I was on my way to my room when I saw this machine and decided to play," the player said in a statement released by International Game Technology, the company that has operated the Megabucks system since 1986. Initially, the winner thought the machine had malfunctioned, but her niece quickly realized otherwise. What does one do with a $12.8 million jackpot? According to the winner, she plans on "paying off the mortgage."
For more on this story as it develops, visit the Las Vegas Review-Journal.
Play Poker on Your iPhone
Want to play poker on your iPhone? Well now you can. Bwin has become the first major online site to launch a real money poker app for the iPhone, which can be download through Apple's App Store in both the UK and Austrian stores. Bwin's release follows on the heels of Full Tilt Poker's Android-compatible Rush Poker product released late last year.
Players will be able to play for free or real money and can register directly on the iPhone. In addition, the poker application will feature hand histories, easy navigation and clear images.
"Thanks to the bwin iPhone poker app, our customers can, for the first time ever, show what they've got in the world's biggest poker network via the popular iPhone platform," Berthold Kao of Bwin said. "With the iPhone poker application, we continue to extend our lead in the mobile entertainment sector. Together with the Bwin live application and casino for the iPhone, we now offer our customers a complete portfolio."
If you're interested in playing poker on your iPhone, check out the full story at insidepokerbusiness.co.uk.
One Mississippi, Two Mississippi, $2.39 Billion Mississippi
The World Series of Poker Circuit will soon be making a stop in Tunica, Mississippi, so we thought it might be interesting to take a look at some recent gambling statistics from the state. According to recent numbers reported on Friday by the Mississippi Department of Revenue, state-licensed casinos won $2.39 billion from players in 2010, dropping three percent from the $2.46 billion won in 2009. The decrease in revenue didn't come as much of a surprise to experts as it is in line with numbers from other states.
Now, when we talk about a casino "win," the number is a gross figure that doesn't include the operating costs or other expenses. Hotel, restaurant and bar revenues were not taken into account in the figures. The above numbers reflect 30 casinos located throughout Mississippi, which include those on the Gulf Coast and along the Mississippi River; however, it does not include Indian tribal casinos, which are not required to release their numbers to the public.
While numbers were down for 2010 in general, casinos hoped to rebound in December. Unfortunately, things didn't get any better as the year wound down. All told, the casinos took in $184.6 million in December, compared to the $185 million of 2009. Taking a closer look at the numbers, 11 of the state's casinos, located in the south, won $87.4 million in December, up from $83.5 million in December 2009. The other 19 casinos, those along the Mississippi River, generated $97.1 million in December, compared to the $101.4 million in 2009, a $4.3 million drop.
Cory Morowitz, a casino analyst with Galloway, N.J.-based Morowitz Gaming Advisors, said that despite stabilized numbers in some markets, there is a long way to go. "Across the U.S., except for small pockets, we don't expect the consumer to be back for three to five years. This isn't your normal recession. People are trying to pay off debt and we are waiting for unemployment to come down."
To read the whole story and see even more statitics, pay a visit to the Las Vegas Review-Journal.
PokerNews offers up-to-the-minute news and updates via our social media outlets, so be sure to follow us on Twitter and like us on Facebook today.