The Nightly Turbo: Eastgate's WSOP Bracelet Winning Bidder Revealed, Tony G Wants a Rematch, and More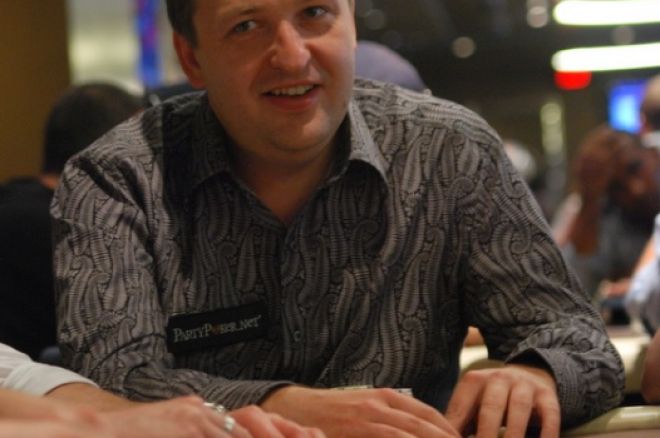 We know you were all wondering who the winning bidder of the Peter Eastgate World Series of Poker Main Event bracelet auction was, and lucky for you, we've got that information. We're also going to tell you what Tony G is promising if he can get a rematch with Isildur1. After you've gotten your fill of the news, don't forget all the live reporting coming straight from the 2011 Aussie Millions. You can thank us later.
In Case You Missed It
The 2011 Aussie Millions is in full swing in Melbourne, Australia. If you're looking for news on the most recent day of play, check out the recap.
Are you looking for the top news stories in the gaming world? This week, Inside Gaming is giving you the scoop on the power of social media, multi-entry tournaments on Full Tilt Poker, and more.
The 2011 PokerStars Caribbean Adventure is done and dusted. Miss any of the action? Check out the top stories that came out of the PCA at the Atlantis Resort this year.
Scott Palmer and Patrik Antonius have been involved in some of the biggest hands online this week. You can find out who was on the winning end, (and losing end) in the Online Railbird.
"7***1" Revealed
Remember last year when 2008 World Series of Poker Main Event champion Peter Eastgate put his bracelet on the auction block? Throughout the duration of the auction, PokerNews' own Tony G did his best to secure the winning bid, but in the end, it was "7***1" who did. Now, we all know that if Tony would have walked away with the win, he would have blogged about it instantly, so we have to assume it wasn't.
Well, the mystery bidder has revealed himself — it was Scottish businessman William Haughey who will have the shiny piece of jewelry to look at. In the last few years alone, Haughey has donated over $50 million (he's worth about $238 million thanks to his refrigeration company called City Refrigeration Holdings) to charities and said the reason he bought the bracelet was because Eastgate had vowed to donate the proceeds to charity. He's also a bit of a poker player, having cashed at the WSOP four times and won a European Poker Tour Grand Final side event in 2008.
Want to know more about the story? Check out the Carbon Poker Blog.
Tony Wants a Rematch
Earlier this month, Tony G took on Viktor "Isildur1" Blom in the second match of the PokerStars SuperStar Showdown. While Tony seemed to have things under control for a good part of the match, Blom battled back and after 2,500 hands had taken the G for $44,280.
Tony is now looking for a rematch. In his latest blog, he says, "I offered $50k added prize money if he would agree to a rematch on PartyPoker. Don't you think it is fair that we play home and away? I lost the away match but everyone is better at home. Alas the powers that be stop such freedom."
Will Blom take him up on his offer? Only time will tell. Tony also talks about the 2011 Aussie Millions and bringing his dog Zasko to the $100,000 Challenge this weekend, as well as a run in he had with Patrik Antonius in the VIP room at Crown Casino.
Check out the blog on PartyPoker for more.
MommaGrinder Grinds to a Win
The year of the Mizrachi was last year right? Michael Mizrachi winning the $50,000 Players Championship, then Michael, Robert, Eric, and Donny all cashing in the 2010 World Series of Poker Main Event, and Michael final tabling the Main Event. Then in December, Lily Mizrachi finished second in the Full Tilt Poker $1 Million Guarantee.
Well, the Mizrachis' 2011 is starting off pretty good, too. Susan Mizrachi, also known as "MommaGrinder" won the $24+$2 $18,000 Guarantee on Full Tilt Poker on Monday, for $4,449.12. She tweeted a picture of the tournament lobby when all was said and done with the quote, "I won my 1st poker tourney on @fulltiltpoker in 2011..."
Want to take down a tournament of your own? Sign up for a Full Tilt Poker account today.
U.K. Gambling Laws Changing?
The United Kingdom might be changing its gambling legislation for fear that citizens and other residents are becoming addicted to gambling. Culture Secretary Jeremy Hunt is making plans to stop offshore companies from advertising in the country. Hunt is also considering banning the use of credit cards for online gambling to stop people from using money they don't have.
A senior government source was quoted by the Daily Mail saying, "Ministers are concerned about the explosion of internet gambling advertising since Labour relaxed the gambling laws. Changes in the Government want to make would help protect the public from gambling companies that don't meet UK standards but have been allowed to profit from Labour's lax approach to internet gambling."
The new proposal by the government would require all companies who accept U.K. players to apply for gambling licenses.
Read more on GamblingKingz.com.
"This is the Easiest Thing I've Ever Said..."
You guys are used to seeing the finished product of a video from Kristy Arnett, Lynn Gilmartin, Gloria Balding, and Sarah Grant. What you may not see is how many takes it takes them to get there, or even the silly stuff that goes on while filming the PokerNews videos. Lucky for you, we have a blooper reel. Enjoy!
Like us on Facebook, and follow us on Twitter for up-to-the-minute news.
Right now not only can you get a free $50 bankroll from PartyPoker and PokerNews, you will also get a free month at PokerNews Strategy. Hurry as this is a limited offer, but the great thing is you do not even need to make a deposit at any stage, just go to our PartyPoker Free $50 Page and follow the walk-through.