PokerNews Interview: Sam Chauhan Signs with Full Tilt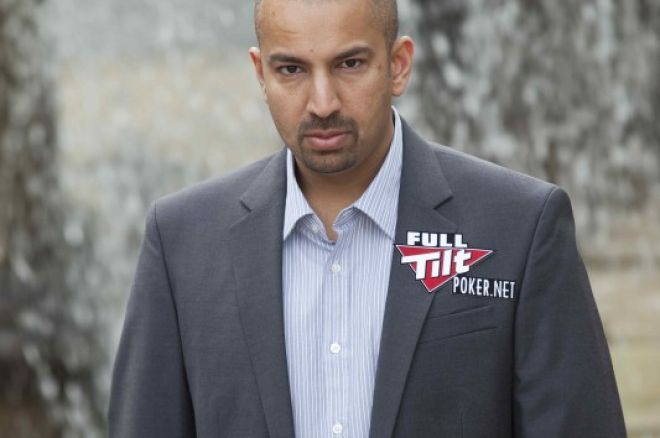 Early Thursday morning, news broke that Sam Chauhan, mindset coach extraordinaire, had signed a deal with Full Tilt Poker. For those who may not be familiar with Chauhan, his website describes him as "a Master Practitioner of Neuro-linguistic Programming, Subliminal Persuasive Linguistics, Unconscious Suggestions, Ericksonian Patterns, Physiological Readings, Quantum Mechanics, Clinical Hypnosis and Muscle Readings. He uses these skills to help people break through barriers and help them find their passion again."
While Chauhan's tactics will always have critics, his results speak for themselves. He has helped professionals from all walks of life make incredible comebacks in their respective fields. For instance, he helped guide Gavin Smith to his first bracelet at the 2010 World Series of Poker; worked with David Williams on his way to taking down the World Poker Tour World Championship; and even worked with the "Poker Brat" himself, Phil Hellmuth.
Those are just a few of the people Chauhan has worked with in the poker industry and totally overlooks the scores of CEO's, business professionals, celebrities, and professional athletes he has helped along the way. Chauhan has been talked about on ESPN, the Chicago Tribune, and TIME Magazine. We sat down with the highly touted mindset coach recently, to get his thoughts on his new Full Tilt deal, his clientele, and his plans for 2011.
Congrats on your new deal with Full Tilt. Can you give us a few more details on what this deal means for both you and Full Tilt? Is it safe to say that in addition to the mindset coaching you'll be playing a little more poker?
I might be doing a few events here and there, which is safe to say, but the main purpose is to create a poker mindset program for the Full Tilt Academy. That's where my focus is going to be. The deal that I have is as a "Friend of Full Tilt," because that is the spot that I fit in, to create this new program with the possibility of working with qualifiers and the like.
Can you tell us a little more about this poker mindset training program you'll create for the Full Tilt Academy?
We haven't finalized everything yet, but the poker mindset program will help players build their confidence, get them to deal with tilt and downswings, and give them a great psychological approach. You know, when you have two people of equal skill, the mindset is the difference whether you win or lose, so we're going to address that issue with some of the techniques that I have.
You've been involved in the poker world for awhile now, what inspired you to finally strike a deal with one of the big online sites?
I wanted to make sure it was a good fit for me. The thing with me is that I want to make a difference. I've been in the poker world for around three years and I've been very consistent. The people I work with have done very well, so I feel I have a psychological formula that helps people perform at their best. Obviously I don't give any skill to anybody, but I do help them perform at their best, or close to their best, which allows them a better opportunity to win
Aside from Gavin Smith, have you had the opportunity to work with any Full Tilt players?
Yes, [Mike] Matusow. I was with him just a few days ago before he left for his trip. I think Gavin Smith is the only other from Full Tilt.
Does your deal with Full Tilt prohibit you from taking on clients who might be associated with another online site such as members of Team PokerStars or Team UB?
No, not at all. At the end of the day, my purpose is to make a difference and help people get to the next level. Full Tilt has given me a platform where I can do that for large masses of people, but I still work with my other clients on the side. I still work with David Williams, Chris Moneymaker, and all those guys, so sponsorship has nothing to do with it. My deal with Full Tilt is for the mindset academy, so there is nothing saying that I can only work with Full Tilt. At the end of the day my goal is to make a difference, and I've found a really good platform to do it.
I'm going to rattle off some other pros you've worked with in the past. Give me the first thought that pops in your mind. Antonio Esfandiari?
I owe him a lot for where I'm at because he was my first [poker] client that I ever took on and I wouldn't be in the poker world if I did not run into him in the bathroom. That's how my poker world experience started, so I owe him a lot.
What's the story behind this bathroom meeting?
It was a few years ago in the restroom at the Rio, and he was in the restroom and he kind of just said, "Hey, what do you do?" I said I'm a mindset coach. He said he really needed someone like that because he had all the money, all the girls, but still didn't feel at his best. That's how I connected with him and started working with him. In the Main Event that year he finished 24th and that is how I got into the poker world. It's a very unique story.
Gavin Smith?
Gavin was referred by Brian Balsbaugh, who is his agent. He has had some amazing success and has one of the biggest hearts of anyone I know. The guy is amazing and with all his challenges, he always goes forward.
Phil Hellmuth?
In 2010, I got a call from Hellmuth, who is also from Brian. In 2009, Hellmuth didn't have any final tables, so he hired me on for six months. In those six months that I worked with him, I think he final-tabled two WPT tournaments.
Lars Bonding?
Well, Lars was interesting because he didn't contact me, his wife did. She was really worried because he hadn't won anything in a while and financially that is tough. She thinks he has all the skill in the world and that he just needs to get focused, so she hired me for him. So, I took him on and we had our first discussion, and he took a couple things to heart, changed a couple things, and ended up winning the Sunday Warm-up*. He's just been on a tear.
*Bonding actually won it twice in three weeks. Check out our interview with him for more details.
Any last words for the scores of Full Tilt players who'll soon have the opportunity to not only play against you, but to learn from you as well?
I've been able to be pretty consistent because the formula is very good. The formula is getting a person to eliminate the distractions, get more focused, deal with tilt a lot better, and to give yourself the best opportunity to win. That's all I've been doing and the results speak for themselves. Even if it's a two-percent difference in their mindset, it makes the biggest difference in their play.
I think there are people out there who maybe can't afford to come to an academy and they're going through a rough patch in lives. Even if there is one thing they can get from the Full Tilt Poker Mindset Academy that might change their lives and build their confidence, I think it'd be a really good thing.
Twitter and Facebook are all the craze these days, so be sure to follow us on the former and like us on the latter!