The Nightly Turbo: Norm Macdonald to Host High Stakes Poker, World Poker Tour Venice Update, and More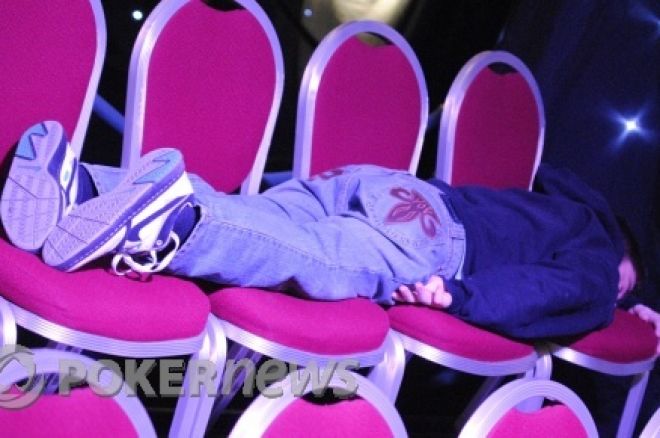 The Super Bowl is over, so now what do you have to look forward to? Well, if you're an avid Nightly Turbo reader, you know that the new season of High Stakes Poker is premiering soon. And if you read the title above, you know it has a new host. We'll give you more on that, update you on the World Poker Tour Venice, and tell you why we think Ashton Griffin (that's him above, taking a nap) might be sore this week.
In Case You Missed It
The PokerNews Strategy team went Down Under for the 2011 Aussie Millions. In the latest edition of the Sunday Grind, Lynn Gilmartin decided to check out their pad to see how they grind online while on the go.
We could only wish to have the start to 2011 that Erik Seidel had. He's no stranger to the spotlight though, check out his Top Five Most Memorable Moments.
Couldn't pull yourself away from that Super Bowl party last night and missed out on who had big cashes in the Sunday Majors? Don't worry, the Sunday Briefing has you covered.
Remember the guy who stole $1.5 million from the Bellagio while wearing a full-face motorcycle helmet? He's in jail now, and we can probably credit TwoPlusTwo for it.
High Stakes Poker Changes
The seventh season of High Stakes Poker is going to have a few changes. We've already told you that your favorites, (Phil Ivey, Tom Dwan, Patrik Antonius, etc.) would not be making appearances. Well, there's one more familiar face who won't be on the show - Gabe Kaplan. Who will be replacing him, you might ask. Norm Macdonald will be taking over as host from Kaplan. He'll be joined by Kara Scott who will be returning for her behind-the-scenes looks at the show.
Not only that, but if you've got 3D glasses, you can bust those out and put them on because the show will air in 3D on DirecTV's n3D channel.
We're sure you're wondering who's actually going to play on the show this year, so here are a few names to get you by: Daniel Negreanu, Antonio Esfandiari, Johnny Chan, Doyle Brunson, Vanessa Selbst, Jason Mercier, and 2010 World Series of Poker champion, Jonathan Duhamel.
If you want a full cast list, and more on the host change, you can head on over to BuzzerBlog.com.
World Poker Tour Venice Update
The World Poker Tour Venice kicked off on February 3 with 523 players registering, creating a prize pool of €1,521,930. Eighteen players made their way back to Casinó Municipale di Venezia Monday (also known as Day 4) to play down to the final table. John Tabatabai, Maxim Lykov, and David Vamplew were among those who had their sights on the final table, but it was Alessio Isaia with 1.9 million in chips who led the way.
The final table was decided around 10:00 p.m. Monday night in Venice when Andera Ferrari moved all-in preflop with nines and was called by Szabolcs Mayer who tabled pocket tens.
2010 UKIPT Grand Final winner David Vamplew will lead the way into the final table on Tuesday, taking 3,350,000 in chips with him. The 2009 EPT Kyiv winner, Lykov, is fourth on the chip leader board with 1,880,000. Tabatabai was eliminated earlier in the day in 14th place.
The final ten will make their way back on Tuesday to play for the title €380,000 first-place prize, and you can follow the action on the PartyPoker Blog.
SuperStar Showdown IV
We were sitting around PokerNews HQ this morning wondering how many SuperStar Showdowns we'd see before the "durrrr" Challenge between Tom Dwan and Patrik Antonius saw an end. We don't have a number because it seems those two won't be finishing any time soon.
What will finish soon is the fourth installment of the PokerStars SuperStar Showdown. According to the PokerStars Blog, Viktor "Isildur1" Blom will take on Eugene Katchalov on Sunday February 13 at 3:00 p.m. EST. They'll be playing 2,500 hands across four tables of $50/$100 no-limit hold'em.
Want to watch the action? You'll need a PokerStars account.
Poker After Dark: $150,000 Cash Game
A new week of Poker After Dark is coming to your television sets. Kicking off Monday, February 7, six pros will compete in the first $150,000 Cash Game of the new season. David "Viffer" Peat, Howard Lederer, Phil Laak, Greg Muller, Olivier Busquet, and Eli Elezra will be battling it out on the felt, playing $300/$600 with a $100 ante. Both Mueller and Busquet will be making their first appearances on the PAD set, with the rest of the cast all seasoned PAD veterans.
The Cash Game episodes will run for two weeks, and you'll need to check your local listings for the exact air times in your area.
For more, head on over to PokerAfterDark.com.
PH, Meet W
Over the weekend, Phil Hellmuth met former President George W. Bush at his presidential library. He tweeted a photo of him with the former President and Condoleezza Rice. While we're curious to see if tweets will come later this year like "Dinner with W at his Texas ranch," we'll have to wait and see. Poker Show host Jesse May caught up with Hellmuth to discuss his meeting, among other things.
"I go to meet Bush and I hand him a signed book and a signed beer can. He thinks the beer can is the coolest thing ever," Hellmuth said.
Hellmuth recounts his initial meeting, then going back over to meet Condoleezza Rice and talking to Bush yet again. "We hit it off really well," he said.
Tony G took to his blog to offer up $100 for the best caption submitted for the photo.
Listen to the Poker Show and leave your best caption to try to win $100 of Tony G's money on the PartyPoker Blog.
3 Marathons, 1 Day
Ashton Griffin ran a lot this weekend and collected plenty of money for doing it. According to a tweet from Justin Smith, Griffin had to run 70 miles in 24 hours. Yes, you read that right.
"A verry big/insane prop bet just came to conclusion. I booked action on @arfarfhowl to be able to run 70 miles in 24 hour window. DING WEWIN"
A thread was started on TwoPlusTwo regarding the prop bet and Justin Bonomo chimed in with this,
"Info I have ~ 3rd hand. Ashton was out drinking last night. Got super drunk and only 5 hours of sleep. Bet started next morning. He ran to the gym (this running did not count towards the bet) instead of taking a car. Bet was on a treadmill. Somewhere in Orlando. Any walking did not count. Had 24 hours to run 70 miles. He laid 900k to 300k vs DogIsHead (his roommate). From what I hear, Ashton is super in shape for college wrestling. A year or two ago at the WSOP, they were at Naked Fish (sushi place). After eating Ashton was bet he couldn't run home (~15) miles in under 3 hours. There was apparently a very large amount of frozen yogurt involved too. He successfully beat the 3 hour time limit, albeit with a lot of puking. (Obv he was not prepared / dressed / whatever for this impromptu bet)."
We don't have too much to say about this, except that it's insane and we won't be doing this any time soon ever.
Follow us on Twitter and like us on Facebook for up-to-the-minute news.
Right now not only can you get a free $50 bankroll from PartyPoker and PokerNews, you will also get a free month at PokerNews Strategy. Hurry as this is a limited offer, but the great thing is you do not even need to make a deposit at any stage, just go to our PartyPoker Free $50 Page and follow the walk-through.