The Online Railbird Report: XWINK Takes on Antonius, Ivey, and Torbergsen
Chad Holloway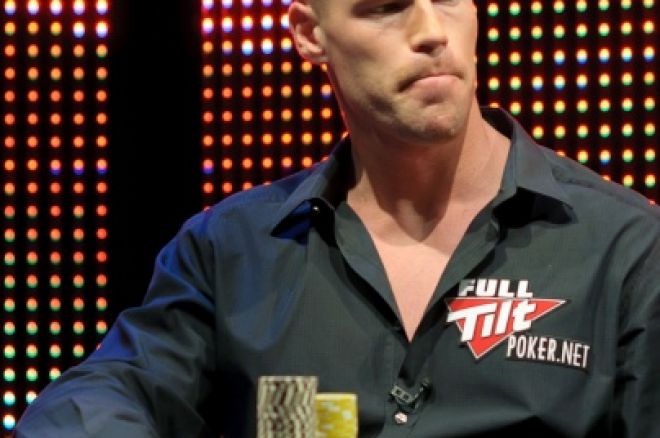 The "XWINK" saga continued during the midweek with even more fast-paced action. For those of you who might not have heard, XWINK is said to be the Canadian player associated with the "XBLINK" account from UB. When he began playing on Full Tilt Poker under his new alias, XWINK apparently turned $4,000 into $2 million in four days. That incredible run has been summarized and discussed in a TwoPlusTwo thread where XWINK himself has contributed under the name "89libst." Given all that has transpired over the past couple of weeks, it seems a new force has entered the online high-stakes cash games realm. In fact, XWINK emerged as the midweek's biggest winner with $532,438 in profit over 1,797 hands. That means he is up over $1.6 million in March alone.
XWINK vs. Andres "skjervøy" Torbergsen
On Thursday, XWINK was in action against some pretty notable players in the online high-stakes cash-game scene. One of those opponents was Andres "skjervøy" Torbergsen, whom he faced at the $300/$600 pot-limit Omaha tables on Full Tilt Poker. The two were involved in some pretty big pots, the first of which went Torbergsen's way. It began when Torbergsen ($822,630.50) raised to $1,800 on the button and XWINK ($167,088.50) reraised to $5,400 in the big blind. Torbergsen responded by making it $16,200, XWINK called, and the flop came down
.
XWINK proceeded to check-call Torbergsen's $14,400 bet and the
hit the turn. Once again XWINK check-called a bet, this time $43,600, and the
was put out on the river. XWINK check-called all in for his last $92,888.50 and mucked when Torbergsen turned over
for a flush. It seemed like a good start for Torbergsen, who took down the $334,177 pot, but that would soon change.
XWINK Gets Back on Track
Not long after the aforementioned hand, XWINK ($210,688.50) was on the button and raised to $1,200, which was met with a reraise from Torbergsen ($899,014) to $3,600 from the big blind. From there, XWINK made it $6,600, Torbergsen popped it to $19,800, XWINK called, and the flop fell
. Torbergsen wasted little time in leading out for $39,600, XWINK raised to $158,400, Torbergsen reraised, and XWINK called off his remaining $32,488.50.
XWINK:

Torbergsen:
XWINK was ahead with middle set but Torbergsen had flopped a massive straight draw. With the pot at $421,377, the turn and river were run twice. The first, which came the
on the turn and
on the river, gave XWINK quads and at least half the pot. On the second run, the
turn gave XWINK a full house and secured him the other half of the pot. The hand ended up being the biggest of XWINK's day, which saw him take Torbergsen for $270,000.
Antonius Takes $344,000 Pot From XWINK
On the Full Tilt Poker $500/$1,000 PLO tables, XWINK took on Patrik Antonius and the two became involved in a pot worth $344,000. It began when Antonius ($280,994.50) raised to $3,000 on the button and then called XWINK's ($171,774.50) reraise to $9,000. When the flop came down
, XWINK bet $18,000, Antonius called, and the
peeled off on the turn.
At this point, XWINK led out for $54,000, Antonius raised to $216,000, and XWINK called off his remaining $90,774.50. Antonius turned over
for top pair with the nut-flush draw, as well as a gut-shot straight draw. XWINK revealed his
for an inconsequential flush draw of his own and a massive straight draw. The river was run twice and both the
on the first run and the
on the second gave Antonius both halves of the pot.
While this is a bit off topic, it is also worth noting that Phil Ivey dropped $222,000 to XWINK in just 45 hands on Thursday.
Who's Up? Who's Down?
Week's biggest winners (3/8-3/10): XWINK (+$532,438), Patrik Antonius (+$136,836), Yan "bixiu" Chen (+$136,505), Daniel "jungleman12" Cates (+$133,966)
Week's biggest losers: "NoPasaran" (-$475,412), Phil Ivey (-$227,194), Tom "durrrr" Dwan (-$163,316, Andres "skjervøy" Torbergsen (-$140,279)
Year-to-date winners: Gus Hansen (+$2,992,897), Matt Hawrilenko (+$1,731,530), Phil Ivey (+$1,553,506), *Gavin "gavz101" Cochrane ($1,536,361), XWINK (+$1,525,316), Andreas "skjervoy" Torbergsen (+$963,513), Daniel "jungleman12" Cates (+$924,359)
Year-to-date losers: "kagome kagome" (-$1,608,496), Phil "OMGClayAiken" Galfond (-$1,082,361), "UarePileous" (-$977,926), "cadillac1944" (-$939,626)
*on PokerStars
Want to check out some of the high-stakes action? Sign up for Full Tilt Poker and PokerStars accounts today. Get the full PokerNews experience. Follow us on Twitter and like us on Facebook.