Video Vault: Alpine Snowfest Goodness
This is the second year that the European Poker Tour has stopped at Saalbach-Hinterglemm in the Austrian Alps. Two years ago the PokerNews Cup Alpine was held in the same location. With Snowfest fast approaching, we decided to give you all a look at what to expect. Both years I wore drindls, the traditional St. Pauli girl type of dress worn in the Tyrol region that Snowfest is held in, so be on the lookout for my best Swiss Miss outfit again this year.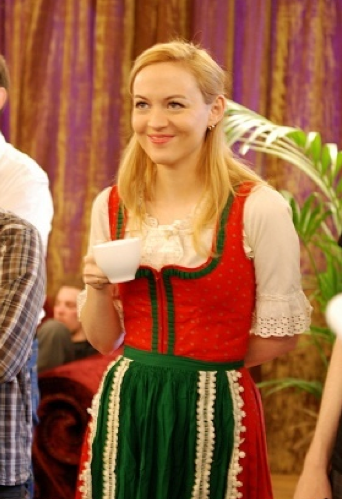 I Heart Snowfest
Snowfest is without a doubt my favorite EPT stop. I know I am supposed to be unbiased but I'm not. The atmosphere and feeling at the tournament are second to none. Everyone stays around long after they bust to take advantage of the last snow of the season and the fantastic Alpine bars. Don't believe me? Just check out the recap from last year's EPT Snowfest.
High on a Hill
One of the main reasons everyone loves Snowfest is the great little town that opens its doors to all the poker players. The tournament even starts later in the day than most EPTs, so players can get their ski on. So the average day at Snowfest includes skiing, poker, and partying — in that order. The tiny village of Saalbach is legendary for its hospitality and generally awesome nature.
Cold Snow with Hot Chicks
The first year there, when the event was better known as PokerNews Cup Alpine, Sandra Naujoks had just been signed as a Team PokerStars Pro. I managed to snag a few moments with the breathtaking beauty as she literally came off the slopes right outside the hotel. Seriously, not kidding, the hotel is surrounded by ski runs. Anyway, Sandra looks all ski-gorgeous, and I'm again in a dirndl. Are you sensing a theme now?
Let the Snowball Fighting Commence
Let's face it, most people go to Snowfest for the snow. In 2010, someone got the brilliant idea to organize poker players chucking snow at each other for a ludicrous amount of enjoyment. So began the legendary practice of Snowfest snowball dodgeball. You can expect the second annual snowball dodgeball in t-minus one week.
Please Welcome to the Team
But the biggest thing I'm thrilled about at this year's EPT Snowfest is the introduction of Laura Cornelius as a brand new PokerNews hostess. She will be handling the PokerNews videos while I tackle the PokerStars Video Blog once again being produced by PokerNews. If you want to know what to expect, here is a little teaser of the charming Miss Cornelius. We at PokerNews will do our best to not haze her - fingers crossed.
We have one more $15,000 Sunday Million Freeroll with PokerStars left to qualify for, with $1,000 to the winner and 260 tournament tickets, including 45 Sunday Million Tickets on offer.