The Nightly Turbo: Two More Online Poker Sites Close Doors to U.S. Players, Online Poker Traffic Update, and More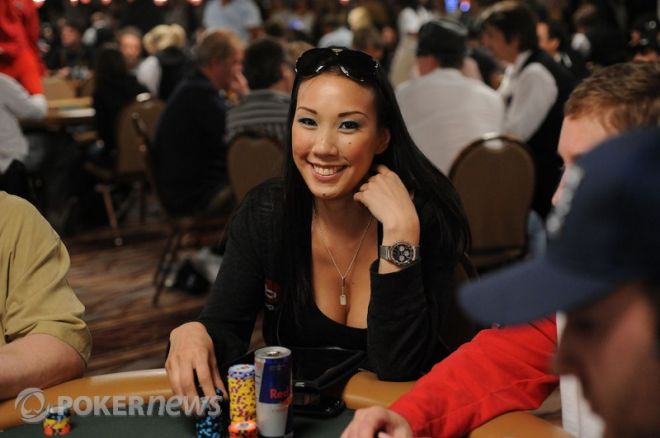 Two other online poker sites have decided to shut their doors to U.S. players. We'll tell you which ones, how the online poker traffic numbers are looking, and who recently re-signed with her sponsor (hint: answer in the photo).
In Case You Missed It
If you're going to take poker tournament advice from anyone, someone who holds two WPT titles and has over $4.7 million in winnings live and online, might be a good person to start with. Jonathan Little recently published a book called "Secrets of Professional Tournament Poker" and we sat down with him to discuss pot control.
The 2011 World Series of Poker is just around the corner and we know you're all excited about the inaugural WSOP Rematches that have been planned. We take a closer look at the fan-voted nominees and how you can cast your vote.
Black Friday affected many poker players and their way to make a living. One such player is Jason "AppSt08" Brauda and we sat down with him to discuss how his life changed and what his future now holds.
One of the 11 defendants in the online poker indictments brought on by the U.S. Department of Justice has been arrested. Ira Rubin was in court Wednesday and could be looking for a lawyer.
Blocking U.S. Players
Rumor has it that both Sportsbook.com and PlayersOnly.com will cease accepting new U.S. players as of May 1. This decision comes on the heels of online poker's "Big Three" indictments by the U.S. Department of Justice.
It is said that as of May 1, new players from the U.S. will not be able to sign up for accounts on the two sites, but existing U.S. players will be able to play, deposit, and withdraw on the sites. This isn't just for the poker sites, but also for their sportsbooks and casinos.
Read more about the two sites' decision to quit accepting U.S. players.
Traffic Report
Two weekends have passed since the indictments from the U.S. Department of Justice on three of the biggest online poker sites in the United States. According to PokerScout, in the second weekend after Black Friday, PokerStars and the Cereus Network saw losses in traffic, 3% and 42% respectively. Full Tilt Poker on the other hand saw an increase in traffic of 28%.
The net change in traffic from the weekend prior to Black Friday (April 9 - 10) versus this past weekend (April 23 -24), PokerStars has seen a decrease of 28% in its traffic. Full Tilt Poker has seen a 35% decrease and the Cereus Network has the biggest decrease in traffic, at 65%.
There are changes happening in the rankings, as well. The Cereus Network has fallen from seventh place to 20th, while 888poker has moved from 11th to eighth. The Merge Gaming Network and Bodog have also seen movement up the rankings chart, landing at 12th and 22nd respectively.
To find out more on the traffic numbers of your favorite online poker sites, head on over to PokerScout.com.
Renewed Agreement
In an uncertain time for U.S. sponsored pros, one has locked in a sponsorship deal again - at least until the next contract negotiations. Bodog Team Pro Evelyn Ng announced via Twitter that she has renewed her sponsorship agreement with Bodog.
While Ng tweeted she was in San Remo, she was not in the Day 1a field of the European Poker Tour stop. Perhaps we'll see her in the Day 1b field, so be sure to follow the updates from the PokerNews Live Reporting Team for all the action from the felt.
Worst Fathers
We're not sure what makes the folks at Seattle Weekly the foremost authority on bad dads, but nonetheless, they have concocted a list of The 20 Worst Fathers in History. Darth Vader, Bing Cosby, Alec Baldwin, Michael Jackson, and Ivan the Terrible are among the men on the list.
What does that have to do with poker? You're smart enough to figure out that a poker player has made the list. Who? Sam Grizzle. And now you're probably asking yourself, "What did he do that was so bad?" Well, along with the post is a story told by Todd Brunson where Grizzle, who had a newborn, asked for a loan to make money to pay his bills. According to the story, Brunson gave Grizzle the loan and he turned it into $50,000 - which he lost no more than 12 hours later.
Want to know who else is on the list? Head on over to SeattleWeekly.com.
Ciao Italia!
The PokerNews Team is in San Remo, Italy, for the second-to-last stop on season seven of the PokerStars European Poker Tour. If you didn't get a chance to head over to the seaside city, then do yourself a favor and watch Laura Cornelius' tour.
Are you following us on Twitter? What about Facebook? Have you clicked the "like" button yet? If you have, then thanks, tell your friends. If you haven't, shame on you. Go do it - now.