The Nightly Turbo: New Episode from The Micros, Brunson Gets in a Fight, and More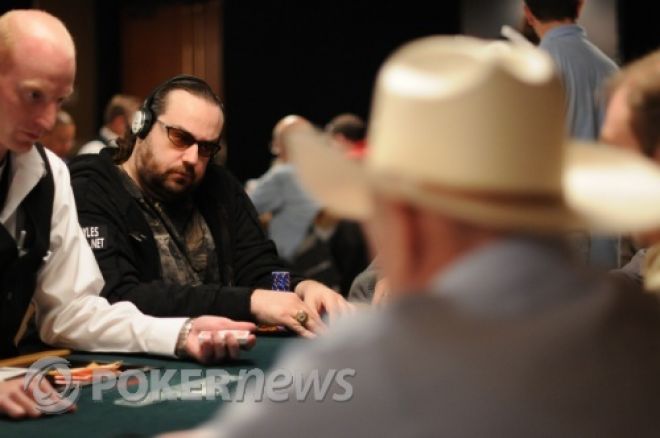 It's April Fools' Day, but there's no fooling going on here, because it's finally the weekend. Plus, we were too busy finding the top news stories of the day for you to come up with an awesome prank. Instead, we let others do it for us, like this one from Google or Groupon actually buying the rights to the day. In real news, we've got a new episode from The Micros to show you, tell you which Brunson got in a fight, and more.
In Case You Missed It
While we like to pretend to be all-knowing, we'll admit when we're clueless - like when it comes to taxes. We're sure many of you are having the same problems, so we talked to a tax professional who specializes in poker to get some tips before that tax deadline.
Is Gus Hansen still rocking the high-stakes cash games online or did he have a little slip this week? Looks like you're going to have to check out the Online Railbird Report to find out.
We like comparing things that you might not think are comparable, like the New York Yankees and the PokerStars Sunday Storm. Find out what we mean in Sunday Storm by the Numbers.
By now, you all have checked out Phil Ivey's website. Some of you probably go to it daily to check if anything has changed. Regardless of when more information is added to it, we decided to work with what was there right now, and thus we have Five Thoughts About Phil Ivey's Website.
Never Gonna Give You Up
The newest episode of The Micros has been released. Chase Berger takes on Max Röfls in a heads-up battle. While it's a good episode, being Fricke-rolled is better. If you thought Phil Ivey's stare was intense, it has nothing on his dancing ability. Be sure to pay attention to Ivey and Tom Dwan's sick dance moves around the 1:20 mark. You won't regret it.
Oh yea, here's the link to episode four of The Micros.

Fighting Out of the Red Corner....
If this is an April Fools' joke, it's a damn good one, because we believe it. We woke up this morning and scrolled through our Twitter feed to see what we missed while deep in slumber, and apparently, Todd Brunson got in a fight with Sheepy while at Aria Resort and Casino. According to Brunson's Twitter, "He slapped my shoulder and I stood up and punched him right in his little bitch face!!! He's lucky he fell and stayed down."
He goes on to tweet that security was called, then the cops were called, and finally it was decided that Brunson was acting in self defense and was asked if he wanted to press charges. He didn't, but apparently Aria did and Sheepy was led away in handcuffs.
We're working on our detective skills (in case this poker thing doesn't work out), so we called Aria and we were told that they hadn't heard anything of that nature, so we can't confirm that this news is accurate. If it's not, we'd like to tip our hats to Brunson because it is by far the best April Fools' joke we've heard all day.
World Poker Tour Bratislava Day 2
Day 2 of the World Poker Tour Bratislava kicked off on Friday and when registration closed, 210 players had bought into the €2,500 buy-in event, creating a prizepool of €488,935. Players that made it to Day 2 and are looking to take home the €140,685 first-place prize include Sam Trickett, James Akenhead, Andy Frankenberger, McLean Karr, and chip leader going into the day, Bertrand "ElkY" Grospellier. Day 2 will end when the final 27 players are reached, which is also the number of players who will make the money.
For updates, check out the PartyPoker Blog.
World Series of Poker Adds New Event to 2011 WSOP Schedule
In the least believable news of the day, the World Series of Poker has released a "press release" regarding a new event that has been added to the 2011 WSOP schedule. According to the release, a $1,000 buy-in strip poker event will be held this summer.
"Strip poker is as old as the game itself and we're hoping by adding this variant to our 2011 schedule will help bring back its popularity," WSOP Vice President Ty Stewart said.
While we appreciate the effort, announcing a $1 million buy-in event would have been more believable. We're available for hire next April Fools' Day if you're interested.
You Got Us With That One - Not
In case you haven't been able to scour the web today and check out the pranks, here's a little roundup.
Over on PokerStars, a series of April Foolishness tournaments took place, including a tournament where the blinds start big and get smaller, one where players must have one chip or less to rebuy, one with one cent rebuys, and others. Also, if you perused the PokerStars VIP Store, then you may have noticed the April 1st Special tab, which includes items like a new VIP Status called WoodStar where customer support is handled by a carrier pigeon and you can get an exclusive "Badugi Only" PokerStars client. Also, a telepathic mouse (a real one not a computer mouse), and a PokerStars bubble bath. All items can be purchased for 1,000 FPPs.
Also, Darvin Moon let's us in on why he finally decided to accept a sponsorship. It's because he's broke. This one almost works because he's pretty monotone and straightforward most of the time anyway - except it doesn't because we don't know much about him in the first place so why would he let us in on something that personal.
Oh yeah, and in case you missed our tweet earlier, we hired a chip counter for every table at this year's WSOP.
Are there anymore pranks we missed? Let us know below and as always, follow us on Twitter for up-to-the-minute news.