World Poker Tour Hollywood Poker Open Day 1: Eslami Continues 2011 Success with Early Chip Lead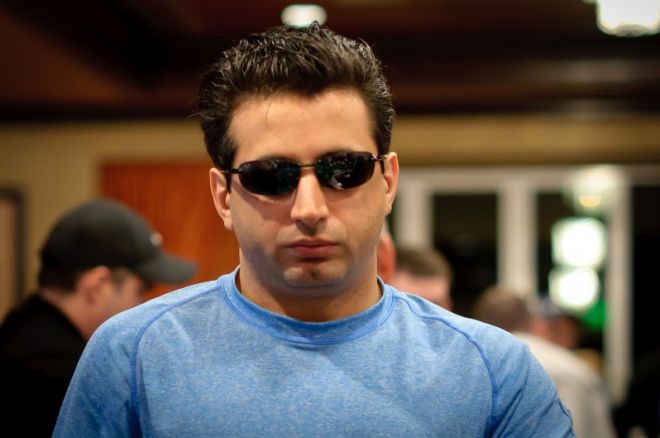 It's a busy time of year for poker. There are numerous big events going on all over the world in these first two weeks of April. The World Poker Tour Hollywood Poker Open began on Saturday in Lawrenceburg, Indiana, and 92 players came out on Day 1. At day's end, 57 players remained and Ali Eslami saw himself sitting at the top of the leader board with 147,000 in chips. Eslami has had a great year so far considering that he prefers cash games and hasn't taken to tournaments full time, but the transition seems to be a smooth one so far.
Eslami was able to build his stack nicely throughout the day. In the last level of the night, with the blinds at 200-400 with a 50 ante, Eslami made a king-high flush holding the
on a
board. He took a good amount of chips from opponent Steve Russell, who called Eslami's 11,000-chip bet on the river with about 29,000 already in the pot, only to muck his hand after seeing the flush.
With the field size staying below the century mark, one might think that not too many notable players showed up, but that's not the case here as the field was highly concentrated with big names. Former WPT champions Dwyte Pilgrim, Vivek Rajkumar and Randal Flowers were all in the mix, but unfortunately none of them were able to make it to the end of the day.
Pilgrim went out after flopping top set on a
board. After his opponent, Greg Taylor, checked the flop, Pilgrim bet several hundred. Taylor made the call, which prompted the
to appear on the turn. Taylor checked again and Pilgrim fired 1,100. Taylor check-raised to 3,000 and Pilgrim called.
The
on the river completed the board and Taylor bet 6,000. Pilgrim put in a min-raise to 12,000 and Taylor reraised all in for about 21,000. Pilgrim called, but saw the bad news as Taylor tabled the
for a flopped straight. Pilgrim flashed his pocket jacks and sent them into the muck before exiting the tournament.
Also in the mix were Tom Marchese, Allen Kessler, Hoyt Corkins, Erik Seidel, Shannon Shorr, Jonathan Little and the WPT's own Mike Sexton. Out of that group, Marchese wrapped up the day with the most chips at 92,275. That's good enough for third overall while Sexton will return with the second smallest chip stack left in the field at 8,525.
Top 10 Chip Counts
| Place | Player | Chips |
| --- | --- | --- |
| 1 | Ali Eslami | 147,000 |
| 2 | Richard Pflum | 141,000 |
| 3 | Tom Marchese | 92,275 |
| 4 | Steve Russell | 92,050 |
| 5 | Matthew Sterling | 90,000 |
| 6 | Allen Kessler | 85,400 |
| 7 | Steve Barshak | 82,825 |
| 8 | Hoyt Corkins | 82,225 |
| 9 | James Sleg | 81,325 |
| 10 | David Anthony | 81,075 |
Day 2 will begin at 1:00 p.m EST (1700 GMT) on Sunday and according to the WPT and their live update team, registration will be open until the start of play on Day 2. That means the field size has a good chance of breaking the 100-player mark. Be sure to stay tuned to PokerNews for the recap of the day's action.
Follow us on Twitter for up-to-the-minute news.
Right now, not only can you get a free $50 bankroll from PartyPoker and PokerNews, but you will also get a free month at PokerNews Strategy. Hurry, this is a limited-time offer, but the great thing is that you don't even have to make a deposit at any stage. Just go to our PartyPoker Free $50 Page and follow the walk-through.