Around the World with Lynn Gilmartin: Back in Sin City!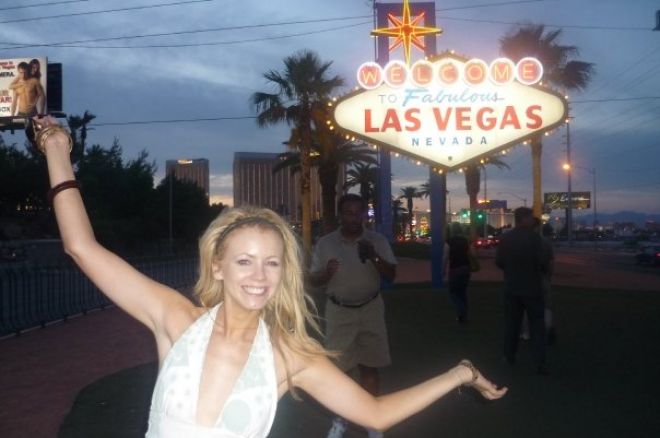 It's been six months since I've graced the Strip of Sin City, and, considering that I felt like I lived here last year, that's a long time away from this place. My liver, of course, was squirming with fear as the plane landed, but I gave it a couple of days to get settled first. My priority? Getting my Whole Foods fix.
I'm staying with Kristy Arnett because I'm here performing my "bridesmaid duties" in the lead-up to her big wedding at the end of the month! Of course, that involves a three-day bender for her bachelorette party, starting Thursday night. Watch out Vegas! So Kristy picked me up from the airport and we literally went straight to Whole Foods before heading home. That night was my second fix for dinner - Tropical Smoothie. Why oh why do we not have these two stores Down Under?
Girls Night Out
So, the first couple of days were tame, just work and all that girlie stuff Kristy and I indulge in when we get together. Until Wednesday night came. Kristy organized a girls' night with the PokerNews ladies Sarah Grant and Elaine Chaivarlis. We went to the Goddess Dinner at Lavo, which is basically a free dinner and cocktails as long as your table has no boy-bits sitting at it. Let me tell you guys, I know most of you come to Vegas with a very strong mission in mind and any smart man would take himself down to Lavo on a Wednesday night for dinner (or Tao on a Thursday). They honestly have a 9:1 ratio of girls to guys. You're welcome.
The Fun Poker...
After dinner, we wanted to play some risk-free poker for our boozy girls night out, so straight to dirty old Bill's Gamblin' Hall we went to cause a loud, boisterous stir at the tables. And we certainly succeeded. I was the only loser of the night, seeing that Sarah cleaned me up. Of course she was dealt aces when I was dealt queens and she was dealt kings when I was dealt tens. That's about all I remember from the session apart from the frequent hand-to-mouth motions with various shot glasses, once again thanks to Sarah Grant. If you haven't already noticed from her blogs, Sarah prides herself on being a "dirty downtown girl," so she's a lover of these old school casinos.
On Saturday afternoon, Kristy and I met her again as we dabbled in some $1/$2 action in the open-air poker room at O'Sheas. It was really refreshing having the sun shining on your face while playing cards. I loved it. Although there's just something about these poker rooms that you just can't take seriously. Perhaps it's the ridiculous debates we always found ourselves in when other players at the table try to teach "the women" something that is completely out of this world, such as string bets being kosher "in this casino."
After a few hours we were all down (and slightly tilted with the debates) so we gave up on O'Sheas, although continued with the trend, and decided to join in a $30 buy-in tournament at Bill's for a repeat of the night just a few days prior. Of course, our in-house ninja Kristy Arnett shipped the tournament with ease and made it rain with dollar bills in the her winner photo.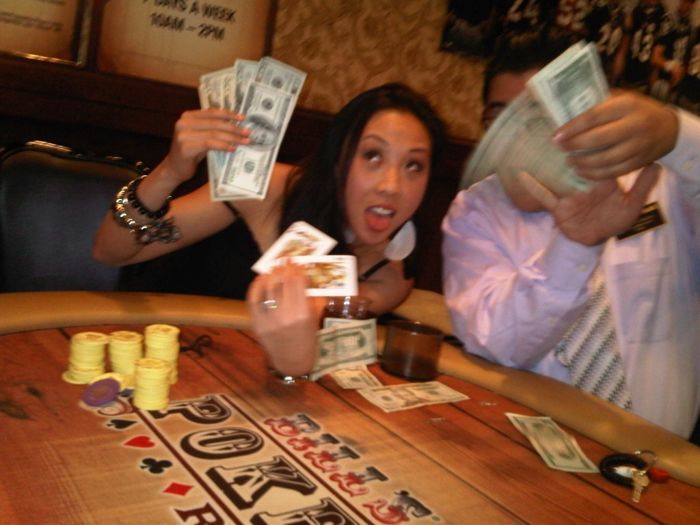 ...And Then the Serious Stuff
With the boozy poker nights aside, Kristy and I have been frequenting the Aria Poker Room over the past week for our behaved sessions. This place is definitely my new favorite room and certainly the hot spot in Vegas right now with every table full, every night of the week. Ivey's Room has had a game going every time I've been there. We actually caught up with Todd Brunson about it in this week's PokerNews Podcast that you can listen to soon, as well as our first verbal meeting with our newest hostess Laura Cornelius direct from EPT San Remo.
So, as I mentioned earlier, it's the beginning of Kristy Arnett's three-day bachelorette bender. It's certainly going to be an interesting few days ahead I'm sure. Let's hope she makes it through in one piece!
For more up-to-the-minute poker antics and perhaps even winner photos such as the one above, follow our video hostesses on Twitter! @LynnGilmartin, @KristyArnett, @SarahGrantPoker, @NicholeJP, @GloriaJoy, @LauraMCornelius