PokerNews Debate: Which WSOP Main Event Heads-Up Match Should You Pick?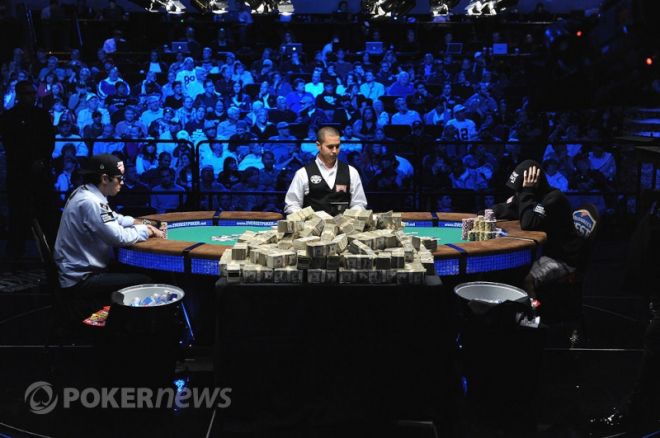 Last week, PokerNews offered an in-depth look at the World Series of Poker's inaugural Main Event Rematches Promotion that'll be introduced this summer, as well as four matches poker fans will be able to vote on. Beginning earlier this week, the polls were opened, and the race is on to determine which match would garner the most votes to join Phil Hellmuth vs. Johnny Chan (1989 WSOP Rematch) and Chris Moneymaker vs. Sammy Farha (2003 WSOP Rematch) on the card. Here is a look at the four match-ups on the ballot.
Greg Raymer vs. David Williams (2004 WSOP Main Event)
Johnny Chan vs. Erik Seidel (1988 WSOP Main Event)
Jamie Gold vs. Paul Wasicka (2006 WSOP Main Event)
Jonathan Duhamel vs. John Racener (2010 WSOP Main Event)
While there is no doubt that all of these matches are among the WSOP's best, only one can win. Who is to suggest which match is better than the others? Well, we at PokerNews feel we're in a pretty good position to offer our expert opinions. Problem is, not all of us are in agreement. This week, PokerNews Senior Writers Chad Holloway and Eric Ramsey offer their differing opinions on which match-up they feel is best for poker.
Chad Holloway believes Greg Raymer vs. David Williams is the best choice.
Eight years ago, I recall turning on ESPN and watching Chris Moneymaker take down the debonair Sammy Farha. It was a turning point in history for the game as the infamous "boom" ensued and poker-mania swept across the nation. The following year, the number of entrants for the WSOP Main Event had more than tripled from 839 in 2003 to 2,576 in 2004, the single largest jump on attendance in history (which still holds today).
The 2004 final table captured the world's attention as Dan Harrington made back-to-back final tables, an accomplishment immediately hailed as one of the most impressive in WSOP history. On top of that, "young guns" Mattias Andersson and Matt Dean were squaring off against members of the "old guard" such as Mike McClain and Al Krux; fast-talking Josh Arieh played the arrogant villain while Glenn Hughes was the easy-going comic relief. All of these players put up a good fight, but it was Greg Raymer and David Williams who ultimately made it to heads-up action.
The subsequent match appeared to be a foregone conclusion as it was simply a case of experience vs. youth. Williams was a newcomer to the game, symbolic of those who found poker as a result of the Moneymaker Effect; meanwhile, Raymer was a patent attorney who was a veteran of the game, having played at various Indian casinos like Foxwoods for years.
Indeed, Williams was felled by the pocket eights of Raymer, who entered heads-up play with a big chip lead. The combined experience of Williams and Raymer made them erstwhile friends, as both went on to find tremendous poker success. Williams ended up capturing a bracelet of his own and a World Poker Tour World Championship to boot, and Raymer became one of the greatest poker ambassadors of all time, adding numerous titles to his résumé.
Finally, 2004 marked the last year that the WSOP was held at Binion's Horseshoe in downtown Las Vegas. All subsequent years would see the Rio play host to poker's biggest venue, marking a new era of massive fields and sponsorship. The Raymer vs. Williams match helped bridge the gap between the "old days" of poker and the new, younger version of the game.
If you take the historical importance of the 2004 WSOP and combined it with the post-Main Event success of the final two players, it adds up to an excellent rematch. Neither the Jamie Gold vs. Paul Wasicka nor the Jonathan Duhamel vs. John Racener options holds a candle to this match. None of those players have come close to equaling the success that Raymer and Williams went on to find; in fact, a few of those names have even fallen off the poker radar. Granted, that argument doesn't hold for the Johnny Chan vs. Erik Seidel match, but let's face it, one match for Chan is enough.
All things considered, I'll be casting my vote for Raymer vs. Williams.
Eric Ramsey believes Johnny Chan vs. Erik Seidel is the best choice.
Oh, Chad...
If this 1988 rematch doesn't get more than 50 percent of the fan vote, I'll be more shocked than Erik Seidel was when Johnny Chan turned over jack-nine of clubs. For me, deciding which match to vote on was a cinch.
Johnny ****in' Chan.
Like Chad's pick, this match featured a duel between two eventual poker-icon multimillionaires in their breakout performances. But this one made it to the big screen. Woven into that iconic scene in the movie Rounders, Chan's defense of his 1987 WSOP Main Event title cemented his position in the up-and-coming class of elite poker players. "The Orient Express" has gone on to achieve a lot both on and off the poker table, even making an appearance as himself sitting opposite Matt Damon in that movie. Oh, and he's added another eight bracelets to his wrists in the meantime. All told, Chan has well clear of $8 million in tournament earnings — and that's still about $6 million shy of Seidel's total. In fact, Seidel has earned more than half of Chan's career earnings in the first quarter of 2011. Alone. If you're not paying attention to Seidel this year, you're missing out on one of the great heaters (or more fittingly, "run of playing phenomenal poker") in recent memory. The kind of run that wins you $4.5 million in four months. Both players, in fact, still have surging poker careers nearly a quarter century removed from their first meeting on the felt.
In the final hand of the 1988 Main Event, Chan put out a bet after flopping the joint with
on a
flop. Seidel's
was good enough for a check-raise, and Chan's plan was well in motion as he flatted and relinquished the betting lead. Both players checked through a blank on the turn, and the river
appeared to change nothing. Seidel took his cue to move all in, putting his tournament life in the middle of the table. In one fluid motion, Chan stood up, announced the call, tabled his nut straight, ripped off his microphone, and hoisted his arms into the air in victory. Back-to-back style. It's a memorable scene even if you've only seen the videos on YouTube or the clip in Rounders, and Seidel's reaction was just as picturesque.
It was the first career cash for the barely balding 30-year-old, kick-starting his career with a $280,000 payday. Four years later, he struck gold himself by taking down a $2,500 Limit Hold'em event at the WSOP, pushing his career earnings near $1 million with a quickness. Fast forward two decades, and that number has grown close to $15 million as Seidel stands alone as the most successful tournament player in the history of the game. Who would have guessed that eventual fate as he moped away from Chan's victory party in 1988?
The names Chan and Seidel have come to be icons in the mainstream poker world, and the pair spent the next 25 years racking up bracelets and piling on the six-figure cashes. While Seidel leads the money race, it's Chan with double digits in the gold column. Ten bracelets for Chan, eight for Seidel. That alone is enough to make this match-up a must-watch in my book.
I'm excited about these rematches, because they get me thinking about how the course of poker history has been shaped by a long series of these memorable individual matches. Twenty-five years later, it's hard to see Erik Seidel and not flash back to the clip of him in that ghastly, cockeyed orange visor getting run over by Johnny ****in' Chan.
The match is one I'd wish I'd seen the first time around, and it's a rematch I wouldn't dare miss.
Which match would you like to see and why? Let us know in the comments section below. In the meantime, be sure to follow us on Twitter and like us on Facebook.