World Poker Tour Super High Roller Day 2: Seidel vs. Lindgren for the Title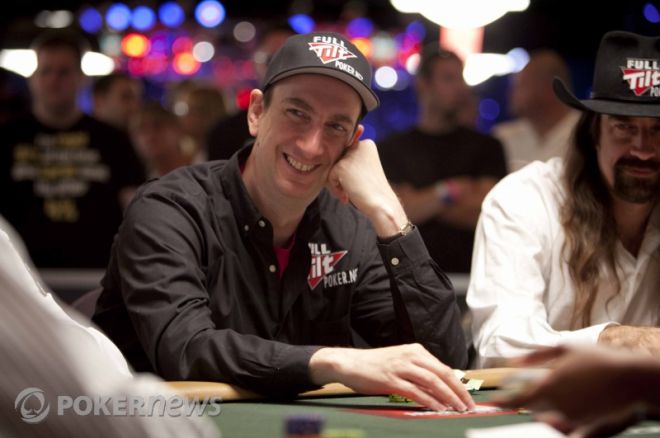 Day 2 of the largest buy-in event that the World Poker Tour has held took place on Thursday. The $100,000 Super High Roller had 17 players return from the starting field of 29. Up for grabs was a piece of the hefty $2.802 million prize pool with the lion's share weighing in at nearly $1.1 million.
It didn't take long for the first elimination to happen. In a battle of Team PokerStars Pros, Daniel Negreanu got the best of Eugene Katchalov to make him the first elimination of the day. Following Katchalov was 2009 WPT World Championship winner Yevgeniy Timoshenko in 16th place, Gabe Kaplan in 15th place, Tyler Smith in 14th place and Gregory Brooks in 13th place.
John Morgan hit the rail in 12th place to put the players just one spot away from making the final table. The spot belonged to Dan Shak, who fell in 11th place at the hands of Erik Seidel. According to the WPT Live Update Team, Shak moved all-in on the river with the board reading
. Seidel stood tough and made the call holding
. Shak tabled
and was second best. At the final count of the chips, Seidel had Shak just barely covered and sent him out the door before the players redrew to one table.
After the redraw, here's how the new seating assignments and chip counts looked for the final ten players. Keep in mind that only five spots would be paid out, so there was still plenty of poker to go.
Final Table Seating Assignments and Chip Counts
| Seat | Player | Chips | Big Blinds |
| --- | --- | --- | --- |
| 1 | Sam Trickett | 620,000 | 52 |
| 2 | Vivek Rajkumar | 1,850,000 | 154 |
| 3 | Randy Dorfman | 550,000 | 46 |
| 4 | Cary Katz | 350,000 | 29 |
| 5 | Ashton Griffin | 275,000 | 23 |
| 6 | Daniel Negreanu | 800,000 | 67 |
| 7 | Erik Seidel | 1,950,000 | 163 |
| 8 | Rick Salomon | 740,000 | 62 |
| 9 | Erick Lindgren | 1,450,000 | 121 |
| 10 | Justin Bonomo | 2,740,000 | 228 |
To start the final table, Day 1 chip leader Justin Bonomo led the way. Seidel closed that gap on the fourth hand of the final table by eliminating Rick Salomon in 10th place. Following Salomon to the rail was Ashton Griffin in ninth place, Sam Trickett in eighth and Randy Dorfman in seventh. With Dorfman's elimination, the stage was set for a huge bubble. The next player to go out would miss out on a guaranteed $224,160 payday and the remaining five would have a chance at nearly $1.1 million.
When six-handed bubble play began, Cary Katz was the short-stack. Katz wasn't able to get much going in order to help climb back up the latter and eventually found himself all-in against Vivek Rajkumar.
On the hand that burst the bubble, action folded to Rajkumar in the small blind and he moved all-in to put the pressure on Katz and his short stack of about 300,000, which was about ten big blinds. Katz made the call and tabled
. Rajkumar was behind, but held two live cards with
. Katz was able to stave elimination through the first four cards as the board ran out
, but the
on the river smacked Rajkumar with a winning pair of deuces and successfully popped the $224,160 bubble.
A few hands went by before the first player was eliminated in the money. That player was Bonomo, who fell at the hands of Erick Lindgren. With the blinds at 15,000/30,000 with a 4,000 ante, Lindgren raised to 70,000. Bonomo moved all-in for 510,000 from the button and Lindgren made the call when play got back to him. He tabled
and Bonomo revealed a dominated
. The
board was no help to Bonomo, who was was eliminated in fifth place for $224,160.
Finishing in fourth place was Rajkumar. He was ousted by Lindgren in one of the most ridiculous bad beats ever witnessed. Rajkumar, who had twice hit lucky river cards during this event to send players to the rail, raised to 125,000 with blinds at 25,000/50,000 with a 5,000 ante. He was under the gun and Lindgren was in the big blind. Play folded to Lindgren who reraised to 400,000. Rajkumar was back up and opted to four-bet to 760,000. Lindgren wasn't about to back down, so he reraised all-in, and had Rajkumar's 2.3 million-chip stack covered. Rajkumar quickly called and tabled the
. Lindgren tabled
and was well behind.
The flop was about as stone dry as it could get for Lindgren, coming down
. He was in need of a miracle turn and river card to get any part of this pot, but there was hope after the
fell on the turn. Now, Lindgren needed a repeat nine or a jack to win the hand and eliminate Rajkumar. The river has been ultra-kind to Rajkumar in this six-figure buy-in event, but this time it was the other way around as the
peeled off and landed two pair for Lindgren. He was able to win the pot in amazing runner-runner fashion and send the young, former WPT champion to the rail in fourth place for $336,240. With that finish, Rajkumar has capped off an outstanding season on the WPT. He's earned three deep runs this season — a second-place finish in the L.A. Poker Classic for $908,730, a fourth-place finish in the Bay 101 Shooting Star for $295,800 — and now this finish to put his total at nearly $1.55 million earned on this season alone.
Negreanu went out in third place and he fell at the hands of Lindgren, as well. This time, it wasn't so much of a bad beat. Negreanu reraised all in with
over Lindgren's opening raise. Lindgren called with
and off to the races they went. After the board ran out
and Negreanu was out in third with a payday of $448,320.
When heads-up play began, Lindgren held the chip lead over Seidel — 6.295 million to 5.305 million in chips — and the two were playing for a difference of $392,280. The two wound up playing heads-up for a bit before tournament director Jack McClelland gave the players the option to either stop for the night and resume on Friday or continue. Seidel and Lindgren opted to cease play for the night and will continue on Friday at 1230 PDT (1930 GMT). Heading into the final day, Seidel leads with 7.12 million to 4.48 million in chips over Lindgren.
If you love poker, be sure to follow us on Twitter and like us on Facebook for up-to-the-minute poker news.