WSOP Slipper Saga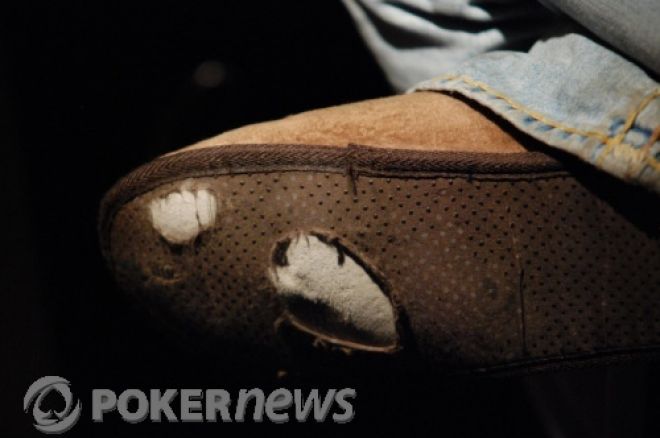 Ty Stewart, vice president of the World Series of Poker, has done it again. He and Seth Palansky, both marketing geniuses in their own rights, have somehow managed to land a new sponsor for the WSOP. To say this one came out of left field would be an understatement. Earlier this month in the WSOP's annual conference call with the media, Stewart announced a new deal with Dearfoams Slippers. The deal makes the company the Official Footwear Sponsor of the WSOP. Wait. What?
The WSOP has had a number of unique sponsors over the years. Beef jerky, erectile dysfunction medication, deodorant, a fast-food chicken chain, and a candy-bar company are just a few of the items and companies the WSOP entered into sponsorship deals with in the past. While drawing a relevant connection between those brands and poker was a stretch, this latest deal may have been the most implausible (with the exception of the erectile dysfunction medication of course). How could there possibly be a relationship between poker and the world's leading slipper company?
The angle that Stewart needed was provided last year when Jonathan Duhamel won the 2010 WSOP Main Event in some unconventional footwear. As Stewart explained: "Our champion last year won nearly $9 million while wearing flip-flops, so we know poker players covet comfort in their pursuit of glory. But let's face it, flip-flops aren't so comfortable. So we have partnered with Dearfoams – who makes the world's most comfortable slippers – so players can now feel truly comfy as they pursue their dreams of winning the WSOP and going on to live a life of leisure where it will be appropriate to wear Dearfoams slippers 24/7."
As part of the deal, Dearfoams' logo, signage and thousands of pairs of slippers will appear on-site throughout the tournament. Many of those pairs will come courtesy of Dearfoams, which will give out complimentary slippers to Main Event participants; as well as to participants in the Ladies Championship. In addition, the WSOP will allow its dealers and the ESPN camera crew to come to work sporting Dearfoams Slippers during the Main Event.
So what is the story behind Dearfoams Slippers? According to the WSOP press release:
"Dearfoams, a lifestyle brand synonymous with maximum comfort, created the original foam-cushioned slipper in 1947. Nearly 65 years (and a billion pair) later, people still love the exceptional comfort, style, and quality every Dearfoams product provides. Our slippers feature the "Dearfoams Difference," a multi-density cushioning system and higher grade fabrics that make Dearfoams slippers unlike any other. And our new sleepwear and knit accessories lines, launching in Fall 2011, will feature the same quality, comfort and style consumers expect from the Dearfoams brand. Moreover, all Dearfoams products include our Comfort Guarantee: if you're not 100% comfortable with us, just let us know."
When I first heard about this deal, I couldn't help but laugh. It seemed preposterous that a slipper company was going to be a major sponsor of the WSOP; however, as funny as it may be, both companies have managed to put a positive spin on the relationship and actually make it plausible. As someone who is on his feet all day, every day during the WSOP, I can tell you that my feet are killing me when it comes time to go home. In fact, last year I remember my feet hurting so bad one day that I actually considered paying a massage therapist to give my feet a rubdown (yes, some of them are actually willing to do this). Instead, I opted to buy a pair of expensive insoles.
Had a deal like this been in place in 2010, I might have been able to wear a pair to work, which is an extremely appealing concept as I reflect on how badly my feet hurt all summer. What's more, the fact that a company like Dearfoams Slippers, one I had never heard of before, has managed to appeal to a 28-year-old man is simply amazing and that's where the real marketing genius lies. Thanks to this deal with the WSOP, Dearfoams will be reaching a whole new male demographic, a fact not lost on Mark Zobel, vice president of marketing for R.G. Barry Corporation (Dearfoams' parent company):
"This is an exciting opportunity for us and a unique way for Dearfoams to reach a broader male audience, who may not be as familiar with our brand as women. They're the perfect pair whether at a poker table, running errands, heading to class, or just kicking back at home."
While Dearfoams may seem like a run-of-the-mill slipper company, that is clearly not the case. Their marketing campaign saw 10.5 millions mentions over the holidays, a 2,500 percent increase in their social media community (yes, they have a Facebook page), and numerous mentions/appearances on various films and television programs. Heck, they even had an MTV Dearfoams Pool Party. Needless to say, this isn't your grandmother's slipper - unless of course she wears Dearfoams. The point is, this is a company that knows how to appeal to a younger generation. While inking a deal with the WSOP seemed ludicrous at first glance, was clearly a genius move by both parties after all.
To top it all off, Dearfoams will be running a promotion that'll grant one lucky winner a seat in the 2012 WSOP Main Event, details of which will be available on their website. If you want to learn a little more about Dearfoams, check out the "Comfort Revolution" video below.
What do you think of the WSOP's latest sponsorship deal? Let us know in the comments section below. In the meantime, be sure to follow us on Twitter and like us on Facebook.
Executive Editor US, PokerNews Podcast co-host & 2013 WSOP Bracelet Winner.