The Nightly Turbo: The Next SuperStar Showdown, WSOP's New Sponsor, and More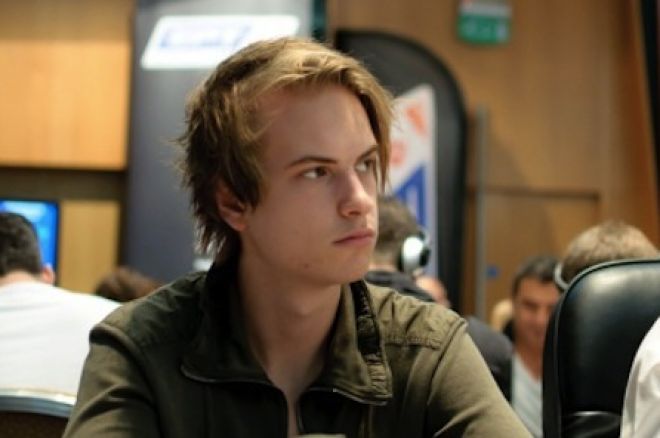 Not everyone can make it to the World Series of Poker - especially if you aren't of age. Yes, we're talking about one player specifically - Viktor Blom. He's going to take on his next opponent in the PokerStars SuperStar Showdown on Sunday. We'll tell you who it is, also bring you the details on the WSOP's new sponsor, and more.
In Case You Missed It
On Tuesday morning, Federated Sports + Gaming announced that it had acquired the Heartland Poker Tour. Find out more about the acquisition in our exclusive interview with Jeffrey Pollack and Todd Anderson.
We know a lot of you out there are still playing online, but you must question the future of the U.S. online poker sites. We contacted some of them to find out how they are able to continue to offer U.S. players an outlet to play, what their traffic has been like, and more.
Did you miss any of the action on Day 14 of the 2011 World Series of Poker? Don't give us any excuses, just read this recap and get caught up.
The second week of the 2011 World Series of Poker has wrapped and you're probably wondering about the highlights. Here are five thoughts on week two.
Blom's Next Opponent
Thanks to Google, because our memories are bad, we can tell you that the last PokerStars SuperStar Showdown that Viktor "Isildur1" Blom played was on April 24. He won. It's about time that there's another one in the books right?
His next competition is going to be on June 19 at 1200 EDT (1900 GMT). Who will he take on? Rui Cao, aka PepperoniF on PokerStars. The two will play each other on two no-limit hold'em tables and two pot-limit Omaha tables at $50/$100 blinds.
Cao has been asking for a shot at Blom since December when the SuperStar Showdowns were announced.
Want to know more? Head on over to the PokerStars Blog.
Get Your Energy - In a Strip
Normally when we say, "Can I have a sheet," we finish the sentence with "of paper." Not when speaking of the newest World Series of Poker sponsor, though. It was announced Tuesday that Sheets Energy Strips is now an official sponsor of the 2011 WSOP.
Sheets is a paper-thin, individually wrapped strip that you place on your tongue. The strip instantly dissolves and gives you hours of energy. Sheets was co-founded by LeBron James, and let's just say, he probably should have used Sheets in the fourth quarter of the game on Sunday.
"We're thrilled to be an official sponsor of the 2011 World Series of Poker and provide energy to the top poker players in the world," said Sheets Energy Strips CEO Warren Struhl. "Poker is a game that requires you to be sharp and attentive every single hand, and Sheets will help players do that. We look forward to working with the World Series of Poker."
Sheets Energy Strip logos will be featured on the inner rung of the feature tables, and the product will be available from all servers in the Rio who will be wearing Sheets-branded uniforms. Sheets comes in a variety of flavors and is said to be becoming, "the new way to do energy." Amar'e Stoudemire, Pitbull, Drake, and Ray Rice are all partners in the company.

Find out more about these energy-packed strips at WSOP.com.
Rally to End Cancer
Rally to End Cancer and the No Limit No Profit Initiative will be holding an event in Las Vegas on November 18 and 19. Vanessa Rousso and Phil Gordon are Honorary co-chairs of the organization, and Lakers owner, Dr. Jerry Buss is the event chair.
The event in November in Las Vegas will be the Rally to End Cancer Scavenger Cup. The event will raise funds for care, treatment and research for those who are suffering from cancer.
To enter the Scavenger Cup, teams must raise a minimum of $25,000. The highest fundraising group will get to draft their celebrity navigator first. The Scavenger Cup is fueled by pit stops at various establishments around the city where drivers and navigators will receive clues for their next stop.
Think this sounds like your cup of tea? Check out RallytoEndCancer.com.
PokerTracker 4 Released
PokerTracker 4 was recently launched to celebrate the 10th anniversary of PokerTracker. We're sure you know what PokerTracker is, but just in case you don't, it's software that tracks, analyzes, and helps improve your online poker game.
So what's new on PokerTracker 4?
Vector HUD Engine frees screen clutter at all table sizes
NoteTracker automated note system
Drag and drop HUD Profile Editor
Street by street hand equities displayed at showdown
Big Blind per player stack size counts
That's just to name a bit. There are plenty of other improvements to PokerTracker 4, but if you want to find out more, you're going to have to head on over to PokerTracker.com.
Bellagio Bandit Takes Plea Deal
Remember that guy that robbed the Bellagio and then tried to sell his chips on TwoPlusTwo under the nickname OceanSpray25?
On Tuesday morning, 29-year-old Anthony Carleo (or the Bellagio Bandit) pleaded guilty to the Bellagio armed robbery.
"I went into the casino. Went to the craps table, took chips and ran out," Carleo told District Judge Michelle Leavitt. "Very foolish."
Eight felony charges were dropped as part of the plea deal; a sentencing hearing has been scheduled for August 23.
Find out more about the plea deal at LVRJ.com.
Game, Set, Match
On Sunday, Patrik Antonius and Brandon Adams battled at the International Tennis Center in Las Vegas. If you haven't already heard who won, then you should watch the video below.
You should follow us on Twitter.