The Nightly Turbo: Phil Ivey Lawsuit Against Tiltware, WSOP Circuit on Versus, and More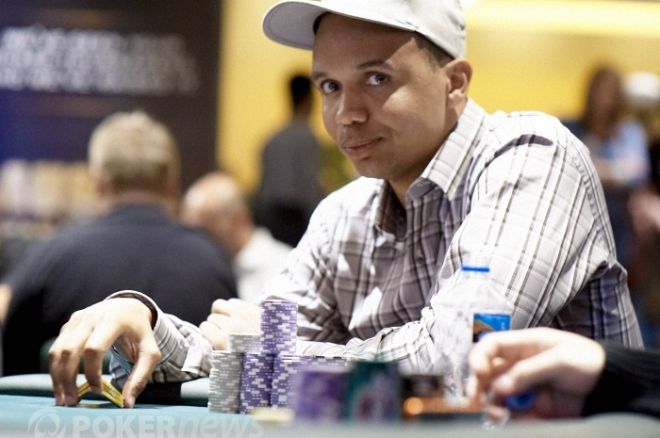 If you thought April 15 was a big deal for the poker industry, things may have just gotten bigger. Last night, Phil Ivey announced that he was filing a lawsuit against Tiltware, the software and marketing provider for Full Tilt Poker. The lawsuit was made public Wednesday and we've got it for you. On top of that, we'll tell you when you can watch the World Series of Poker Circuit on Versus and much more.
In Case You Missed It
For weeks now, we were bringing you our rookie predictions for this year's World Series of Poker. We know you kept up with them all, but now that the WSOP is here, we figured it would be good for you to have all our predictions in one place. And with that, here is the 2011 WSOP Rookie Roundup Revisited.
The 42nd Annual World Series of Poker kicked off on Tuesday with two events. Wondering how it all went down? Check out our daily WSOP recap for the scoop.
Daniel Negreanu discussed the Phil Ivey incident with our team Wednesday Morning. You should check out our daily WSOP PokerNews Podcast to find out what he had to say.
Want to brush up on some of your poker skills? We talked to Christian Harder about a hand he played at the World Poker Tour World Championship to get a little insight in his poker strategy.
Suing Mad
If you haven't heard already that Phil Ivey has filed a lawsuit against Tiltware, the software and marketing company for Full Tilt Poker, then you should get out more.
The lawsuit was filed Wednesday in the District Court of Clark County, Nevada. Thanks to the AP's Oskar Garcia, we can let you check out the entire complaint. Ivey has retained Las Vegas lawyer David Z. Chesnoff for this lawsuit.
According to the complaint, Ivey is suing for injunctive relief, declaratory relief, and damages. The first cause of action, injunctive relief, is focused on Ivey's non-compete contract and making in unenforceable. In the second cause of action, breach of contract, it says the Plaintiff (Ivey) has been damaged by lost business opportunity, lost income, and damage to his personal and professional reputation all in an amount that exceeds $150,000,000.
There are more causes of action, but you need to catch up on the rest of the news, so we're going to keep this short and sweet. Check out the entire complaint on Scribed, thanks to Oskar Garcia.
WSOP-C on Versus
The schedule for the World Series of Poker Circuit on Versus was released on Tuesday. There are 10 hours of coverage slated in the month of June with the first two kicking off June 2.
"It was a tremendous year for the WSOP Circuit with many amazing stories and improbable outcomes," said WSOP Executive Director Ty Stewart. "With the Stanley Cup playoffs coming to an end on Versus, we look forward to filling a weekly primetime slot each Thursday night in June."
Versus will air two one-hour episodes at 9:00 p.m. EDT every Thursday night in June, with the $1 Million National Championship culminating on June 30.
"We are very excited to present coverage of the World Series of Poker Circuit tour to a national audience," said Jeff Goldberg, vice president of programming for Versus. "The WSOP tour is one of the most successful in the business and we knew it was a great opportunity for our first venture into poker tournament coverage."
For the full television schedule, head on over to WSOP.com.
Nevada Senate OKs Internet Poker Bill
We've been discussing the Internet poker bill circulating through the Nevada legislature for some time now. First it went through the Nevada Assembly, then the Senate Judiciary Committee approved it, and now, Assembly Bill 258 has been given the OK by the Senate on a 19-2 vote.
The bill allows for the Nevada Gaming Commission to adopt regulations and grant casinos licenses, giving the state a head start should Congress pass legislation legalizing online poker in the United States.
To find out more, head on over to the Las Vegas Sun.
New Division
Canada-based HeadsUp Entertainment International has consolidated its poker operations into a new, separate division. HEI operates the Canadian Poker Tour, Canadian Poker Player Magazine, and the Canadian Poker Player Television Network. The company is in the process of recruiting a president for the new division, which will house the above mentioned entities.
"As the result of recent expansion, new market opportunities and potential interest from acquirers we have decided it would be in the best interests of the company and its shareholders to consolidate all poker operations into one unit," said Kelly B. Kellner, President and CEO of HeadsUp Entertainment International, Inc. "We have begun to actively recruit a president for that division who not only understands the industry but shares the passion we all embrace at HeadsUp. We anticipate announcing the successful candidate for this position in the next two weeks."

Read the press release for more.
Off the Market
Sarah Grant caught up with Eric "Basebaldy" Baldwin during Event #3 of the 2011 World Series of Poker to talk about a few things, including the event, UB, and of course, his recent engagement. Congrats!
Be sure to follow us on Twitter for up-to-the-minute news.