The Nightly Turbo: Doubles Poker Championship, PartyGaming Named in Kentucky Domain Case, and More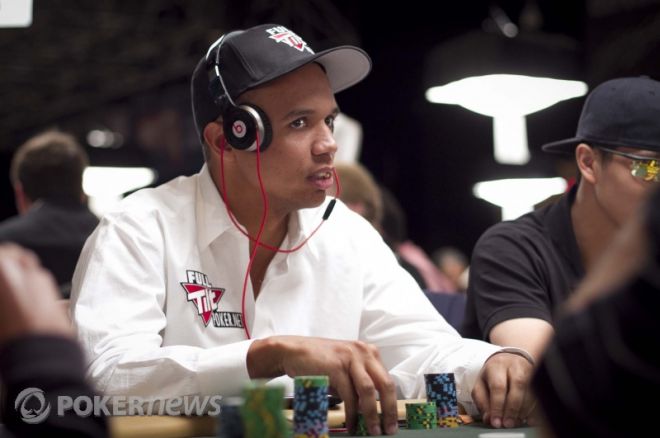 You came here looking for the news and that's what we're going to give you. What's on the docket today? Well, the Doubles Poker Championship is hitting your TV sets this week, PartyGaming has been named in the Kentucky domain-seizure case, and we've got some online nosebleeds news, so we'll be telling you how Phil Ivey's online poker week is looking, along with Tom Dwan and plenty of others.
In Case You Missed It
We brought you Part 1 of Managing Your Bankroll with Jonathan Little the other day. We could have left you hanging, but we're not cruel.In Part 1, Little told you about his bankroll project. In Part 2, he recaps a hand he played in a $0.05/$0.10 game while he was working on building his bankroll.
The PokerStars.net European Poker Tour kicked off its seventh season Wednesday in Tallinn, Estonia. Wondering who made it to Day 2? Check out the Day 1a recap.
Lynn Gilmartin travels the world covering poker tournaments. Her next stop is Cyprus for the 2010 Merit Cyprus Classic. If you're headed there, you might want to check out Around the World with Lynn Gilmartin for some tips and places to see.
The FTOPS XVII is well into its schedule with 22 events already in the books. Check out all the results and who's hot and who's not here.
The European Poker Tour Awards were introduced in the middle of season six. With Wednesday's kick off of season seven, a new Player of the Year ranking system was unveiled. We review it, and talk to Neil Johnson and Kevin MacPhee here.
Pick Me Pick Me
This weekend, the Doubles Poker Championship debuts on GSN. You can catch all the action beginning Saturday August 14 at 9:00 p.m. EDT. The Doubles Poker Championship was filmed at the Golden Nugget in Las Vegas and will bring a new format of play to its audience. Among those plunking down the $50,000 buy-in were PokerNews' Tony G, Tom "durrrr" Dwan, Annette Obrestad, Phil Ivey, Phil Hellmuth, Jennifer Harman, and Howard Lederer, just to name a few.
The tournament is broken into three segments: regular season, semifinals, and final table. During the regular season, players played four qualifying rounds with different partners each time and earned points for how they finished in each round. The top 16-point earners went on to the semifinals.
When you tune in on Saturday, you might notice the teammates sitting next to one another. That's because they alternated play on each street, with one player playing preflop and the turn and the other playing the flop and the river.
There are 11 weeks of action-packed doubles poker headed your way and you won't want to miss it. Set your DVRs for this Saturday at 9 p.m. EDT. Check out GSNTV.com for more.
PartyGaming Targeted
The Commonwealth of Kentucky has been trying to seize the domains of 141 Internet gambling sites for quite some time now. Pocket Kings, the operator of Full Tilt Poker, has been named in the suit, and as of late, PartyGaming is in the Commonwealth's sights.
On Wednesday, Kentucky amended its suit to add PartyGaming. Since 2006 and the passage of the UIGEA, PartyGaming hasn't operated in the U.S. market. Because of that, Kentucky is attempting to collect funds from 2005 to 2006.
RecentPoker has more.
In the Nosebleeds
We know that not everyone has time to regularly rail the nosebleeds tables on Full Tilt Poker, so we're going to give you the scoop on how some of your favorite high-stakes regulars are doing this week.
Phil Ivey is having a stellar week in the black to the tune of $420,000 thanks to a $250,000 score while playing $300/$600 pot-limit Omaha, as well as a $200,000 win over Tom "durrrr" Dwan and "Observer84" in $500/$1,000 cap no-limit hold'em. Cole South's, harrington25's, and David Benefield's weeks are going fairly well, too.
Although Dwan is up almost $1.7 million for August, this week he's in the red just over $168,000. Gus Hansen isn't faring much better, with his bankroll $208,391 lighter. And if your missing a little Ziggy in your life, it's because Ilari "Ziigmund" Sahamies is taking the rest of the month off after losing $590,000 in the first two weeks of August.
HighStakesDB.com has more.
Canadian Open Poker Championships
The 2010 Canadian Open Poker Championships kick off August 19 in Calgary and will run through August 29. Over the 11 days, 13 events are planned and will be spread among three of Calgary's premier casino venues.
The Canadian Poker Tour is expecting a record number of players to head to the Great White North for the event. On the schedule is a $5,000 heads up main event and already confirmed to attend are Gavin Smith, Greg "FBT" Mueller and November Niner Matt Jarvis.
"I am very pleased to have seen the Canadian Open grow since our first event in 2006 where we hosted a single event with only 64 players," HeadsUp CEO and promoter Kelly B. Kellner said. "This year we expect over 2000 entries over the entire series..."
Find out more here.
Online Poker Legalization
In poker, the passing of Barney Frank's HR 2267 through the House Financial Services Committee was a huge step forward for the legalization of online gambling. We know this. The poker community has been following the developments closely in hopes that legalization will happen soon, but how closely is this development being followed outside of the poker community?
It seems to be making some headway, according to an article in the LA Times that discusses online gambling and Frank's bill. A quick Google search of HR 2267 will bring up most poker and gambling related sites, but with the LA Times picking up the story, hopefully poker can get more mainstream media support.
Read the LA Times article here.
This is Archery Right?
Sometimes poker tournaments don't go as planned and you find yourself busto on Day 1, your flight days away, and in the hunt for something to do. Gloria Balding likes to sneak away from the casino and find fun things to do in the tournaments' host city. EPT Tallinn is no different. Archery lessons anyone?
Following us on Twitter is a really good idea. Another good idea? Facebook.