Online Railbird: Blom Drops $459,000 to End May on a Low Note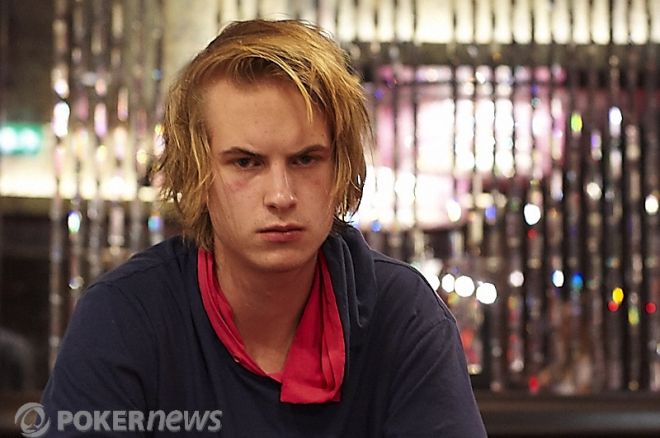 In the past week, the poker world has shifted its attention to the World Series of Poker in Las Vegas. While bracelet winners and Phil Ivey have been making headlines, it is easy to forget that the high-stakes action is still going strong on the virtual felt.
Some familiar players and even a few new ones tried their luck at the high-stakes tables on the virtual felt. Surprisingly, much of the action occurred on PokerStars, which is where this week's biggest winner played. Rui "PepperoniF" Cao scored $332,667 in winnings in 5,274 hands over 47 sessions. On the other end of the spectrum, Viktor "Isildur1" Blom was far and away the week's biggest loser after dropping $459,543 in 13,275 hands spread across 167 sessions. This ensured that he ended May a $60,000 winner, which was a far cry from his high point of over $550,000. To give you a point of reference, the next biggest loser was Niki Jedlicka, who dropped a more modest $94,913.
Welcome "niantos" to the High-Stakes Games
On Tuesday, a player known only as "niantos" took a seat at the $200/$400 pot-limit Omaha tables on Full Tilt Poker. This caught the attention of railbirds since niantos is not a high-stakes regular, although he could be — he managed to pocket $154,000. Most of that money came from Niki Jedlicka, who was sitting down at the table with just $12,000 at a time.
In one of his biggest hands, niantos ($27,998.50) raised to $800 on the button and inspired "FinnishNightmre" ($23,087) to fold in the small blind; however, Jedlicka ($14,700) decided to exercise his option in the big blind with a raise to $2,600. After niantos made the call, the flop fell
and Jedlicka led out for $5,400. Niantos quickly raised to $13,400, Jedlicka called off his remaining $6,700, and the cards were turned up.
Jedlicka:

niantos:
Niantos was ahead with his flopped two pair, but Jedlicka had a few draws. As usual, the turn and river were run twice. On the first run, the
turn delivered Jedlicka a higher two pair, but the
that followed on the river gave niantos Broadway and half the pot. On the second run, neither the
turn nor
river helped Jedlicka, and niantos scooped the entire $29,600 pot.
Jedlicka Can't Beat Two Pair
In another hand between the two, Jedlicka ($22,134.50) raised to $1,200 on the button, only to have niantos ($57,828) make it $2,400 to go from the big blind. After a call, the flop came down
and niantos bet $2,000. Another call ensued, which was followed by the
on the turn.
Niantos kept the pressure on with an $8,800 bet, but Jedlicka was stubborn and made the call. Surprisingly, both players checked when the
peeled off on the river. Niantos rolled over
for tens and threes with a king kicker. It was good as Jedlicka simply mucked and watched the $26,400 pot head in his opponents direction.
Obviously Jedlicka wasn't having much luck against niantos, but his bad day didn't stop there. He went on to drop $135,000 against "Kagome Kagome," which essentially erased an $180,000 win he had booked days earlier.
I'll Have Some Pepperoni on That
We already told you that Rui Cao, who plays under the name "PepperoniF" on PokerStars, was the midweek's biggest winner. How did he do it? By winning big hands, of course. One such hand occurred on Wednesday against "le kork" at the $50/$100 PLO tables. It began when le kork ($25,000) raised to $300 and Cao ($25,944.50) popped it to $900. After a call, the
hit the flop and inspired Cao to lead out for $1,100. Le Kork wasted little time in making it $3,100, Cao called, and the
was revealed on the turn.
Cao checked, le kork bet $4,400, and Cao woke up with a check-raise to $21,199.50. Le Kork called off his remaining $16,600 and the cards were turned up.
Cao:

le kork:
Le kork was ahead with top two pair but still needed to dodge a king or heart on the river. Unfortunately, the
spiked and completed Cao's flush, giving him the $50,000 pot.
Who's Up? Who's Down?
Week's biggest winners (5/27-6/2): *Rui "PepperoniF" Cao (+$332,667), niantos (+$155,822), Hopelessduo (+$123,260), *1-ronnyr3 (+$116,908)
Week's biggest losers: *Viktor "Isildur1" Blom (-$459,543), Niki Jedlicka (-$94,913), Darkrevenger (-$93,665), DrugsOrMe (-$88,293)
Year-to-date winners: Gus Hansen (+$3,941,000), Daniel "jungleman12" Cates (+$1,952,000), *Gavin "gavz101" Cochrane (+$1,861,000), NoPasaran (+$1,635,000), Matt Hawrilenko (+$1,440,000), bixiu (+$1,406,000), Phil Ivey (+$1,336,000), Patrik Antonius (+$1,157,000)
Year-to-date losers: Tom "durrrr" Dwan (-$2,474,000), kagome kagome (-$1,497,000), Eugene "fishosaurusREX" Yanayt (-$1,399,000), cadillac1944 (-$1,336,000), UarePileous (-$853,000)
*on PokerStars
*data obtained from HighStakesDB.com
Stay up to date on all the latest news by following us on Twitter and liking us on Facebook.