The Weekly Turbo: EPT Season 8 Schedule, Antonius and Adams Battle, and More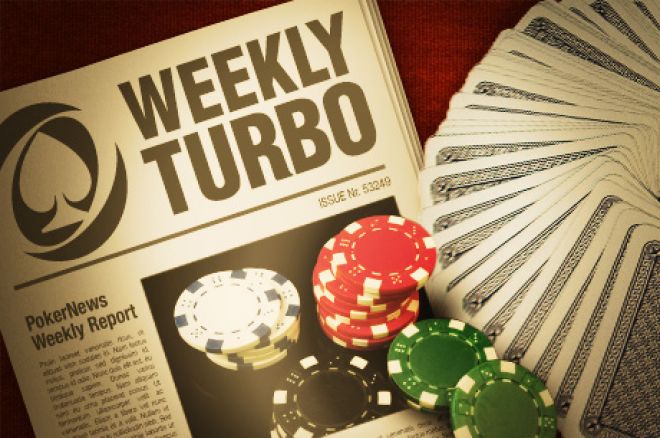 If you're reading this, you're trying to catch up on a week's worth of news. That's OK if you have forgotten anything, but there's no excuse for missing a Nightly Turbo - especially when you can get it emailed to you. Keep on reading to find out the first half of the season eight schedule of the PokerStars European Poker Tour, which two players are battling it out on the tennis courts, and more.
EPT Season 8 Schedule - The First Half
The first seven events of Season 8 of the PokerStars.com European Poker Tour were announced on Friday. The first event kicks off in Tallinn, Estonia, on August 2.
"I'm really looking forward to the coming EPT season. My live game is something I want to work hard on improving, and I would love to have some deep runs this year. I plan to play in most of the events, including Barcelona, the PCA and London. Those stops will be big events for me," said Team PokerStars Pro Viktor "Isildur1" Blom.
The PCA is on the schedule again this year, as well as EPT London. Those two events are the only "Festival of Poker" events set to take place. Barcelona, San Remo, Prague, and Deauville are on the schedule as well.
"We're delighted to announce the dates for the first half of EPT Season 8. We're expecting another incredible year, with a whole host of new champions crowned and maybe even the first ever two-time EPT Main Event winner," EPT chairman John Duthie said.
EPT Season 8 Schedule

| Event | Date | Buy In |
| --- | --- | --- |
| EPT Tallinn | August 2 - 7 | €4,000 + €250 |
| EPT Barcelona | Aug. 27 - Sept. 1 | €5,000 + €300 |
| EPT London | Sept. 30 - Oct. 5 | £5,000 + £250 |
| EPT San Remo | October 21 - 27 | €4,600 + €300 |
| EPT Prague | December 5 - 10 | €5,000 + €300 |
| 2012 PCA | January 5 - 14 | $10,000 + $300 |
| EPT Deauville | Jan. 31 - Feb. 6 | €5,000 + €300 |
For more, head on over to PokerStars.com.
Game, Set, Match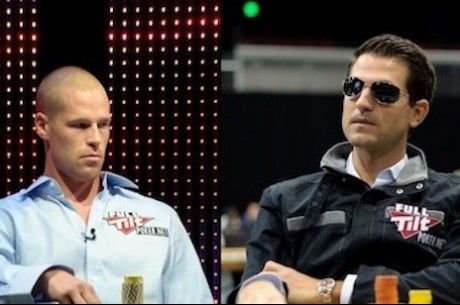 Brandon Adams and Patrik Antonius look for aces on the felt, but when they battle each other on the court, they'll be looking for them there, as well. (Yes, we know how corny that sounds.)
A prop bet sprung up between the two in January and the time has come to find out who has the better skills on the court. On Sunday, June 12, the two will meet and play a best of three match.
In April, Adams posted on TwoPlusTwo that both he and Antonius had minor injuries. Then on Wednesday Adams wrote that he had received a cortisone shot last Friday for inflammation.
Patrik has layed $295,000 to $30,000 and it all kicks off at 2:00 p.m. PDT at the International Tennis Center in Las Vegas. Spectators are welcome so go check it out - if you're not running deep in a tournament.
Decide to Play Great Poker
Annie Duke's new book, Decide to Play Great Poker is officially released on June 7, but has already been released on Kindle. If you're more of a "real book" person, you can order it on Amazon.
In anticipation of the release, Duke was posting excerpts from the book on her website. She also detailed the approach of the book and says that it is a different take on the game of poker and and looks at the decision making point of view.
"The goal of the book is to get the reader to really start playing purposeful, goal oriented poker, problem solving situations, understanding deeply all the factors that good play in a hand depend on. As an example, much of the book is dedicated to post flop play but in a way which really gets the reader to understand how small changes in a situation can drastically change how a hand is played."
If you want to check out some of the excerpts, head on over to AnnieDuke.com, and if you want to order it, do so at Amazon.com.
GoDaddy Official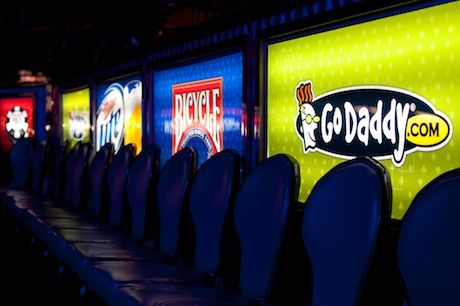 The World Series of Poker announced on Wednesday that GoDaddy.com has signed on as an official sponsor of the 2011 WSOP.
"When you talk about GoDaddy.com, you are talking about some of the best marketers in the world, who are thoughtful about their platforms and selective in their promotional partnerships," said WSOP Executive Director Ty Stewart. "We know GoDaddy.com has a fun and edgy style and we welcome them into the greatest poker spectacle on the planet, which shares its personality."
The GoDaddy.com brand will be seen just below the community cards in the middle of the felt throughout the tournament action on the televised tables.
"We like this poker sponsorship because so many of the fans are passionate, loyal and interested in the Internet," Bob Parsons, GoDaddy CEO and founder said. "We're all in, baby!"
Check out the press release on WSOP.com.
Bust a Man in Reno
The World Poker Tour recently announced that it secured a partnership with the Atlantis Casino Resort Spa to host a WPT Regional event in Reno. The event kicks off Sept. 16 and runs through Sept. 25. The WPT Regional Western Poker Challenge will get under way on Sept. 24.
"Atlantis runs one of Reno's best poker rooms," said Adam Pliska, President of World Poker Tour. "Pros and amateurs alike continually tell us about the quality of play found here. We are excited to hold Reno's first ever WPT Regional event at Atlantis."
The $2,500 buy-in event will run for two days. Not only will players get to partake in the various tournaments being held, but WPT Boot Camp will also hold an event from Sept. 19 through 21.
"The World Poker Tour is a leader in the ever expanding poker community and Atlantis is thrilled to host a WPT Regional event," said David Farahi, executive director of gaming operations for Atlantis. "Atlantis is committed to being on the forefront of the poker world's expansion and to provide northern Nevada with the best poker experiences."
Find out more about the Regional event at WorldPokerTour.com and sign up for the Boot Camp at WPTBootCamp.com.
Detained
Ira Rubin, one of the 11 defendants indicted in April in the online poker seizures was detained on Wednesday. Rubin has a criminal history that dates to 1970 and also had an outstanding warrant for his arrest for contempt of court for a civil case that was brought on by the Federal Trade Commission.
"I think I have no choice but to detain the defendant," said U.S. Magistrate Judge James L. Cott in Manhattan.
On the day of the indictments in April, it's said that Rubin chartered a plane from Costa Rica to Guatemala. He was taken into custody in Guatemala and brought back to the U.S.
"My client wants to address the charges here. He will stay in the U.S. and would like to face the charges here," Stuart D. Meissner, Rubin's lawyer said.
Meissner also said that many of the allegations that have been made by prosecutors are inaccurate and the evidence against Rubin is questionable.
The Wall Street Journal has more.
WPT Heads to Slovenia
The World Poker Tour announced a new stop to its Season X schedule. The tour will be headed to Slovenia for the first time.
"We're delighted to be bringing the World Poker Tour to Slovenia for the very first time," said WPT President Adam Pliska. "The fantastic coastal location provides a serene setting for players and it is convenient with its proximity to both Italy and Croatia. With the Gioco Digitale Poker Grand Prix straight off the back of the event, Slovenia will become a poker hot spot in late July."
The €3,000 + €300 Main Event runs from July 17 through 21 at the Casino Portorož. It will be presented by GoldBet.com. Already confirmed to take part are Tony G, Marvin Rettenmaier, and Dominik Nitsche.
"For all sense and purposes this will be a very Italian tournament with Slovenians thrown in too. The prospect makes me very hungry. I am looking forward to going to Slovenia, I'm going to bring an army of players and I know if it is not me, one of them is going to win," Tony G said.

Want to know more? Head on over to WorldPokerTour.com.
Poker Players Against Poverty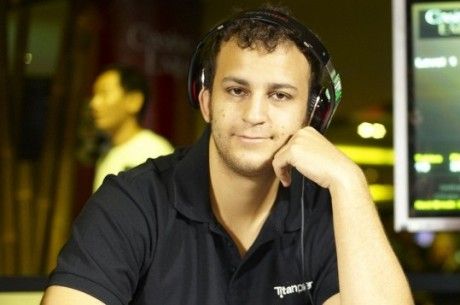 Sorel Mizzi, in conjunction with A Good Idea has established a charity called Poker Players Against Poverty. PPAP was formed to support the fight against poverty. PPAP is looking to establish a steering committee of the top six to ten up-and-coming poker players to represent the charity.
"PPAP will not only serve as an excellent positive outlet for young, up-and-coming players but will allow these players to leave a legacy for themselves outside of the poker world through positive press, promotion, and goodwill."
Mizzi plans to work directly with the homeless in four service days this year and plans to work with the Nevada Partnership for Homeless Youth.
"I am very excited for 2011 and beyond," Mizzi said. "I will be placing equal priority on progressing as a poker player and giving back to my community. As a young poker player with a talent that brings me financial abundance, I feel it's my responsibility to give back to people in need who are hurting financially."
Read the press release for more.
Are We Any Closer to Production?
We're not sure how many times we're going to get your hopes up for Rounders 2, but add this info to the list. According to The Atlantic Wire, Matt Damon and Harvey Weinstein met in Manhattan this week to discuss Rounders 2. The original screenwriters of Rounders, Brian Koppelman and David Levien were at the meeting, as well. The Atlantic Wire has also reported that a source says Edward Norton will be joining the sequel.
We've pretty much told you everything the article said, but you can read it for yourself at TheAtlanticWire.com.
Are you following us on Twitter?