The Nightly Turbo: Full Tilt News, DeepStacks Live & Epic Poker League, and More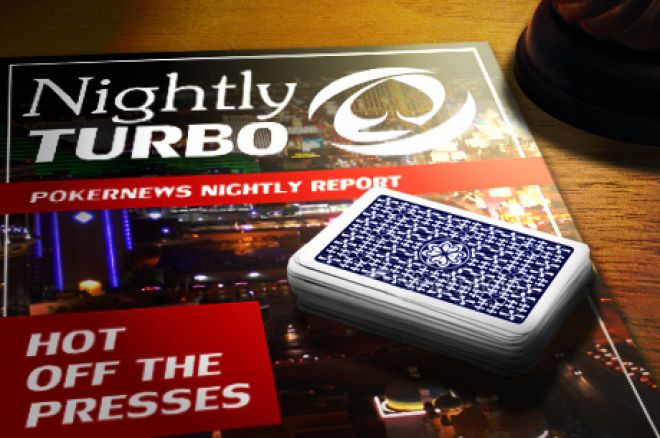 We know you're eager to hurry back to the 2011 World Series of Poker Main Event coverage, so we won't dally. There seems to be rumblings that the Full Tilt Poker sale will be closed by next week. We'll tell you about that, where you can catch the next DeepStacks Live event, and more.
In Case You Missed It
Have you ever been at a table, and been completely confused by the way another player played a hand? Liv Boeree was recently involved in a hand at the 2011 World Series of Poker that baffled her and she recounted it for us.
Wednesday was a big day at the 2011 World Series of Poker. Phil Hellmuth was at the final table of the $50,000 Poker Player's Championship, going for his 12th bracelet. Did he get it? You can find out in our daily WSOP recap.
With as many videos as the PokerNews video team produces on a daily basis, you might have missed a few.We can't blame you. Lynn Gilmartin has packed her top four videos in her latest article, Around the WSOP with Lynn.
To wear sunglasses at the poker table or not? It's always a heated debate. We caught up with a few players to get their thoughts on the matter.
Close to Closing?
EGaming Review is reporting that the deal between Full Tilt Poker and the group of anonymous European investors could be closed by next week. The deal is expected to kick-start the repayment of funds to American players and possibly halt the class-action lawsuit that was filed against Full Tilt Poker recently.
In a statement to eGaming Review, one of Full Tilt Poker's attorneys said, "My hope is as the company formalizes a deal with the European investors the terms include paying back the players, and we'd like to think this will help take care of the class action suit and any copycat suits on the table....Part of the deal with [the investors] will hopefully be a settlement of the DoJ case - [they have] met with Alderney and France already and will be meeting with the DoJ."
The identity of the group of investors was not disclosed, but according to the attorney, "They are not one of our competitors and to my knowledge it's their first step into the egaming sector."
As for that rumor we told you about Wednesday regarding Ray Bitar and his position as CEO of Full Tilt Poker, it was denied by the attorney.
"We can completely deny the reports that Ray Bitar is no longer CEO. In fact that [rumour] really ruined his day yesterday. It doesn't help anyone for sites to be reporting news that's not true," he said.
If you want to know more, head on over to EGRMagazine.com.
Learn Something
Playing Day 1d of the 2011 WSOP Main Event on Sunday and want to learn about advanced tournament play before then? Or are you trying to win a seat into the Epic Poker League Pro-Am in August? Either way, DeepStacks Live is hosting a special one-day course at the Palms Casino Resort on July 9.
The course is $500 and runs from 12 p.m. to 5 p.m. in the Key West Ballroom. You'll learn from Annie Duke, Mike Matusow, Michael Mizrachi, Matt Graham, Randal Flowers, Justin Smith, and Adam Levy.
During the course, students will learn advanced tournament strategies, proper game selection, hand ranging, three- and four-betting techniques, playing in and out of position, and more. On top of that, every person that registers will receive a copy of Annie Duke's new book, Learn to Play Great Poker, a Grinder Knot bracelet, a dinner voucher for that evening, and a $180 buy-in to the Epic Poker Pro-Am super satellite.
Find out more at DeepStacks.com.
Team Online Eh!
You can now add a pink computer mouse to the list of tools used by the wizards and grinders who make up the PokerStars Team Online roster. Thanks to one of our sources, we can tell you that Team Online announced Thursday that it added respected forum community member and Canadian Adrienne "talonchick" Rowsome to the stable.
Adrienne, who first achieved Supernova VIP status in 2006, has been a staple on PokerStars for years. She cut her teeth grinding Omaha hi/lo, a somewhat uncommon game for women, and keeps people updated on her poker exploits via twitter - @talonchick.
"I want to be a great female ambassador for a site that has been reliable to me for the last 9 years.  I believe strongly in the PokerStars brand and I think that working together, great things are possible," Rowsome said.
Rowsome will be making the announcement of her joining PokerStars Team Online at the TwoPlusTwo Poker Party in the Wynn Poker Room on Thursday.
Find out more about Rowsome on PokerStars.com.
Joining the Ranks
According to a press release we received in our inbox in the wee hours of the morning, PokerStars has hired a former Microsoft and Disney executive as its head of corporate communications. Eric Hollreiser, a former journalist who was a senior executive at Microsoft and the Walt Disney Company will lead PokerStars' integrated communications efforts.
What are the responsibilities of the head of corporate communications? According to the press release, "execution of corporate communications, internal communications, public relations and corporate social responsibility, including across social media and talent communications."
PokerStars is attempting to position itself as a leading interactive entertainment and technology company. Hollreiser will guide the company in its quest to "leverage proprietary software, have unrivaled online customer service, produce live events and creative broadcasts to entertain audiences and deliver interactive experiences around the world."
You can find out more in the press release that was issued on Thursday.
Behind the Scenes
The $50,000 Poker Player's Championship was streamed "live" on ESPN3.com on Thursday. If you missed that, there will be plenty more live-streaming for you during the 2011 WSOP. Kristy Arnett caught up with Poker PROductions mastermind Mori Eskandani to get a behind-the-scenes look at how the live-stream production happens.
Are you following us on Twitter? Go follow us now. While you're at it, there's no reason why you shouldn't like us on Facebook.