The Nightly Turbo: Violence at Mexican Casino, The Banker Returns, and More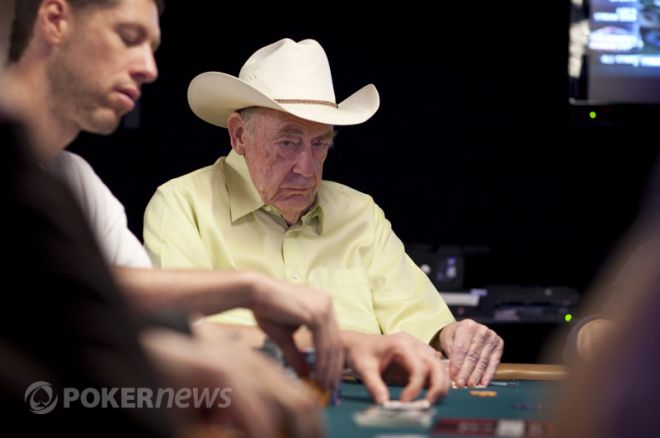 We finally made it to the weekend, and we can't be happier about it. Before you grab a beer and relax, get caught up on some of the top news stories in the industry. We'll tell you about the violence at a casino in Mexico, who played The Banker at the Bellagio on Thursday (hint: he's in the photo above), and more.
In Case You Missed It
A lot happens in our industry every week and sometimes it's hard to keep up. Luckily the PokerNews hostesses bring you a weekly roundup of the top poker news stories. In this week's PokerNews Weekly, Lynn Gilmartin brings you a tournament update, the latest from Full Tilt Poker, and more.
On Day 2 of the PokerStars.net Asia Pacific Poker Tour Queenstown, 71 players took their seats at the felt. After six hours of play, only 21 remain. In our APPT Queenstown recap, you'll find out who still has chips and who is leading the pack.
The World Poker Tour Legends of Poker kicked off on Thursday with its first Day 1 flight. Day 1a attracted 322 players and at the end of play, Matt Berkey was leading the way.
The high-stakes online action has been heating up recently. Victor Blom and Ilari Sahamies battled on the virtual felt this week, and one of them ended up the biggest winner of the week, pocketing $1 million.
The only thing on your brain right now is fantasy football right? We get it, and we're here to help. In our first Pigskin Diaries of the season we help you out with quarterback and running back picks.
Violence in Mexico
On Thursday at around 3 p.m. in Monterrey, Mexico, armed men attacked the Casino Royale. According to The New York Times, the men set a fire that killed at least 52 people and injured others. According to Mexican news organizations, this incident is the worst since authorities began cracking down on drug gangs over five years ago.
Monterrey, in the state of Nuevo Leon, has seen violence escalate because of two crime organizations struggling for control. There are varying reports on the number of men that arrived at the casino. Rodrigo Medina, governor of Nuevo Leon said in an interview it appeared as though "six men arrived at the casino in two vehicles, spread a flammable liquid and lighted it." Witnesses who spoke to a local Monterrey newspaper say there were at least 12 men who entered the casino and "ordered everyone to get out, setting off a stampede for the exits that was accompanied by explosions, smoke and flames."
On Thursday, Mexican President Felipe Calderón tweeted, "With deep consternation express my solidarity with Nuevo Leon and the victims of this abhorrent act of terror and barbarism." (Thanks to Google Translate.) He then urged citizens to "persevere in the fight against gangs of unscrupulous criminals." He also made a statement on Friday.
The New York Times has more.
In 140 Characters
Some days we read tweets and think, "Our readers would probably like to know that," but the news bite is only 140 characters long. Instead of separating them into their own sections, we've compiled them all right here.
Looks like Andy Beal is back in town, and it didn't take very long for at least one of the sharks to sniff him out.
We're not sure if The Professor or the Suicide King will make appearances in this game, but we'll keep our ears open.
Luckily, it seems as though Bilzerian is OK. Andrew Robl tweeted, "Just an FYI to everyone I went to the hospital with @DanBilzerian last night and it appears nothing major happened and that he is a-okay."
WCOOP Kicks Off Soon
The 2011 PokerStars World Championship of Online Poker is just around the corner and PokerStars wants to celebrate. Kicking off on Aug. 29, PokerStars will launch the Mega Satellites Week promotion. Two Mega Satellites will be held each day and 2,075 seats are up for grabs into 13 different events. That's $502,275 in value if you were counting. Here's a look at the Mega Satellite Week schedule:
| Date (All times ETD) | Time | Satellite | Sat TID | Event Target | Seats Gtd | $ Gtd |
| --- | --- | --- | --- | --- | --- | --- |
| 8/29 | 11:00 | WCOOP-01 Sat: $22 NLHE [6-Max, 125 Seats Gtd] | 432108416 | 1 - $215 NLHE, 6-Max | 125 | $26,875 |
| 8/29 | 14:00 | WCOOP-03 Sat: $22 NLHE [125 Seats Gtd] | 432109367 | 3 - $215 NLHE | 125 | $26,875 |
| 8/30 | 11:00 | WCOOP-04 Sat: $33 PLO [75 Seats Gtd] | 432123806 | 4 - $320 PLO | 75 | $24,000 |
| 8/30 | 14:00 | WCOOP-06 Sat: $3.30+R NLHE [3x-Turbo, 100 Seats] | 432138084 | 6 - $215 NLHE+R, Turbo | 100 | $21,500 |
| 8/31 | 06:00 | WCOOP-10 Sat: $27 PLO [KO, 75 Seats Gtd] | 432143873 | 10 - $265 PLO, KO | 75 | $19,875 |
| 8/31 | 11:00 | WCOOP-11 Sat: $33 NLHE [Ante Up, 100 Seats Gtd] | 432130483 | 11 - $320 NLHE, Ante Up | 100 | $32,000 |
| 9/1 | 06:00 | WCOOP-13 Sat: $22 PLO H/L [75 Seats Gtd] | 432110904 | 13 - $215 PLO H/L | 75 | $16,125 |
| 9/1 | 11:00 | WCOOP-14 Sat: $27 NLHE [KO, 6-Max, 100 Seats Gtd] | 432142474 | 14 - $265 NLHE, 6-Max, KO | 100 | $26,500 |
| 9/2 | 11:00 | WCOOP-16 Sat: $22 PLO [6-Max, 75 Seats Gtd] | 432112158 | 16 - $215 PLO, 6-Max | 75 | $16,125 |
| 9/2 | 17:00 | WCOOP-18 Sat: $33 NLHE [100 Seats Gtd] | 432139428 | 18 - $320 NLHE, 10-Min Lev | 100 | $32,000 |
| 9/3 | 10:00 | WCOOP-19 Sat: $11 NL Hold'em [1,000 Seats Gtd] | 432135556 | 19 - $109 NLHE | 1000 | $109,000 |
| 9/3 | 14:00 | WCOOP-20 Sat: $22 FLHE [100 Seats Gtd] | 432120912 | 20 - $215 FLHE | 100 | $21,500 |
| 9/3 | 16:30 | WCOOP-62 Sat: $215 NLHE [25 Seats Gtd] | 432140897 | The Main | 25 | $130,000 |
| | | | | | 2,075 | $502,375 |
Speaking of PokerStars, the online poker giant recently announced it will take on the role as lead sponsor for next week's Poker in the Park in London at Hanover Square.
"We're thrilled that PokerStars has come on board," said festival organizer Michael Caselli. "Having the most popular poker room in the world on board is not only great for Poker in the Park, but shows how committed PokerStars is to the entire sport of poker."
Read more at UK.PokerNews.com
A-Rod and MLB Investigators Meet
According to the New York Post, four Major League Baseball investigators met with Yankees third baseman Alex Rodriguez on Friday at a hotel in Baltimore, Maryland. It's no secret what they were meeting about. We've told you about the allegations surrounding Rodriguez attending underground poker games.
On Aug. 18, Rodriguez said, "The only thing I will say about (the initial report) was that it was inaccurate and unfair. I am looking forward to the meeting."
After the two-hour meeting, Rodriguez said, "I can't get into anymore. In fairness to them I answered all their questions until I got tired. I will let them come back to you," Rodriguez said. "Whatever I said, I said in there, and I am excited to play baseball. They have the information and I assume they will report to the commissioner. I don't know what they will do with the information. They asked questions and I answered them.''
He also told the Post that changing his off-field behavior was not discussed.
According to a New York Post source earlier this month, "Even if it is determined that he was [playing illegal poker], he will not be suspended at this time for this infraction. He will be warned again and not lightly."
Find out more on the A-Rod meeting at NYPost.com.
Sweet As Bro
Lynn Gilmartin caught up with party goers at the PokerStars Asia Pacific Poker Tour Queenstown Welcome Party to get them to attempt their best Kiwi accent. We don't want to say the accents are a train wreck, but, we might need to use Google Translate to figure out what's going on.
Follow us on Twitter for up-to-the-minute news, and like us on Facebook while you're at it.