The Nightly Turbo: Full Tilt Class Action Suit, Bonomo on the Move, and More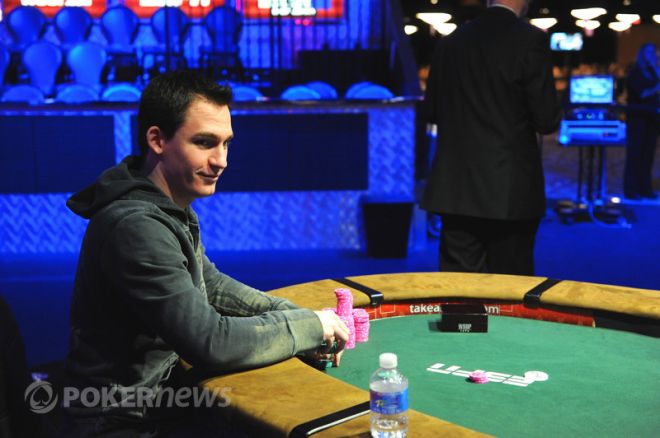 Joran van der Sloot might actually get out of jail. But since he has a loose connection to poker, and we think he's a deplorable person, we're not really going to talk about it. What we will discuss is the new class action lawsuit, where Justin Bonomo is headed, and more.
In Case You Missed It
For our latest strategy article, Kristy Arnett spoke with Andrew "balugawhale" Seidman to discuss thought processes, and polarized and depolarized ranges. Don't be discouraged when you check out the article. It's just a snippet of the Seidman interview, the rest of it is in our new podcast series, Strategy with Kristy.
The Global Poker Index released its rankings for the week of Aug. 15. Did Bertrand "ElkY" Grospellier hold on to the top spot or did another player overtake No. 1?
Is online poker closer to being legislated in the United States? Senate Majority Leader Harry Reid says it "will get done." Could it all be resting on the shoulders of the debt super committee?
Another Lawsuit
According to EGRMagazine.com Full Tilt Poker has another class action lawsuit on its hands. EGRMagazine is reporting that two Canadian players, Zayn Jetha and Donald Whelan, are responsible for the suit. The two have named Ray Bitar, Nelson Burtnick and Howard Lederer, as well as Full Tilt Poker Ltd and a few other companies associated with Full Tilt Poker. Tiltware was on that list.
This lawsuit comes one month after professional poker player Todd Terry and three other plaintiffs filed a class-action lawsuit on behalf on "a nation-wide class of Full Tilt account holders residing in the United States." That suit named both Bitar and Burtnick, but also 13 members of Team Full Tilt.
You can read more at EGRMagazine.com.
Bonomo on the Move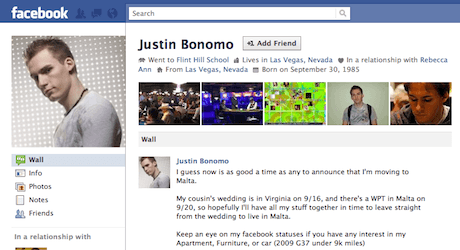 We tried to come up with a funny Magic the Gathering anecdote about Justin Bonomo moving to Malta to continue playing online poker, but we know nothing about MTG. However, this is the perfect story to link to our favorite video about Malta.
Back to the story at hand. According to his Facebook page, Justin Bonomo is moving to Malta. He's hoping to be settled in time to check out the World Poker Tour stop in Malta on Sept. 20.
Bonomo is one of quite a few professional poker players who have decided to move from the U.S. to continue playing online poker. Phil Galfond, Vanessa Selbst, Jon Aguiar, and Supernova Elite Mike "MeleaB" Brooks are among those who have made the move.
EPT President Appointed
Global Poker Tours Limited, the poker tour production company behind the PokerStars European Poker Tour, on Thursday announced that the PokerStars EPT appointed Edgar Stuchly president.
According to the press release, Stuchly will "act as an official spokesperson of the EPT, helping refine the vision for the tour, working to further improve the customer experience for the many thousands of players from around the world who participate in the events, and growing the brand across more countries in Europe."
"The EPT is the richest and most prestigious poker tour in Europe, and I'm delighted to be joining a much-loved and well-run live tour," said Stuchly. "The goal now is to take the EPT to another level, in terms of improving the experience for players and expanding the tour into burgeoning poker markets in Europe. It's a big challenge but one that I'm relishing."
Stuchly is the former head of poker for Casinos Austria. During his four-year tenure there, he managed poker rooms at 12 casinos, founded the Casinos Austria Poker Tour, and managed the European Poker Championships.
"Edgar's extensive live poker experience and vision for the EPT eased his appointment significantly. I'm sure that players, fans and anyone connected to the EPT will feel the benefits of his leadership over the coming months and years," EPT chairman John Duthie said.
Find out more at PokerStarsBlog.com.
Hellmuth on Storage Wars
A couple of days ago, Phil Hellmuth tweeted: "I am appearing on an episode of the hit television show 'Storage Wars' next week. Should be fun!!" Hopefully this episode will be less awkward than Hellmuth's appearance on Millionaire Matchmaker.
If you don't know what Storage Wars is, don't worry, we didn't either. When we went to find out, we realized the first sentence on the "About" page could double as a teaser for a poker show. "The stakes are higher; the rivalries more intense; the drama more explosive." The show, which airs on Wednesdays on A&E, "follows teams of bidders looking to score it big in the high-stakes world of storage auctions."
There's no Hellmuth snippet to bring you, so you're just going to have to check your local listings or AETV.com for the broadcast time.
Follow on Twitter for up-the-minute news.