The Nightly Turbo: Full Tilt Poker's Lawyer Speaks, Jamie Gold's Online Site, and More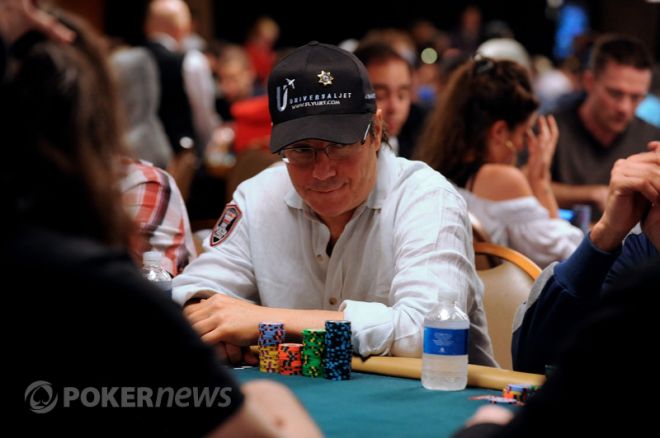 There was plenty going on over the weekend with the conclusion of APPT Queenstown, the start of both EPT Barcelona and WPT Legends of Poker, oh, and Kristy Arnett doing as the Spanish do in Barcelona. We're sure you kept up with it all, but what about Monday's news? We'll tell you what Full Tilt Poker lawyer Jeff Ifrah is saying, give you the scoop on Jamie Gold's new online poker site, and more.
In Case You Missed It
The field at the World Poker Tour Legends of Poker was whittled down to 21 players on Sunday. Jeff Vertes has carried a huge chip lead into Day 4, but you can find out who's right behind him in our WPT recap.
Sunday was the final Sunday in August, as well as the final Sunday before the PokerStars World Championship of Online Poker kicks off, but that doesn't mean there wasn't a lot of money won. Check out the Sunday Briefing for the results from all of the biggest tournaments on the virtual felt.
Ever wondered what it's like in Ibiza, Spain? In this week's special edition of Sin City Series, Kristy Arnett made the trip to find out.
He's a huge baseball fan, a mustache savant, and he's pretty good at poker, too. Who are we talking about? Eric "basebaldy" Baldwin, of course! Find out about why he's been spotted with a mustache, which poker players he'd pick for his baseball team, and more in the latest edition of Off the Felt.
A number of poker pros have made the move from the United States to continue to play online poker. Justin Bonomo is one of the latest who has added his name to the ever growing list. We spoke with him recently to find out how Black Friday has affected him.
Full Tilt Poker Lawyer Jeff Ifrah Takes Your Questions
On Saturday, Jeff Ifrah, one of the lawyers retained by Full Tilt Poker after Black Friday, began taking questions on the TwoPlusTwo Forum.
"I have invited folks to write or call me personally for answers but only five of you have done so. So now I have opened an account here and will do my best to "unofficially" answer your questions from here," he wrote.
Regarding whether or not players will get paid, Ifrah responded, "Since FTP started the process of speaking with outside investors that has been their entire focus 24/7. They have made crystal clear to every investor that the US players and European players must be paid."
Why has Full Tilt Poker been so silent for so long? Ifrah says the company's silence was due to a confidentiality agreement. "Now it is ready and willing to make up for that silence. The idea of separately timed statements is to make sure the statement is clear and concise instead of overloaded with information. I hope that once the statements are out this will become more evident. I realize it is somewhat cold comfort right now and apologize for that," he replied.
According to Ifrah, no one authorized him to speak on Full Tilt Poker's behalf. He said, "I am answering questions that I do not believe are privileged and passing the others to the company. I take responsibility for not having been able to get the company to issue its statement sooner."
Ifrah answered many more questions in the thread and you can view it at TwoPlusTwo.com.
Free Gold
On Friday, Jamie Gold announced the launch of his online poker site, FreeGoldPoker.com. The 2006 World Series of Poker Main Event champion opened the free poker site on the ZEN Entertainment Network.
"This is an amazing opportunity for me to create a fun, accessible and unique experience for the poker community. As importantly, I will be able to continue to accomplish meaningful, vital and life-changing charitable goals with the additional support and commitment of the ZEN platform," Gold said in the press release. "It will also provide my dedicated partners a platform beyond anything I could have imagined as we are now able to create targeted demographic promotions."
The site boasts $100,000 in prize pools per month. According to Gold's agent, Randy Kasper, endorsement deals and charity partnerships will be announced in the future and will be integrated into the events on the free poker site.
"After Black Friday and all the negativity surrounding online poker, I asked myself what I could do to help our community enjoy playing a game they love legally while at the same time elevate awareness about the fantastic brands and amazing charitable opportunities I come into contact with on a daily basis. Creating FreeGoldPoker.com was the clear answer," Gold said.
Read the entire press release at CasinoCityTimes.com.
Facebook Changes Policy
According to eGaming Review, Facebook recently changed its policy regarding online gaming advertising. Now, online and offline gambling companies, in regulated markets, can advertise on Facebook as long as they adhere to local laws. The companies must also get permission from Facebook. Companies cannot advertise in the U.S., however.
The new rules state, "Adverts that promote or facilitate online gambling, games of skill or lotteries, including online casinos, sports books, bingo or poker, are only allowed in specific countries with prior authorization from Facebook."
EGRMagazine.com is also reporting that Facebook changed its policy for apps from gambling companies in the U.K. The site now allows non-gambling apps as long as "they make clear either through the branding or the name of the app that it is play-for fun, and do not allow earnings to be cashed out or converted to credit for an online gambling website or brick and mortar casino."

Find out more about Facebook's policy changes at EGRMagazine.com.
I'm a Model Citizen
Dan Fleyshman's Model Citizen Fund launches Tuesday in Las Vegas. The organization aims to help those in need by providing a fresh start for disaster victims and the homeless. Model Citizen Fund delivers backpacks to those in need filled to the brim with essentials including food, toiletries, and a sleeping bag.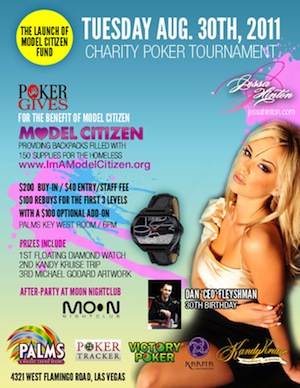 In an interview with DiscoverSD.com, Fleyshman discussed how the organization would distribute the backpacks. "The backpacks are shipped or hand delivered to homeless shelters who then give them to the needy individuals. The managers of those facilities know much better than anyone of who truly needs the backpacks. Along the same lines if there is a natural disaster, we will ship in bulk to facilities that can then hand out the backpacks in the affected area," he said.
To celebrate the launch, the Model Citizen Fund is hosting a charity poker tournament at the Palms on Tuesday, Aug. 30 at 6 p.m. PDT. Everyone is invited to the $240 buy-in event to benefit the organization. There will be $100 rebuys for the first three levels and an add-on. The winner will take home a floating diamond watch. Second place will win a trip on the Kandy Kruise, and third will walk away with a piece of art from Michael Godard.
After the tournament, Moon Nightclub will play host to the Model Citizen Fund launch party, which coincides with Fleyshman's 30th birthday.
Find out more on the Model Citizen Fund Facebook page.
Video Treats
In our first video nugget, we'll tell you who was spotted playing poker on Entourage. Then we'll give you the scoop on how to check out exclusive episodes from The Micros.
It seems as though John Racener has followed in the footsteps of Antonio Esfanfiari and managed to debut his acting chops in an episode of Entourage. From this clip, we can discern one thing — he's not too bad at dealing cards. As for acting, we'll let you decide.
We know you're always wondering when the next episode of The Micros is going to come out. We think about it all the time too. To hold you over, the gang behind the animated series has produced exclusive minivids for their Facebook page. The one with Daniel Negreanu is our favorite. We could have embedded it here, but that would defeat the purpose. Go "Like" The Micros and you'll be part of the exclusive club too.
Opinions with Daniel Negreanu
Kristy Arnett caught up with one of the most opinionated players we know while in Barcelona for the European Poker Tour. Daniel Negreanu gives his opinions on topless beaches, man bags, the Epic Poker League, and way more.
Follow us on Twitter for up-to-the-minute news.